By Catholic Online (NEWS CONSORTIUM)
11/9/2012 (3 years ago)
Catholic Online (www.catholic.org)
Subs are the latest sign of growing power.
According to a U.S. Congressional commission report, China is just two years from deploying around-the-clock ballistic missile submarines that could strike almost anywhere in the world, including the United States. The report recommends the U.S. enter arms-reduction talks with the new superpower.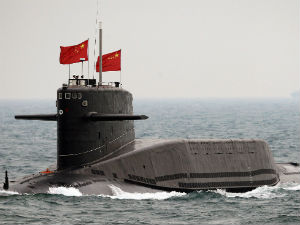 The Chinese navy is prepared to deploy around-the-clock ballistic missile subs which will change the balance of power in the Pacific.
LOS ANGELES, CA (Catholic Online) - Ballistic missile submarines can travel undetected to the shore of another country and launch nuclear missiles that can destroy cities with only minutes of warning time. So far, only the United States and Russia have wielded this capability on a round-the-clock, 365 days per year basis.

Other countries, such as Britain and France, naval have nuclear capabilities as well, but China is now poised to become a major player in the nuclear race.

Beijing already commands hundreds of nuclear weapons augmented by an improving  intercontinental ballistic missile capability.

The concern then, is not that China could someday use these weapons, which goes without saying, but that China's development of further weapons capability could spark an arms race across Asia. Nuclear weapons are seen as an international status symbol and a deterrent against foreign aggression. This is why so many countries have programs, often secret, to develop these weapons of mass destruction.

The report therefore urges the U.S. government to enter arms-reduction talks with China to ensure both sides can preserve a deterrent arsenal without proliferating the weapons. There is a general fear that if the weapons become more prevalent, so do the odds of their eventual use. 

China is on a crash program to modernize its military forces, especially its navy. China recently launched its first aircraft carrier, a refurbished Soviet-built ship purchased from Ukraine. The development of ballistic missile submarines is the natural next step for the growing superpower.

The U.S. is uniquely vulnerable to China since America relies heavily on Chinese imports of both raw materials and finished goods. China has long been hampered by its massive population, poor economy, and low-tech capability, but the government has spent the past few decades aggressively reversing these factors.

Today, China is much more high tech, employing hundreds of thousands in industries that produce everything from raw materials, to consumer goods, to state-of-the-art weaponry. One outward sign of this is the country's blossoming space program which aims to send astronauts to the moon, probably long before the U.S. redevelops the same ability.

As China becomes the world's newest, and possibly most powerful superpower in the years to come, the United States will have to reckon with the country on terms that are less favorable than those of before.

The deployment of nuclear missile submarines is only the start.
---
Copyright 2015 - Distributed by THE CALIFORNIA NETWORK
Pope Francis Prayer Intentions for April 2016
Universal:
Small Farmers: That small farmers may receive a just reward for their precious labor.
Evangelization:
African Christians: That Christians in Africa may give witness to love and faith in Jesus Christ amid political-religious conflicts.
---
---
---

By Kenya Sinclair (CALIFORNIA NETWORK)
China continues to test the limits of its DF-41 long-range intercontinental ballistic missile as tensions rise between the country and the U.S. over the South China Sea. LOS ANGELES, CA (Catholic Online) - According to The Free Beacon, Pentagon officials reported the ... continue reading
---

By Kenya Sinclair (CALIFORNIA NETWORK)
Following a 6.5 magnitude earthquake, nine have been reported dead and over 800 people suffered injuries - but God ensured the safety of one blessed little girl. LOS ANGELES, CA (Catholic Online) - According to NBC News, an 8-month-old girl was sleeping peacefully when ... continue reading
---

By Kenya Sinclair (CALIFORNIA NETWORK)
Nepal first recognized Christmas as a national holiday eight years ago, but the 2015 Christmas celebration will be its last. Nepali government officials announced Christmas is no longer recognized as a national holiday, prompting the Christian minority to rise together ... continue reading
---

By Kenya Sinclair (CALIFORNIA NETWORK)
China's government has destroyed over 1,500 crucifixes in Zhejiang province, China as part of a plan to eradicate the Christian communities. LOS ANGELES, CA (Catholic Online) - Christianity is spreading across China, leading the communist government to grow upset over ... continue reading
---

By Marshall Connolly (CALIFORNIA NETWORK)
A well-known ancient trade network may have stretched much father than previously believed according to new evidence discovered in Nepal. Chinese-made objects in a 1,600 year-old tomb suggests the Silk Road may have extended south into Nepal. LOS ANGELES, CA ... continue reading
---

By Matt Hadro (CNA/EWTN News)
Religious freedom advocates have condemned the Easter Sunday bombing in Pakistan that killed more than 70, while insisting upon reform within the country to prevent future such attacks. Lahore, Pakistan (CNA/EWTN News) - "We are horrified at this Easter attack, ... continue reading
---

By Monique Crawford (CALIFORNIA NETWORK)
The people of Mumbai are currently suffering the effects of smoke inhalation after an 18-story-high trash-filled landfill burst into flames. LOS ANGELES, CA (Catholic Online) - India's garbage crisis required 100 firemen, twelve fire engines and 8 tankers to ... continue reading
---

By Monique Crawford (CALIFORNIA NETWORK)
What should you do when farmers are given illegal genetically modified (GM) seeds to sow? Apparently the answer is to purchase the crops at a drastically reduced price to teach the biotech company a lesson while simultaneously forcing farmers into debt-related suicide. ... continue reading
---

By Monique Crawford (CALIFORNIA NETWORK)
ISIS propaganda videos continue to draw Muslim converts to the militant extremist group across Asia, including the Philippines and Indonesia. LOS ANGELES, CA (Catholic Online) - Since ISIS appeared in the Philippines in December last year, the extremist group has done ... continue reading
---

By Kenya Sinclair (CALIFORNIA NETWORK)
A 16-year-old girl was stalked and eventually lured to the terrace of her home one night, where she was brutally attacked beneath the cover of darkness. LOS ANGELES, CA (Catholic Online) - According to Daily Mail, the girl's attacker was a 19-year-old man, who left her ... continue reading
---
All Asia Pacific News