The new order has 72 priests and is present in 13 countries on five continents. In Asia, there are five other missionary groups formed in the Philippines, India, Thailand, and South Korea.
MANILA (AsiaNews/Agencies) - The Mission Society of the Philippines (MSP) is the first group of missionary priests founded in Asia to receive the recognition of the Holy See.

The announcement was made at the end of January, during the seventh general assembly of the missionary society. The pontifical decree establishes that the MSP is no longer under the authority of the local bishops, but answers directly to the Holy See through the Congregation for the Evangelization of Peoples.

Recognition of the status of 'Society of Apostolic Life for mission ad gentes of Pontifical right' confirms the work of the MSP, founded in 1965 by the bishops of the Philippines on the 400th anniversary of the evangelization of the country, "to express in the concrete our gratitude to God for the gift of our faith."

Today the MSP is made up of 72 Filipino priests. Its mission is to "share the gift of faith to the peoples in Asia and the rest of the world," and it is present in thirteen countries on five continents, including Japan (in the photo, a group of missionaries), Taiwan, Thailand, and South Korea, but also the United States, Australia, Holland, and Great Britain.

Apart from the MSP, there are five other missionary institutes created in Asia that answer to the authority of the local Churches. In addition to a second group of priests created in the Philippines, there are two missionary societies present in South Korea and Thailand, and two based in India, one of them of the Syro-Malabar rite.


By Marshall Connolly (CALIFORNIA NETWORK)
The next time you encounter an internet troll, be warned, he could be getting paid to fan the flames, or to douse your conversation. A new study our of Harvard reveals that China is using an army of 448 million fake troll accounts to influence public opinion. And China ... continue reading
---

By Kenya Sinclair (CALIFORNIA NETWORK)
A "mass demonic possession" has erupted at Peruvian school Elsa Perea Flores, leaving over 80 students convulsing, frothing at the mouth, fainting, and displaying erratic behavior. LOS ANGELES, CA (Catholic Online) - The children, most of whom are between 11 and ... continue reading
---

By Kenya Sinclair (CALIFORNIA NETWORK)
U.S. President Barack Obama is set to become the first sitting president to visit Hiroshima following the atomic attack August 6, 1945. LOS ANGELES, CA (Catholic Online) - Critics worried Obama's trip was to apologize for the devastation, but according to The New York ... continue reading
---

By Kenya Sinclair (CALIFORNIA NETWORK)
India is famous for it's diverse culture, vibrant clothing, incredible festivals, elephant gods, elaborate gold jewelry, the Taj Mahal and spicy food. It is an amazing place for tourists to visit - but what about the natives? LOS ANGELES, CA (Catholic Online) - India ... continue reading
---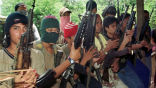 By California Network
Abu Sayyaf, an affiliate of ISIS in the Philippines, has released the full video of the beheading of Canadian hostage, John Ridsdel. LOS ANGELES, CA (California Network) - The graphic video shows the brutal beheading of Canadian hostage, John Ridsdel. He was beheaded ... continue reading
---

By Kenya Sinclair (CALIFORNIA NETWORK)
China continues to test the limits of its DF-41 long-range intercontinental ballistic missile as tensions rise between the country and the U.S. over the South China Sea. LOS ANGELES, CA (Catholic Online) - According to The Free Beacon, Pentagon officials reported the ... continue reading
---

By Kenya Sinclair (CALIFORNIA NETWORK)
Following a 6.5 magnitude earthquake, nine have been reported dead and over 800 people suffered injuries - but God ensured the safety of one blessed little girl. LOS ANGELES, CA (Catholic Online) - According to NBC News, an 8-month-old girl was sleeping peacefully when ... continue reading
---

By Kenya Sinclair (CALIFORNIA NETWORK)
Nepal first recognized Christmas as a national holiday eight years ago, but the 2015 Christmas celebration will be its last. Nepali government officials announced Christmas is no longer recognized as a national holiday, prompting the Christian minority to rise together ... continue reading
---

By Kenya Sinclair (CALIFORNIA NETWORK)
China's government has destroyed over 1,500 crucifixes in Zhejiang province, China as part of a plan to eradicate the Christian communities. LOS ANGELES, CA (Catholic Online) - Christianity is spreading across China, leading the communist government to grow upset over ... continue reading
---

By Marshall Connolly (CALIFORNIA NETWORK)
A well-known ancient trade network may have stretched much father than previously believed according to new evidence discovered in Nepal. Chinese-made objects in a 1,600 year-old tomb suggests the Silk Road may have extended south into Nepal. LOS ANGELES, CA ... continue reading
---
All Asia Pacific News