By Catholic Online (NEWS CONSORTIUM)
3/6/2014 (1 year ago)
Catholic Online (www.catholic.org)
Venezuelan President Nicolas Maduro says U.S. is working actively against his country
In yet another dramatic move on the part of the South American nation of Venezuela, President Nicolas Maduro has severed diplomatic ties with Panama. Denouncing the country as being a "lackey" of the United States, Maduro accused Panama of being aligned with the U.S. in conspiracy against his government.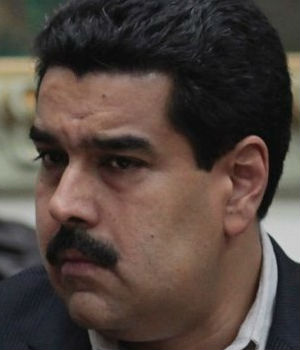 In yet another dramatic move on the part of the South American nation of Venezuela, President Nicolas Maduro has severed diplomatic ties with Panama.
LOS ANGELES, CA (Catholic Online) - "There are maneuvers by the U.S. government plotting with a lackey government that has a right-wing president who is leaving in the next few months, who is not worthy of his people, who has been working actively against Venezuela," President Maduro said on Venezuelan television.

Maduro says that Panama has been actively pushing for regional organizations to intervene in Venezuela. Maduro in his response said he was cutting off diplomatic and political ties. He has also frozen trade relations with Panama's current government "in defense of the homeland's sovereignty."

Saint Patrick's Day is coming -- go here --

In a Twitter response, Panamanian President Ricardo Martinelli claimed he was surprised by Venezuela's decision. "Panama only longs for its brother country to find peace and strengthen its democracy," he said.

Recent anti-government protests in Venezuela have posed the biggest threat Maduro has faced since his election last year.

Panama's government denied Maduro's accusations last week and said it had tried to encourage action by the Organization of American States to help promote dialogue, democracy and human rights in Venezuela.

"We reject as unacceptable the insults uttered by President Nicolas Maduro against our country and its highest authority. The foul language used is inappropriate for the president of a brother country," the statement said.

Political unrest has stormed Venezuela over the past several weeks -- Maduro expelled three U.S. diplomats form his country last month, accusing them of conspiring against his government.

In retaliation, the U.S. expelled three Venezuelan diplomats last week in retaliation.

The State Department has repeatedly denied Venezuela's accusations that it's funding opposition efforts to topple Maduro's government or involved in other conspiracy plots.

"Venezuela, rather than trying to distract from its own failings by making up false accusations against diplomats from the United States, the government ought to focus on addressing the legitimate grievances of the Venezuelan people," U.S. President Barack Obama told reporters last month.
---
Copywriter 2015 - Distributed by THE NEWS CONSORTIUM
Pope Francis Prayer Intentions for July 2015
Universal:
That political responsibility may be lived at all levels as a high form of charity.
Evangelization:
That, amid social inequalities, Latin American Christians may bear witness to love for the poor and contribute to a more fraternal society.
---
---
---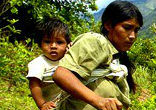 By Anastasia Moloney, Thomson Reuters Foundation
Peruvian Special Forces rescued 26 children and 13 women, some of whom had been raped and held captive for three decades, when they raided a southeastern jungle camp of the left-wing Shining Path rebel group. BOGOTA (Thomson Reuters Foundation) - "Many of these ... continue reading
---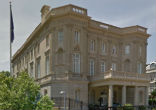 By Matt Hadro, CNA/EWTN News
The U.S. and Cuba formally re-established diplomatic ties for the first time since 1961 on Monday; a groundbreaking development advocated by Catholic bishops from both countries and set in motion by Pope Francis. Washington D.C. (CNA/EWTN News) - "It's an ... continue reading
---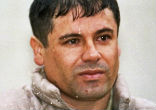 By Catholic Online (NEWS CONSORTIUM)
Most were dismayed - but many were not surprised with the escape of Mexican drug cartel kingpin Joaquin "El Chapo" Guzman from maximum-security prison last week. Mexico is notorious for having one of the most corrupt governments in the world. LOS ANGELES, ... continue reading
---

By Hannah Marfil (NEWS CONSORTIUM)
For the second time in 14 years, the most powerful drug trafficker in Mexico and FBI's Public Enemy No. 1 has escaped prison using a tunnel. After Joaquin "El Chapo" Guzman was confirmed to have escaped from the country's most secured prison, the largest manhunt in ... continue reading
---

By Talia Ramos (NEWS CONSORTIUM)
During Pope Francis' recent visit in South America, there were claims he requested to chew some coca leaves to help him cope with the high altitude. Bolivian authorities stated earlier that the Pope made the request during his stay in La Paz, but the Pontiff clarified ... continue reading
---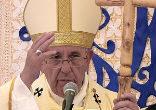 By Catholic Online (NEWS CONSORTIUM)
Thousands of prideful Argentineans crossed in to Paraguay to see their Pope Francis speak at the border town of Caacupe. The Pontiff praised the women of Paraguay in his sermon. He recalled how many were left widowed and orphaned after the War of the Triple ... continue reading
---

By Hannah Marfil (NEWS CONSORTIUM)
During Pope Francis' short trip in Bolivia, President Evo Morales gave him a crucifix of Jesus, nailed in the symbol of communism: hammer and sickle. The Pontiff maintained a neutral and diplomatic approach as he was handed the gift, which is a significant item in the ... continue reading
---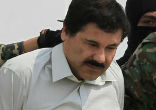 By Catholic Online (NEWS CONSORTIUM)
In a humiliating blow to the Mexican government, the nation's most feared and powerful drug lord -- Joaquin "El Chapo" Guzman skipped out of maximum security prison. Guzman is believed to have crawled through a hole in the shower area of his cellblock at the ... continue reading
---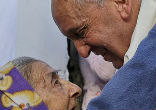 By CNA/EWTN News
Saying Mass at the Marian shrine of Caacupe on Saturday, Pope Francis reflected that it is the task of the "women, wives and mothers" of Paraguay to keep alive their nation's faith and heritage. Caacupe, Paraguay (CNA/EWTN News) - The Roman Pontiff said July 11 ... continue reading
---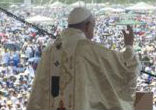 By CNA/EWTN News
Everyone at the Vatican is praying for the fruits of the Pope's apostolic visit to Latin America, but there is one person with a special insight into the papal trip. Quito, Ecuador (CNA/EWTN News) -- Sister Andrea Romero Saltos is an Idente Missionary and the ... continue reading
---
All Americas News