Esta mañana llegó a Villa Cura Brochero la campana donada por el papa Francisco con motivo de beatificación de José Gabriel del Rosario Brochero, obsequio que dio a conocer a través de un mensaje grabado en televisión y difundido el 14 de septiembre.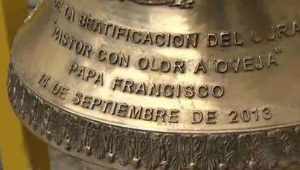 BUENOS AIRES (ACI/EWTN Noticias) - El mensaje fue transmitido durante la ceremonia desarrollada en esta localidad de Traslasierra, y que llegó por intermedio de la Nunciatura Apostólica.

La recepción se acordó en la estación de servicio YPF, ubicada sobre la avenida principal del pueblo. Desde allí se partió en procesión hacia la parroquia y santuario de Nuestra Señora del Tránsito, donde descansan los restos mortales de Brochero, e iglesia que será embellecida con el campanario.

La recepción estuvo presidida por el Obispo diocesano, Mons. Santiago Olivera, acompañado por el párroco y rector del santuario, presbítero David Silva, además de autoridades municipales y vecinos.

A birth foretold: click here to learn more!


---
Copywriter 2015 - Distributed by THE NEWS CONSORTIUM
Pope Francis Prayer Intentions for March 2015
Universal:
Scientists: That those involved in scientific research may serve the well-being of the whole human person.
Evangelization:
Contribution of women: That the unique contribution of women to the life of the Church may be recognized always.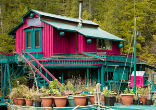 By Catholic Online (NEWS CONSORTIUM)
Wayne Adams and Catherine King are an unconventional Canadian couple who have forsaken the bustle of city life with their floating fortress that they've named "Freedom Cove." Off the grid and self-sustaining, the pink and green floating home is a welcome respite ... continue reading
---
By Catholic Online (NEWS CONSORTIUM)
Birds, it is commonly believed, evolved from dinosaurs. However, between now and then, some horrific, carnivorous birds ruled the prehistoric world with an iron claw. A new species of "terror bird" has been uncovered in Argentina; paleontologists are gaining ... continue reading
---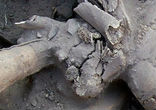 By Catholic Online (NEWS CONSORTIUM)
Tombs, containing at least 40 mummies each have been discovered in Peru's Cotahuasi Valley. Archaeologists say that at least 171 mummies have been unearthed at the 1,200-year-old ceremonial site. LOS ANGELES, CA (Catholic Online) - Located on small hills ... continue reading
---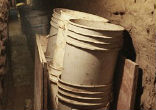 By Catholic Online (NEWS CONSORTIUM)
An average wooden wardrobe near San Diego served a far more sinister purpose. Concealed within its doors was a small trapdoor that led to a secret underground passageway stretching some 500 feet towards the U.S. border. The Mexican military uncovered the ... continue reading
---

By Abigail James (NEWS CONSORTIUM)
A 22-year-old woman, only identified as Laura, was reportedly a good girl before the devil turned her bad, according to Argentina locals. In this disturbing footage, Laura is seen writhing in pain, screaming as Bishop Manuel Acuna performs an exorcism on her. LOS ... continue reading
---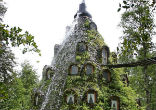 By Catholic Online (NEWS CONSORTIUM)
The Montana Magica Lodge, located in the middle of the southern Andes is something straight from "The Hobbit." It is a literal "Magic Mountain." There is a manmade volcano with a stunning waterfall cascading down its side. LOS ANGELES, CA (Catholic Online) - ... continue reading
---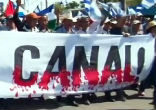 By Catholic Online (NEWS CONSORTIUM)
A massive, fabricated canal, headed by the Hong Kong-based consortium HK Nicaragua Canal Development Investment Company, or HKND is set to undergo construction. The $50 billion project, called the Nicaragua Canal, or the Nicaragua Grand Canal and Inter-oceanic ... continue reading
---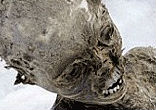 By Catholic Online (NEWS CONSORTIUM)
At 18,000 feet, Pico de Orizaba in Mexico is the country's highest elevated level. Several climbers have lost their lives trying to scale the mountain. The skeletal remains of two climbers, recently discovered there, are believed to be two of three members of ... continue reading
---

By Hannah Raissa Marfil (NEWS CONSORTIUM)
Chile's most active volcano finally erupted, after starting to show signs of seismic disturbance a few days ago. The volcanic activity raised alarm to over 3,300 residents who were evacuated from the small towns of Villarrica, Pucon and Conaripe before the eruption ... continue reading
---
By Hannah Raissa Marfil (NEWS CONSORTIUM)
Archaeologists have finally found the main subject of legends and folklore about "monkey children," a "monkey god" and a "massive source of gold." The city that was left mysteriously by an unidentified civilization hundreds of years ago has been rediscovered in the far ... continue reading
---
All Americas News