Image underscores plight of indigenous people in Mexico who remain chronically under-served.
It's being called the image that shamed Mexico, and it's gone viral. The photograph shows a woman giving birth to a baby on a lawn in Mexico after being turned away from a local clinic.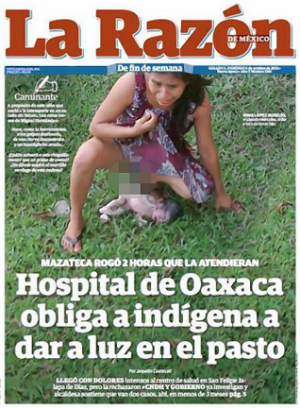 Irma Lopez was forced to give birth outside her local clinic after being turned away.
LOS ANGELES, CA (Catholic Online) - Readers on social media around the world are seeing the shocking image and asking if the baby is okay. The good news is that the baby is just fine. The sad news is that the child was born on a lawn as opposed to in a hospital as should be the right of every mother.

According to Irma Lopez, 29, who is the woman pictured giving birth, she and her husband walked to a local clinic on Oct. 2 in Oaxaca, Mexico. The couple are ethnic Mazatec, one of that nation's many ethnic, native minorities.

Despite being in labor and her water having broke, staff at the clinic turned her away and left her to give birth on the lawn.


The dramatic images highlight a serious problem, in the region. According to Sylvia Flores, the mayor of the rural village of San Felipe Jalapa de Diaz where the incident took place, another woman also gave birth on the law in July. In fact, one in five Mazatec women give birth outside the hospital because they cannot get in.
Nurses said they could not understand Lopez or her husband and that they were short staffed on that day.
"I didn't want to deliver like this" Lopez told reporters of her ordeal. "It was so ugly and with so much pain," she said. Lopez was alone during the birth because her husband was still trying to get her help.
Her screams are what alerted area residents, one of whom had a camera. Eloy Pacheco Lopez took the image of the distraught mother with her child on the grass. He gave the photo to a local reporter and shared it on Facebook. From there the image went viral.
The problem is that indigenous people in Mexico are subject to discrimination and do not receive the care to which they are entitled.
Duly embarrassed, the Mexican government has promised to investigate and sent staff to look into what happened. The clinic's Health Director, Adrian Cruz has been suspended pending the outcome of the investigation. Human Rights observers are also investigating.
While the Mexican government says they urge all women to go to clinics to give birth, women in rural areas say the clinics are too small and understaffed to do the job properly.
 While Irma Lopez was lucky, and gave birth to a healthy child without subsequent complications, many other women do have problems. The infant mortality rate in Mexico is still about 50 per 100,000 births. By contrast, the rate in the U.S. is 16 for every 100,000.
Native people say they are used to being under-served by the health care system and they rely on more traditional methods to handle ordinary health issues. Infant and maternal mortality are higher in indigenous areas, by far.
Irma Lopez has named her baby, a boy, Salvador, which means "savior." "He really saved himself" she told reporters.
Lopez and her baby are doing fine. 
A birth foretold: click here to learn more!
---
Copyright 2015 - Distributed by THE CALIFORNIA NETWORK
Pope Francis Prayer Intentions for April 2016
Universal:
Small Farmers: That small farmers may receive a just reward for their precious labor.
Evangelization:
African Christians: That Christians in Africa may give witness to love and faith in Jesus Christ amid political-religious conflicts.

By Kenya Sinclair (CALIFORNIA NETWORK)
A 7.8 magnitude earthquake devastated sections of Ecuador and left the death count at over 300 people. Over 2,000 destroyed buildings and ruined roads have been reported - and now survivors are sharing their harrowing experiences. LOS ANGELES, CA (Catholic Online) - As ... continue reading
---

By Kenya Sinclair (CALIFORNIA NETWORK)
After serving her country for eight years, former Argentina President Cristina Fernández de Kirchner has been accused of laundering hundreds of millions of dollars into oversea accounts. LOS ANGELES, CA (Catholic Online) - Former president Fernández de Kirchner has ... continue reading
---
By Kenya Sinclair (CALIFORNIA NETWORK)
Uruguay is considered a secular country and is known for its refusal to condone religious beliefs of any kind - yet there exists a debate concerning the erection of a Virgin Mary statue. LOS ANGELES, CA (Catholic Online) - Many in Uruguay stand on the country's ... continue reading
---

By Kenya Sinclair (CALIFORNIA NETWORK)
Sarah Parcak and her team set off on a journey to North America, where they expected to uncover Viking relics beneath over 1,000 years' of soil. LOS ANGELES, CA (Catholic Online) - Parcak used satellite images to search Northern America for irregularities in soil, each ... continue reading
---

By David Drudge (CALIFORNIA NETWORK)
Cuban state media has criticized Obama, calling him a "negro" and accusing him of attempting to incite rebellion and disorder in the communist state. LOS ANGELES, CA (California Network) - The Cuban paper, Havana Tribune, has published a scathing article criticizing ... continue reading
---

By David Drudge (CALIFORNIA NETWORK)
President Obama has made a downright dumb and embarrassing statement to Argentine youth during his visit to that country last week. The President claimed there was no difference between communism and capitalism. LOS ANGELES, CA (California Network) - In a bizarre ... continue reading
---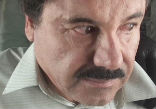 By Marshall Connolly (CALIFORNIA NETWORK)
Mexican drug lord, "El Chapo" visited the USA twice following his escape from a Mexican prison last July. According to his daughter, Rosa Guzman Ortiz, the cartel leader used the opportunity to visit family members living in the United States. LOS ANGELES, CA ... continue reading
---

By Kenya Sinclair (CALIFORNIA NETWORK)
While the United States fights to keep migrants from entering its borders illegally, the Obama administration has pledged $1 million to provide Cubans trapped in Costa Rica with water, food, sanitation kits and temporary housing. LOS ANGELES, CA (Catholic Online) - One ... continue reading
---

By Abigail James (CALIFORNIA NETWORK)
A 15-year-old Honduran girl is being referred to as "possessed by the Devil" by her family and friends after she threatened to kill her mother and suffered from severely violent convulsions in church. LOS ANGELES, CA (Catholic Online) - The unnamed girl was filmed on ... continue reading
---

By Catholic Online (CALIFORNIA NETWORK)
United States President Barack Obama will visit the Caribbean nation of Cuba as early as next month. This follows declarations of closer diplomatic ties between the U.S. and Cuba announced in December of 2014. In doing so, Obama will become the first U.S. ... continue reading
---
All Americas News