Yes, John Paul II gave me the miracle of curing me. My great promise to my healer is to spread devotion to him wherever I can
"I felt like I could collapse at any moment. Various times I fell down outside on the street." The former mayor Marcos Fidel Rojas recalled a trip to Rome where he had met Pope John Paul II. He thought, "I have a friend up there. And he had Parkinson's. Why didn't I pray to him before? Venerable Father John Paul II: come and heal me, put your hands on my head."  Dr. Antonio Schlesinger Piedrahita certified Fidel's complete healing from Parkinson's disease. "Yes, John Paul II gave me the miracle of curing me. My great promise to my healer is to spread devotion to him wherever I can."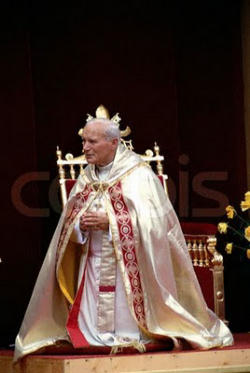 Blessed John Paul II
BOGOTA, Columbia (Catholic Online) - El Tiempo News Agency of Columbia first reported the story in their popular daily newspaper. It was picked up by the Catholic News Agency and distributed globally. Marco Fidel Rojas, the former Mayor of the town of Huila claims to have been healed of Parkinson's disease through the prayerful intercession of "his friend up there", Blessed John Paul II. 
The inspiring account calls to mind another Parkinson's sufferer, a French Nun named Sister Marie Simon-Pierre, who was miraculously cured through the intercession of Blessed John Paul II. her confirmed miracle  assisted in the decision to beatify the much beloved late Pope who himself suffered from the debilitating disease during his later years.  On May 1, 2011 Blessed John Paul II was raised to the Altar and declared a Blessed. Along with millions, I watched in great joy.
I remember the day when he died as though it were yesterday.  The Faithful throughout the entire world gathered upon his death and cried out "Santo Subito". The cry continues and deepens as his teaching Magisterium is unpacked, his example inspires millions and his continuing intercession from heaven works miracles.  
The Bishops of the United States approved the Oct. 22d Memorial of Blessed John Paul II on the Liturgical Calendar of the United States when they meet in November of 2011. The date was chosen by the Congregation for Divine Worship and the Sacraments to memorialize his inauguration on October 22, 1978.
John Paul's magisterium (teaching office) laid the foundation for what has become under his successor and friend, Pope Benedict XVI, a new missionary age of the Catholic Church. Blessed John Paul II tirelessly called all men and women to the Redeemer, Jesus Christ. He always reminded us that it is only in Jesus Christ can we discover the purpose and fulfillment of human life.
He proclaimed that human existence is an invitation to communion with God and with one another. He told an age bent of "self fulfillment" that true human fulfillment can only come from the gift of self. He called us to live a unity of life, wherein the implications of the Christian faith inform the entirety of life with no contradiction or separation.
He confronted what he labeled the "culture of death", wherein the human person is treated as an instrument to be used rather than an unrepeatable gift to be received. He proposed a new "culture of life" where every human person, at every age and stage, is recognized as having an inviolable dignity and right to life, freedom and love.
He defended true freedom from its myriad of modern counterfeits, insisting  that freedom is only found in choosing what is true and good and always requires us to do what is right. His successor, Pope Benedict XVI, continues the task by decrying the Dictatorship of Relativism and anarchic freedom".   
He proclaimed a new humanism, a Christian humanism, reaffirming that we were created in the Image of God and therefore made for communion with Him and one another. He insisted that only by applying the treasury of the social teaching of the Catholic Church - in our relationships with one another, in our families, in our societies, our nations and in the global community - authentic justice and freedom can actually be achieved.
Entrusted for twenty six years with the Chair of Peter, Blessed John Paul II was a prophetic Pope. From his first encyclical letter entitled "The Redeemer of Man" to his last, the "Church of the Eucharist", he proclaimed that the truth is, as he wrote in his Encyclical Letter on the Moral Life, a "splendor".
He called for reconciliation among separated Christians in his encyclical letter "May They Be One" and proposed a bold model for full communion with the Church. The proposals in that encyclical are now being implemented under Pope Benedict XVI - as is evident in the historic erection of Ordinariates for Anglicans who seek full communion as Catholics.
With deep love for the "Light of the East" he called Eastern and Western Christianity to rediscover their dependence upon one another so the entire Body of Christ might once again breathe with "two lungs" and present the whole Jesus Christ to a world that needs to be liberated. Again, his successor is putting the building blocks in place to promote such a healing between the Orthodox and Catholic Churches.
In January the Holy See released the "Decree for the Beatification of the Servant of God John Paul II" and Pope Benedict XVI announced: " The date chosen (May 1) is very significant because it will, in fact, be the second Sunday of Easter which he himself dedicated to Divine Mercy and on the eve of which his earthly life came to an end. Those who knew him, those who respected and loved him cannot but share in the Church's joy at this event." In the last ten centuries of Church history no Pope has beatified his predecessor.
The choice of the Feast of Divine Mercy, May 1, 2011 for the beatification was intentional. Pope John Paul II had a deep devotion to his fellow Pole Sr. Faustina Kowalska and to the Divine Mercy devotion identified with her. In August 2002, in Lagiewniki, Poland where Sr. Faustina lived and died, John Paul II entrusted the entire world "to Divine Mercy, to the unlimited trust in God the Merciful."
The Decree of Beatification noted, "Since the beginning of his pontificate, in 1978, John Paul II often spoke in his homilies of the mercy of God. This became the theme of his second encyclical, Dives in Misericordia, in 1980. He was aware that modern culture and its language do not have a place for mercy, treating it as something strange; they try to inscribe everything in the categories of justice and law. But this does not suffice, for it is not what the reality of God is about."
There is no doubt that we had a saint in our midst. He is still with us in that communion of love which cannot be separated by death. A man so filled with Jesus Christ that, like the Apostle Paul, he no longer lived but "Christ lived in him." (Galatians 2) The sentiment of the faithful expressed on the day on which his body was processed through the streets of Rome, "Santo Subito" still echoes as the Church proceeds with the cause of his canonization.
In an interview with the ZENIT news service in April of 2011, Monsignor Slawomir Oder, the postulator for the cause, was asked whether other miracles were revealed during the process. He replied "There were so many graces and also alleged miracles. Some were examined more in-depth, because this is the practice. Before carrying out a study on a miracle, a prior study is done which in some way guarantees the process itself. In some cases we did further studies and the preliminary statements were good, but we did not continue to study them because the study on the miracle that had been chosen was already under way."
He was asked a follow up question "Can you tell us in what countries these miracles happened?" Monsignor Oder replied "They were verified in France, in the United States, in Germany and in Italy." The postulator expressed what impressed him most about the inquiry into the life and ministry of the late Pope, "The aspect that amazed me, which also happens to be the most important aspect of his life, was the discovery that the source and origin of his extraordinary activity, of his generosity in acting, of the depth of his thought, was his relationship with Christ.
"What came to light was certainly a mystic. A mystic in the sense that he was a man who lived in the presence of God, who let himself be guided by the Holy Spirit, who was in constant dialogue with the Lord, who built his whole life around the question [asked to Peter]: "Do you love me?" His life was the answer to this essential question posed by the Lord. I think this aspect is the greatest treasure of the process."
Now, the testimony of Marco Fidel Rojas has emerged. It has been sent to the Vatican for examination. The former mayor was determined by his Doctors to have Parkinson's in 2005 after suffering a stroke. As the disease worsened he recounted to the Columbian News reporter "I felt like I could collapse at any moment. Various times I fell down outside on the street."
On the evening of Dec. 27, 2010 the former mayor recalled a trip to Rome he had made years earlier where he had met Pope John Paul II. He actually had the joy of speaking with him after Mass. He thought, "I have a friend up there. And he had Parkinson's. Why didn't I pray to him before? Venerable Father John Paul II: come and heal me, put your hands on my head." He testified that he slept without interruption that night, a rare event.
He awakened with no symptoms of Parkinson's disease. Dr. Antonio Schlesinger Piedrahita, a well respected neurologist in Colombia, has certified Fidel's complete freedom from the ravages of Parkinson's disease. Marcos Fidel Rojas enthusiastically affirmed, "Yes, John Paul II gave me the miracle of curing me. My great promise to my healer is to spread devotion to him wherever I can."
---
Copyright 2015 - Distributed by THE CALIFORNIA NETWORK
Pope Francis Prayer Intentions for April 2016
Universal:
Small Farmers: That small farmers may receive a just reward for their precious labor.
Evangelization:
African Christians: That Christians in Africa may give witness to love and faith in Jesus Christ amid political-religious conflicts.

By Kenya Sinclair (CALIFORNIA NETWORK)
A 7.8 magnitude earthquake devastated sections of Ecuador and left the death count at over 300 people. Over 2,000 destroyed buildings and ruined roads have been reported - and now survivors are sharing their harrowing experiences. LOS ANGELES, CA (Catholic Online) - As ... continue reading
---

By Kenya Sinclair (CALIFORNIA NETWORK)
After serving her country for eight years, former Argentina President Cristina Fernández de Kirchner has been accused of laundering hundreds of millions of dollars into oversea accounts. LOS ANGELES, CA (Catholic Online) - Former president Fernández de Kirchner has ... continue reading
---
By Kenya Sinclair (CALIFORNIA NETWORK)
Uruguay is considered a secular country and is known for its refusal to condone religious beliefs of any kind - yet there exists a debate concerning the erection of a Virgin Mary statue. LOS ANGELES, CA (Catholic Online) - Many in Uruguay stand on the country's ... continue reading
---

By Kenya Sinclair (CALIFORNIA NETWORK)
Sarah Parcak and her team set off on a journey to North America, where they expected to uncover Viking relics beneath over 1,000 years' of soil. LOS ANGELES, CA (Catholic Online) - Parcak used satellite images to search Northern America for irregularities in soil, each ... continue reading
---

By David Drudge (CALIFORNIA NETWORK)
Cuban state media has criticized Obama, calling him a "negro" and accusing him of attempting to incite rebellion and disorder in the communist state. LOS ANGELES, CA (California Network) - The Cuban paper, Havana Tribune, has published a scathing article criticizing ... continue reading
---

By David Drudge (CALIFORNIA NETWORK)
President Obama has made a downright dumb and embarrassing statement to Argentine youth during his visit to that country last week. The President claimed there was no difference between communism and capitalism. LOS ANGELES, CA (California Network) - In a bizarre ... continue reading
---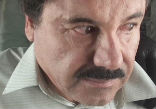 By Marshall Connolly (CALIFORNIA NETWORK)
Mexican drug lord, "El Chapo" visited the USA twice following his escape from a Mexican prison last July. According to his daughter, Rosa Guzman Ortiz, the cartel leader used the opportunity to visit family members living in the United States. LOS ANGELES, CA ... continue reading
---

By Kenya Sinclair (CALIFORNIA NETWORK)
While the United States fights to keep migrants from entering its borders illegally, the Obama administration has pledged $1 million to provide Cubans trapped in Costa Rica with water, food, sanitation kits and temporary housing. LOS ANGELES, CA (Catholic Online) - One ... continue reading
---

By Abigail James (CALIFORNIA NETWORK)
A 15-year-old Honduran girl is being referred to as "possessed by the Devil" by her family and friends after she threatened to kill her mother and suffered from severely violent convulsions in church. LOS ANGELES, CA (Catholic Online) - The unnamed girl was filmed on ... continue reading
---

By Catholic Online (CALIFORNIA NETWORK)
United States President Barack Obama will visit the Caribbean nation of Cuba as early as next month. This follows declarations of closer diplomatic ties between the U.S. and Cuba announced in December of 2014. In doing so, Obama will become the first U.S. ... continue reading
---
All Americas News