100 Political Protesters Disrupted Sunday Mass chanting slogans and threatening the faithful, including the priests.The Archdiocese of Mexico called the event a "condemnable and cowardly act of terror, unequivocal expression of religious intolerance and of the hatred toward the Catholic Church."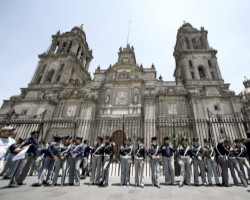 Police stand in front of the cathedral in Mexico City in this file photo from April. Services at the cathedral were suspended by the Mexico City Archdiocese after leftist protesters disrupted a Nov. 19 Mass. (CNS photo/Reuters)
MEXICO CITY (CNS) - Church officials closed and locked Mexico City's Metropolitan Cathedral and suspended all services after about 150 leftist protesters stormed into a Sunday Mass shouting slogans and kicking over pews.

Father Hugo Valdemar, spokesman for the Mexico City Archdiocese, said Nov. 19 that the cathedral will not resume Masses until federal and city police can guarantee security. It is the first time the cathedral has suspended services since Mexico's Cristero uprisings in the 1920s, he said.

"We have to take this action before there is bloodshed," Father Valdemar told Catholic News Service. "We need police to launch a public campaign showing we are being protected."

Leftist leader Andres Manuel Lopez Obrador, who lost the 2006 presidential race by a razor-thin margin, was leading a protest in the plaza adjoining the cathedral. Lopez Obrador claims the election was rigged and calls himself Mexico's "legitimate president."

The ringing of the church bells during one of the rally's speeches angered the demonstrators.

A breakaway group stormed past a line of police and charged up the cathedral aisle. They finally left after the bells stopped ringing and other protesters called for moderation.

Father Ruben Avila Blancas, who was in the church, described it as an act of terrorism.

"The protesters came in threatening and assaulting. Many of the faithful were injured: old people, crying children," Father Avila said. "We cannot go on like this."

Guadalupe Acosta, head of Lopez Obrador's Democratic Revolution Party, condemned the incident but called for an investigation into why the church bells were sounding for such a long time.

"We deny responsibility for these acts," Acosta said on Mexico's W Radio.

Lopez Obrador, who says he wants to lift millions of Mexicans out of poverty, has always described his movement as nonviolent and says he supports demonstrations and civil resistance.

He accused Mexico City Cardinal Norberto Rivera Carrera of supporting President Felipe Calderon during the 2006 election campaign. Mexico's 1917 Constitution bans clergy from any intervention in politics.

Cardinal Rivera's vocal opposition to Mexico City laws permitting abortion and gay civil unions also angers leftists.

Cardinal Rivera was in Rome Nov. 19 but has voiced full support for the suspension of Masses, Father Valdemar said.

In 1926, the Catholic Church suspended Masses across Mexico after assailants carried out bombings and killings in churches and President Plutarco Elias Calles introduced tough anti-clerical laws.

Some 90,000 people were killed in the ensuing Cristero war before the government and church reached an accord in 1929.


---
Copyright (c) 2007 Catholic News Service/U.S. Conference of Catholic Bishops

By Abigail James (CALIFORNIA NETWORK)
Images of a Virgin Mary statue with a single red 'tear' streaming down her face has spread rampant through social media prompting hundreds of pilgrims to visit the statue in Columbia. LOS ANGELES, CA (Catholic Online) - The statue located in Floridablanca, Columbia is ... continue reading
---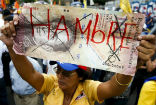 By Marshall Connolly (CALIFORNIA NETWORK)
The world is hardly paying attention, but the nation of Venezuela is in full-collapse. Its economy has imploded, and its politics are in turmoil. The nation is beset with shortages of critical goods, and the beer supply has run out. Soldiers patrol the streets, tasked ... continue reading
---

By Kenya Sinclair (CALIFORNIA NETWORK)
In a shocking move, Olympic organizers have decided to distribute 450,000 condoms to athletes participating in the Rio de Janeiro Olympics this year. LOS ANGELES, CA (Catholic Online) - Under the ruse of "equality," the International Olympic Committee (IOC) has decided ... continue reading
---

By Walter SŠnchez Silva (CNA)
In what's been labeled an "absurd" move, a judge in Colombia has banned prayer and "fraternal hugs" at the start of Cartagena city council sessions as well as local educational institutions. Cartagena, Colombia (CNA) - The ban on civic prayer - as well as the baffling ... continue reading
---

By Marshall Connolly (CALIFORNIA NETWORK)
The story of a teen who found a lost Maya city may not be so remarkable after all, as experts studying the claim find that it doesn't hold up under scrutiny. While the teen certainly had good intentions, his lost city may be nothing more than fallow fields. LOS ... continue reading
---

By Kenya Sinclair (CALIFORNIA NETWORK)
Notorious drug lord Joaquín "El Chapo" Guzmán has been transferred from Altiplano, a maximum-security prison in Central Mexico, to a prison in Ciudad Juarez. LOS ANGELES, CA (Catholic Online) - According to CNN, a senior Mexican law enforcement source stated, "Due to ... continue reading
---

By Abigail James (CALIFORNIA NETWORK)
Cinco de Mayo is upon us, and while many believe it is Mexico's Independence Day, it actually is not. So, what is Cinco de Mayo and why has it become so biculturally popular? LOS ANGELES, CA (California Network) - "The significance of Cinco de Mayo is that it ... continue reading
---

By Kenya Sinclair (CALIFORNIA NETWORK)
A 7.8 magnitude earthquake devastated sections of Ecuador and left the death count at over 300 people. Over 2,000 destroyed buildings and ruined roads have been reported - and now survivors are sharing their harrowing experiences. LOS ANGELES, CA (Catholic Online) - As ... continue reading
---

By Kenya Sinclair (CALIFORNIA NETWORK)
After serving her country for eight years, former Argentina President Cristina Fern√°ndez de Kirchner has been accused of laundering hundreds of millions of dollars into oversea accounts. LOS ANGELES, CA (Catholic Online) - Former president Fern√°ndez de Kirchner has ... continue reading
---
By Kenya Sinclair (CALIFORNIA NETWORK)
Uruguay is considered a secular country and is known for its refusal to condone religious beliefs of any kind - yet there exists a debate concerning the erection of a Virgin Mary statue. LOS ANGELES, CA (Catholic Online) - Many in Uruguay stand on the country's ... continue reading
---
All Americas News