Tomb in Valley of the Kings shows signs of being torched, ransacked numerous times
Researchers have found a heavily desecrated Egyptian tomb. It appears whoever ransacked the tomb set the place alight. Called KV 40, the area is part of the royal tombs in the Valley of the Kings, about 310 miles south of Cairo. Among the wreckage were the charred remains of least 50 mummified Egyptians.
Egyptologists identified the burial place of several children as well as other family members of two pharaohs.
LOS ANGELES, CA (Catholic Online) - The remains are believed to be members of the ancient Egyptian elite. Inscriptions imply that the tomb contains a prince and princess, related to two pharaohs who ruled during the 14th century B.C.

Covered in soot, excavations have proved difficult. Researchers think the fire was started by grave robbers in the late 19th century.

Shop for mom today. Buy her a gift she'll love!


Egyptologists identified the burial place of several children as well as other family members of two pharaohs.
Work on tomb KV 40, near the city of Luxor has been ongoing for three years. Only a depression in the ground indicated the presence of a subterranean tomb.
Nothing was known about the layout of tomb KV 40 until just recently. Egyptologists assumed it was a non-royal tomb dating back to the 18th dynasty, from the years of 1543-1292 B.C.
Clearing the 20-foot deep shaft, researchers were given access to five subterranean chambers before recovering the countless remains and fragments of funerary equipment. Scientists discovered mummified remains of at least 50 people in the center chamber and in three side chambers. Egyptologists were able to identify and name over 30 people.
Titles such as "Prince" and "Princess" distinguish the buried as members of the families of the two pharaohs Thutmosis IV and Amenhotep III, also buried in the Valley of Kings. Both pharaohs belonged to the 18th dynasty and ruled in the 14th century B.C.
Inscriptions revealed that tomb KV 40 contains the mummified remains of at least eight hitherto unknown royal daughters, four princes and several foreign ladies. Mummified children were also found.
"We discovered a remarkable number of carefully mummified newborns and infants that would have normally been buried much simpler," Egyptologist Professor Susanne Bickel says.
"We believe that the family members of the royal court were buried in this tomb for a period of several decades."
Identifying those buried in the proximity of the royal tombs yielded important insight into who had the privilege to spend eternal life close to the pharaoh.
"Roughly two thirds of the tombs in the Kings' Valley are non-royal," Bickel added.
"Because the tombs do not have inscriptions and have been heavily plundered we so far have only been able to speculate on who lies buried in them."
A BRIEF HISTORY OF EGYPTPrehistoric Egypt pre-3100 BCAncient Egypt
Early Dynastic Period 3100-2686 BC
Old Kingdom 2686-2181 BC
1st Intermediate Period 2181-2055 BC
Middle Kingdom 2055-1650 BC
2nd Intermediate Period 1650-1550 BC
New Kingdom* 1550-1069 BC
3rd Intermediate Period 1069-664 BC
Late Period 664-332 BC
Classical Antiquity
Achaemenid Egypt 525-332 BC
Ptolemaic Egypt 332-30 BC
Roman & Byzantine Egypt 30 BC-641 AD
Sassanid Egypt 621-629
Middle Ages
Arab Egypt 641-969
Fatimid Egypt 969-1171
Ayyubid Egypt 1171-1250
Mamluk Egypt 1250-1517
Early Modern
Ottoman Egypt 1517-1867
French occupation 1798-1801
Egypt under Muhammad Ali 1805-1882
Khedivate of Egypt 1867-1914
Modern Egypt
British occupation 1882-1953
Sultanate of Egypt 1914-1922
Kingdom of Egypt 1922-1953
Republic 1953-present
---
Copyright 2017 - Distributed by THE CALIFORNIA NETWORK
Pope Francis Prayer Intentions for DECEMBER 2016
Universal:
End to Child-Soldiers: That the scandal of child-soldiers may be eliminated the world over.
Evangelization:
Europe: That the peoples of Europe may rediscover the beauty, goodness, and truth of the Gospel which gives joy and hope to life.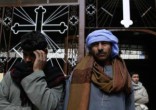 By Andrea Krogmann (Aid to the Church in Need)
Coptic Catholic Bishop Kyrillos William of Assiut, Egypt, commenting on the Dec. 11, 2016 suicide bomber attack that killed 26 people and wounded scores at an Orthodox church in Cairo, confirms that the country's Christian community fears further violence and terror. ... continue reading
---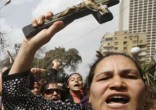 By Kenya Sinclair (CALIFORNIA NETWORK)
Following the horrific attack on <a href="http://www.catholic.org/news/international/middle_east/story.php?id=72513">St. Mark's Cathedral</a>, many are hearing about Coptic Christians for the very first time. LOS ANGELES, CA (Catholic Online) - According to ... continue reading
---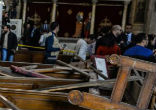 By Kenya Sinclair (CALIFORNIA NETWORK)
On Sunday morning, St. Mark's Coptic Orthodox Cathedral's 105-year-old chapel was targeted by at least one bomb. LOS ANGELES, CA (Catholic Online) - At least 25 people were killed and another 49 were injured in the explosion, which destroyed sections of the church.The ... continue reading
---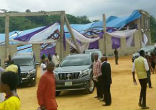 By Kenya Sinclair (CALIFORNIA NETWORK)
The Reigners Bible Church International made headlines on Saturday when its roof collapsed on parishioners celebrating the ordainment of founder Akan Weeks as a bishop. LOS ANGELES, CA (Catholic Online) - The ceremony was cut short when the roof collapsed.Metal beams ... continue reading
---
By Marshall Connolly (CALIFORNIA NETWORK)
The Supreme Court of South Africa has overturned a ruling that could allow physicians to assist a patient who wants to commit suicide. The decision is a life affirming one, with one small detail to cause concern. Thankfully, the court is upholding the importance and ... continue reading
---

By (CNA/EWTN News)
A distant part of Ethiopia last week celebrated the baptisms of 300 adult catechumens, youth, and infants. Bahir Dar, Ethiopia (CNA/EWTN News) - "Today when you receive this great Sacrament of Baptism you become sons and daughters of God, people of God and members of ... continue reading
---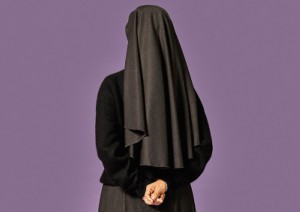 By (CNA/EWTN News)
A nun in the Democratic Republic of Congo was murdered earlier this week by unknown suspects in an apparent robbery, the Pontifical Institute for Foreign Missions has reported. Rome, Italy (CNA/EWTN News) - Sister Marie Claire Agano, a religious of the Franciscan ... continue reading
---
By Marshall Connolly (CALIFORNIA NETWORK)
Archaeologists have discovered a 7,000 year old city in Egypt, dating back to the earliest days of the Egyptian civilization. The settlement is a remarkable discovery that will shed light on a period about which little is known. LOS ANGELES, CA (California Network) - ... continue reading
---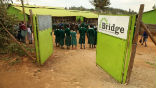 By Marshall Connolly (CALIFORNIA NETWORK)
Some sixty-three private schools in Uganda are about to be closed after officials found they are not properly educating students. The schools in question belong to the Bridges Academy, a private, for-profit school system funded in part by Bill Gates and Mark ... continue reading
---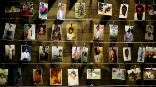 By Catholic News Agency
The Catholic bishops of Rwanda have apologized for Christians' role in the deadly 1994 genocide. "We apologize for all the wrongs the Church committed. We apologize on behalf of all Christians for all forms of wrongs we committed. We regret that church members violated ... continue reading
---
All Africa News