By Catholic Online (NEWS CONSORTIUM)
8/21/2013 (2 years ago)
Catholic Online (www.catholic.org)
What Obama says and what he does often differs, which could be the case with Egypt.
Saudi Arabia is stepping up and pledging enough aid for Egypt to make up for any American shortfall as Obama calls a possibly halt on aid amid growing violence there.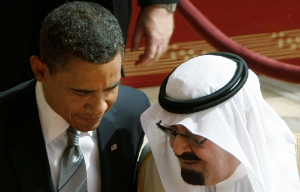 Obama has a close working relationship with the Saudi government. We should not be surprised to find their announcements to be coordinated.
WASHINGTON, DC (Catholic Online) - Yesterday, Saudi Arabia announced a pledge to bolster aid to the current Egyptian government as a response to U.S. threats to cut aid. Since the military intervention which deposed President Mohammed Morsi and the Muslim Brotherhood as a political party, President Obama has been under some pressure to cut support for the strategic African state.

U.S. law forbids military aid from being sent to countries whose regimes seize power in a military coup. The policy is designed to encourage democracy as opposed to dictatorships.

The administration has declined to use the word coup to describe the situation in Egypt, but it clearly is.

Curiously, it is a coup that many Americans and our allies seem to favor.

The government of Mohammed Morsi, dominated by the Muslim Brotherhood, was exclusionary and even hostile to Christians and other minorities. Quietly, it was whispered among Washingtion and regional insiders that Morsi's regime was a threat to stability.

We have since seen the true colors of the Muslim Brotherhood which is responsible for attacks on Christian churches, the murders of police and troops as well as dozens of Christians and moderate Muslims, and their firing on security forces sent to clear them from the streets.

Without their way, the Muslim Brotherhood threatens civil war in Egypt.

However, their government was democratically elected, with a majority of Egyptians choosing Morsi and the Muslim Brotherhood as their leadership. This is one of the shortcomings of democracy. One may not always like the outcome of the election.

So the United States has been compelled to choose between its principles of democracy and regional stability.

Saudi Arabia sees the Muslim Brotherhood, and its alleged al Qaeda ties, as a threat. The conservative monarchy has not been very supportive of the Arab Spring movement.

The Obama administration wants democracy in Egypt, however that democracy could produce a regime that is politically lukewarm towards the United States. Naturally, like Saudi Arabia, the U.S. has an interest in reforming the current political situation and the election of a more moderate government.

To accomplish this, the U.S. has publicly threatened to cut aid to Egypt. However, Obama has actually only called for a review of what aid is sent to Egypt and for that aid to be delivered in packets called tranches, instead of in a continuous stream.

Some parts of that aid, or tranches, such as military equipment, may be withheld.

Enter Saudi Arabia, a close American ally which pledges to make up for any American shortfall.

The United States would prefer to see the current effort to reform the Egyptian government succeed, hence the reticence to call the situation in Egypt a military coup. However, in order to maintain some degree of credibility as a bastion of democracy, the U.S. must also take steps, even if only symbolic, to side with democracy and oppose military intervention in governments.

While Saudi Arabia may seem to be in a position to undermine U.S. pressure aimed at restoring democracy in Egypt, it is more than likely bolstering the true and unstated intent of the U.S. government, which is to see the Muslim Brotherhood chased from power in that country and across the region.

Indeed, the Obama administration may well be the most Machiavellian one the United States has ever seen since the administration of Andrew Jackson. Obama has repeatedly demonstrated that he is guided by principle only in words, and that his actions are without regard for the same. It would come as little shock then, to see that his criticism of the current situation in Egypt differ from secret actions he is likely undertaking in perfect collusion with the Saudi government.


---
Copyright 2015 - Distributed by THE CALIFORNIA NETWORK
Pope Francis Prayer Intentions for April 2016
Universal:
Small Farmers: That small farmers may receive a just reward for their precious labor.
Evangelization:
African Christians: That Christians in Africa may give witness to love and faith in Jesus Christ amid political-religious conflicts.
---
---
---

By Loredana Vuoto (CNA/EWTN News)
Two years ago, radical Islamists with the militant group Boko Haram stormed a school in Chibok, Nigeria, kidnapping 276 teen girls. The event initially sparked global outrage, with high-profile personalities taking pictures on Facebook and Twitter with the hashtag, ... continue reading
---

By Kenya Sinclair (CALIFORNIA NETWORK)
Boko Haram has reportedly initiated a child training camp to prepare kids as young as eight-years-old to kill as many innocents as possible - including themselves. LOS ANGELES, CA (Catholic Online) - Humanitarian group UNICEF recently reported an increase in children ... continue reading
---

By Kenya Sinclair (CALIFORNIA NETWORK)
When Boko Haram abducted over 200 school girls at gunpoint from a government school in Chibok, Nigeria, they made headlines across the globe. Since their abduction, there has been next to no word of their fate - until now. LOS ANGELES, CA (Catholic Online) - Boko Haram ... continue reading
---

By Kenya Sinclair (CALIFORNIA NETWORK)
Women and girls are kidnapped by Boko Haram militants every day - then are forced to marry the terrorists. They are then raped by numerous men each day. After a time of slowly dying from starvation, the weary girls plead to be suicide bombers to escape the agonizingly ... continue reading
---

By Kenya Sinclair (CALIFORNIA NETWORK)
Two women, 15-year-old Halima and 25-year-old Hamsatu, speak of their captivity and forced marriages to Boko Haram men. LOS ANGELES, CA (Catholic Online) - The women and girls used as sex slaves were as young as only 8-years-old and were forced to live in small ... continue reading
---
By Kenya Sinclair (CALIFORNIA NETWORK)
A new image from European Space Agency's (ESA) Sentinel-3A satellite reveals a blood-red River Nile, reminiscent of the Biblical plague of Moses' time. LOS ANGELES, CA (Catholic Online) - According to Exodus 7:20, "Moses and Aaron did as the Lord ordered. He raised his ... continue reading
---

By Monique Crawford (CALIFORNIA NETWORK)
On March 15, the Nigerian Senate voted against a bill that would have made violence against women and girls a criminal act - for the third time. LOS ANGELES, CA (Catholic Online) - The Gender Parity and Prohibition of Violence Against Women bill was thrown out ... continue reading
---

By Marshall Connolly (CALIFORNIA NETWORK)
In 1922, Howard Carter discovered the tomb of the young Egyptian King Tutankhamen. The discovery turned out to be the find of the century as it was the most intact tomb of a pharaoh ever discovered. Now, new research suggests the site could hold a whole new host of ... continue reading
---

By David Drudge (CALIFORNIA NETWORK)
Al Qaeda terrorists have slaughtered Christians in their latest attack in the Ivory Coast, killing 16 people, mostly vacationers, at a tranquil African resort. One child was spared only because he was able to recite an Islamic prayer. LOS ANGELES, CA (California ... continue reading
---

By David Drudge (CALIFORNIA NETWORK)
The U.S. military is ready to strike ISIS in Libya, very hard. According to Pentagon insiders, the military has prepared detailed plans for President Obama to bomb between 30 and 40 targets in Libya on his orders. LOS ANGELES, CA (California Network) - Allied forces ... continue reading
---
All Africa News