By Catholic Online (NEWS CONSORTIUM)
8/3/2012 (3 years ago)
Catholic Online (www.catholic.org)
Radical Islam gaining foothold in troubled African nation
A couple has been stoned to death in northern Mali, in an example of how radical Islamist belief is making inroads into this troubled African nation. Witnesses watched without protest as Islamists executed the two by pelting them with rocks in the remote town of Aguelhok town.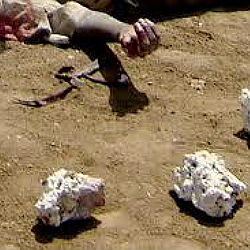 A couple has been stoned to death in northern Mali, in an example of how radical Islamist belief is making inroads into this troubled African nation.
LOS ANGELES, CA (Catholic Online) - "I don't know how many rocks they threw or for how long it went on before they were both dead," Haman Maiga, a resident of Aguelhok who witnessed the stoning said. "No one dared to try and stop the Islamists."

A leader of a radical Islamic group had declared that Sharia law condemns relationships outside marriage.

"The man and the woman, who were both married (to other people), were having an affair," Aliou Toure, the Islamist commissioner in Gao said. "They were stoned to death, the punishment for infidelity, according to Sharia, Islamic law."

The incident was the first reported Sharia killing since al Qaeda-linked Islamists took control of the northern part of the country.

The state of Mali has been in chaos since a military ruler overthrew the democratically-elected president in March, rattling one of West Africa's most stable democracies. While the coup leader stepped down in May and transferred power to a civilian transitional government, there is grave uncertainty about Mali's future.

Ethnic Tuareg rebels and Islamist militants have taken advantage of the chaos to seize control of the northern portion of the country. The town of Aguelhok was among the first to fall when Tuareg rebels occupied the region earlier this year.

Two groups with ties to al Qaeda hijacked the separatist uprising by the local Tuareg movement afterwards. The two groups now control two-thirds of northern Mali, an area the size of Texas that includes the towns of Gao, Kidal and Timbuktu.

Sharia law has been imposed in the region, which bans drinking, music and sports on television. While most residents in the area are Muslims, there have been protests against Sharia law as Islamists here apply it.

"We don't have to answer to anyone over the application of Sharia. This is the form of Islam practiced for thousands of years," Toure said. "The fact that we are building a new country on the base of Sharia is just something the people living here will have to accept."

Islamist militants have been on a rampage in the area for months, destroying sacred tombs in the region and vowing to target more.

Last month, the Islamist rulers ordered residents to leave the area and razed two tombs in Timbuktu. Islamist militants regard such shrines as idolatrous and thus prohibited in their religion. The Islamists here target Sufi shrines, which they believe are sacrilegious.

.
---
Copywriter 2015 - Distributed by THE NEWS CONSORTIUM
Pope Francis Prayer Intentions for July 2015
Universal:
That political responsibility may be lived at all levels as a high form of charity.
Evangelization:
That, amid social inequalities, Latin American Christians may bear witness to love for the poor and contribute to a more fraternal society.
---
---
---

By Kenya Sinclair (NEWS CONSORTIUM)
South Sudan President Salva Kiir reluctantly signs a peace deal with rebels. LOS ANGELES, CA (Catholic Online) - Despite serious doubts, South Sudan President Kiir signed a peace treaty between the army and rebels led by Riek Machar.Mechar previously signed the treaty ... continue reading
---

By Linky C. (NEWS CONSORTIUM)
Several Roman Catholic bishops in Kenya are urging citizens to boycott a mass polio campaign in their area. The bishops want to put a halt to the polio vaccination campaign, unless the safety of the vaccine has been confirmed with scientific testing. MUNINLUPA CITY, ... continue reading
---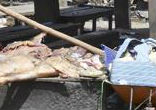 By Catholic Online (NEWS CONSORTIUM)
An explosive device detonated in a busy market in the Nigerian town of Sabon Gari killed at least 50 people and left many injured. The device went off in the early afternoon at the peak shopping period in Borno State. Sources say the bombing has all the ... continue reading
---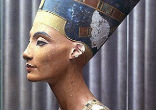 By Catholic Online (NEWS CONSORTIUM)
British archaeologist Dr. Nicholas Reeves at the University of Arizona has proclaimed that a "ghost" doorway found in the tomb of Tutankhamun, the boy-king of ancient Egypt, leads to the final resting place of Queen Nefertiti. LOS ANGELES, CA (Catholic Online) ... continue reading
---

By Catholic Online (NEWS CONSORTIUM)
Nigerian activist Emmanuel Obege isn't that impressed with U.S. President Barack Obama. "When you show up and you're saying to the people of Africa 'You need to legalize gay marriage'... I had a lot of Africans say, 'Well, when our presidents go to America we ... continue reading
---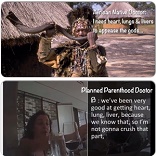 By Obianuju Ekeocha
My country (Nigeria) has worked hard to eradicate completely through laws and societal codes, the dark elements within it that hurt and harmed men, women and children in the centuries past.Today my people bask in both the wonderful splendor of culture and the ... continue reading
---

By Nikky Andres (NEWS CONSORTIUM)
PETA or the People for the Ethical Treatment of Animals has stated that the dentist accused of killing the famous lion Cecil in Zimbabwe needs to be "extradited, charged and, preferably, hanged." MUNTINLUPA, PHILIPPINES (Catholic Online) - It has been revealed to the ... continue reading
---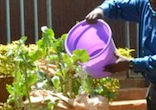 By Caroline Wambui, Thomson Reuters Foundation
Central Kenya's Nturukuma region is not kind to farmers - its erratic rainfall, desert vegetation and drying riverbeds push most people into making a living through trade rather than agriculture. NTURUKUMA, Kenya (Thomson Reuters Foundation) - Jane Kairuthi ... continue reading
---

By Kaci Racelma (Catholic Online)
Algeria continues to pay for its fight against terrorism. After a deadly attack perpetrated in the region of Ain Defla on July 17, against an army patrol, terrorist groups reappeared in the eastern region of Batna on July 27 with an attack against a military barrack. ... continue reading
---

By Kaci Racelma (Catholic Online)
Radicalization is a generic phenomenon that plagues all democratic societies. The radicalization of armed groups, that carry out attacks everywhere worldwide, challenges all governments at the highest level. ALGIERS, ALGERIA (Catholic Online) - This perspective was ... continue reading
---
All Africa News