By Catholic Online (NEWS CONSORTIUM)
7/12/2012 (2 years ago)
Catholic Online (www.catholic.org)
Try one of these recipes to make your own delicious ice cream flavors!
Did you know your kids can make their own ice cream in just five minutes? Ice cream makes a great summer treat and the fun of making your own gives kids an experience they'll remember. Try this simple recipe.
LOS ANGELES, CA (Catholic Online) - Get the kids together and measure out the following ingredients.

1 package frozen fruit (it must be frozen)
½ cup sugar
2/3 cup heavy cream
1 tsp vanilla

Combine the fruit, sugar, cream and vanilla in a blender until it reaches the consistency of soft ice cream. Following this, it's ready to eat, or you may freeze it for later. Freezing it will make the mixture harden and give a more natural, ice cream consistency.

Alternative recipe for kids:

As an alternative, kids can make their own using this recipe.

1 tbsp sugar
½ cup of either milk, half and half, or heavy cream
¼ tsp vanilla
6 tbsp rock salt
1 Ziploc bag (small size, sealable)
1 large Ziploc bag (1 gallon size, sealable)
½ gallon quantity of ice cubes

Start by filling the large plastic bag half-full with ice cubes. Add the rock salt. Seal this bag while you prepare the smaller one.

Next, put your milk or cream into the small bag along with the sugar and vanilla. Seal this bag. Unseal the large bag and put in the small. Now reseal the large bag.

Shake the bag for five minutes. This is a great job for a kid, just make sure you supervise and that the bag isn't too heavy.

After five minutes of shaking, the small bag should have your ice cream ready to eat! A ½ cup of milk or cream should make 1 scoop of ice cream. Add more if you want to make more, but understand that adding to the measures also makes a larger project. Only older kids will be able to manage shaking a larger bag without making a mess.

Also, this recipe can be flavored with chocolate syrup, frozen fruit (blended) or any other flavoring. Feel free to experiment and try your own flavors!



---
Copywriter 2015 - Distributed by THE NEWS CONSORTIUM
Pope Francis Prayer Intentions for March 2015
Universal:
Scientists: That those involved in scientific research may serve the well-being of the whole human person.
Evangelization:
Contribution of women: That the unique contribution of women to the life of the Church may be recognized always.
---
---
---

By Nikky Andres (NEWS CONSORTIUM)
Save time with these delicious no-bake pie recipes and prepare the best dessert for you and your loved ones! MUNTINLUPA, PHILIPPINES (Catholic Online) - With some help from BuzzFeed, here are 13 wonderful pies.1. Rum and Peanut Butter Pie[media id="5371"]Surprise ... continue reading
---

By Nikky Andres (NEWS CONSORTIUM)
If you wake up late in the morning or come home late from work or school, you no longer have to worry about having to prepare for a full meal. You can now whip out these easy to prepare and healthy dishes for one, thanks to BuzzFeed. 1. Masor Jar Pear and Pomegranate ... continue reading
---

By Nikky Andres (NEWS CONSORTIUM)
Cheese and bread are two of the best things that have been combined together, to fill stomachs and be enjoyed by our taste buds. Here, with some help from BuzzFeed, we note 8 ways you can prepare and be proud of your grilled cheese sandwiches. MUNTINLUPA, PHILIPPINES ... continue reading
---

By Nikky Andres (NEWS CONSORTIUM)
When payday is still far away and you've got little money left for food, with some help from BuzzFeed, we suggest you prepare these simple meals that will satisfy your hunger pangs but won't eat up the rest of your budget. 1. Delicious Stir-Fried Beef and ... continue reading
---

By Hannah Raissa Marfil (NEWS CONSORTIUM)
Avocados are popular as guacamole and dips, even in smoothies and salads. Scientifically, avocados are healthy. They are considered one of the healthiest foods -- a super food. MUNTINLUPA, PHILIPPINES (Catholic Online) - According to Web MD, avocados contain about 20 ... continue reading
---

By Hannah Raissa Marfil (NEWS CONSORTIUM)
Bacon is one of the most popular foods ever created; more and more people crave the crunchy, sweet and salty piece of meat. People even express the love they have for it by celebrating a nonofficial, International Bacon Day. MUNTINLUPA, PHILIPPINES (Catholic Online) - ... continue reading
---

By Hannah Raissa Marfil
Once again, the case of "superfoods" has been tried to see whether they are really worth the cash and the hope of good health. A show conducted a trial at Newcastle University, after recruiting five ordinary women to test whether eating blueberries regularly does have ... continue reading
---

By Augusta Scattergood (The Christian Science Monitor)
My younger daughter was born one day shy of St. Patrick's Day. We named her Kate for her Great-Aunt Kitty because we loved the name, not because she was Irish. I didn't understand then that a strong ancestral link could be forged with a country across the sea. My ... continue reading
---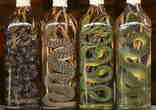 By Hannah Raissa Marfil (NEWS CONSORTIUM)
People often disagree on eating certain things. From exotic animal body parts and things not considered food in general to some items' wild preparations, various delicacies are available for those seeking palate adventures. Some are even rated deliciously. [media ... continue reading
---

By Hannah Raissa Marfil (NEWS CONSORTIUM)
Eating three square meals a day - breakfast, lunch and dinner - is not necessarily helping our health, according to various studies by experts. In a recent report by the Mother Jones website, it is said that there are no actual evidence that support the practice of ... continue reading
---
All Home & Food News