---
McClatchy Newspapers (MCT) - Question: I've misplaced a recipe I believe I cut from a cake mix box for a cranberry bread that was really good and easy to make. I always made it whenever fresh cranberries hit the grocery. Do you have anything like this? Please don't tell me how to make it from scratch. I don't have the time or inclination.
Answer: Lots of readers enjoy doctoring cake mixes. In fact, the most-requested recipe in the 25-plus years I've been writing Cook's Corner is Better Than Sex Cake, which starts with a chocolate cake mix. Here's a cranberry bread recipe from Duncan Hines. If fresh cranberries aren't available, use frozen. If you substitute dried cranberries, skip the added sugar. (And if you want Better Than Sex Cake, you'll find it MiamiHerald.com/Food; click Recipes.)

LEMON CRANBERRY LOAVES

1 Ľ cups finely chopped cranberries (fresh or frozen)

˝ cup finely chopped walnuts

Ľ cup granulated sugar

1 box Lemon Supreme cake mix

ľ cup milk

3 ounces cream cheese, at room temperature, cut in pieces

4 large eggs

Confectioner's sugar

Grease and flour two 8 ˝-by-4 ˝-inch loaf pans. Heat oven to 350 degrees.

Stir together cranberries, walnuts and granulated sugar in large bowl; set aside.

Combine dry cake mix, milk and cream cheese in a large bowl. Beat at medium speed with electric mixer for 2 minutes. Add eggs, 1 at a time, beating for 2 minutes. Fold in cranberry mixture. Divide between prepared pans.

Bake 45 to 50 minutes or until toothpick inserted in centers comes out clean. Cool in pans 15 minutes. Loosen loaves and invert onto cooling rack. Turn right side up. Cool completely. Dust with confectioners' sugar. Makes 24 slices.

Per slice: 150 calories (38 percent from fat), 6.4 g fat (1.6 g saturated, 2.2 g monounsaturated), 40.3 mg cholesterol, 3.2 g protein, 20.6 g carbohydrates, 0.7 g fiber, 168.8 mg sodium.

___

Q: Do you have a low-fat, naturally flavored lemon cookie recipe?

A: I have tried to make cookies with "light" margarine and never been satisfied with the results. (I'd love to hear from any readers who have had better luck.) I compromise by using real butter for flavor and texture and replacing the whole eggs with substitute. The cookie recipe here is a versatile one that can be flavored any way you like. For those who must watch sugar as well as fat, I've also made these with Splenda's baking blend with good results.

LOWER-FAT SUGAR COOKIES

1-2/3 cups all-purpose flour

1 teaspoon baking powder

Ľ teaspoon salt

5 tablespoons butter, at room temperature

ľ cup sugar

Ľ cup refrigerated fat-free egg substitute

1 teaspoon vanilla extract

Whisk the flour, baking powder and salt in a bowl.

Beat the butter and sugar with an electric mixer until light and fluffy. Beat in the egg substitute and vanilla. Gradually beat in the dry ingredients. (The mixture will be crumbly).

Divide dough into two portions and roll into logs about 1 ˝ inches in diameter. Roll in parchment or wax paper and freeze at least 1 hour, until firm.

Heat oven to 350 degrees. Line baking sheets with parchment paper. Cut dough rolls into Ľ-inch slices with a knife dipped in cold water. Place slices 2 inches apart on prepared cookie sheets. Bake 8 to 10 minutes, or until edges are lightly golden. Let cookies rest 1 minute before removing to wire racks. Makes about 3 dozen.

Variations: To make orange cookies, add 1 tablespoon very finely grated orange zest. For lemon or Key lime, add 1 teaspoon juice plus 1 teaspoon finely grated zest. For almond, substitute almond extract for the vanilla and sprinkle top with ground almonds. For snickerdoodles, sprinkle sliced cookies with cinnamon sugar.

Per cookie: 52 calories (28 percent from fat), 1.7 g fat (1 g saturated, 0.4 g monounsaturated), 4.2 mg cholesterol, 0.8 g protein, 8.6 g carbohydrates, 0.2 g fiber, 43.4 mg sodium.

___

Q: I have misplaced my copy of your recipe for the delicious chopped liver from Epicure on Miami Beach. I wish I could make it at home.

A: The recipe here is from Hector Morales, a longtime favorite of Cook's Corner readers.

EPICURE'S CHOPPED LIVER

2 pounds chicken livers

1 ˝ tablespoons salt

5 ounces chicken fat

2 pounds onions, sliced thin (about 3 cups)

˝ cup chicken stock

8 large hard-boiled eggs, crumbled

1 tablespoon salt

˝ teaspoon pepper

Ľ cup honey

Place the chicken livers in a heavy saucepan with just enough water to cover. Stir in salt. Bring to a boil, reduce heat and simmer until livers are firm, about 5 minutes. Drain in a colander, then on an absorbent towel.

In a large saute pan, heat chicken fat over medium-high until it liquefies (about 300 degrees). Add onions and saute until soft and lightly caramelized, about 5 minutes. Add chicken livers and cook 1 minute more. Stir in chicken stock and deglaze the pan. Remove from heat and stir in egg, salt, pepper and honey. Toss gently and set aside to cool.

Grind mixture finely with a meat grinder or use a food processor, pulsing on and off until desired consistency is reached. Makes 16 servings.

Per serving: 246 calorie (54 percent from fat) 15 g fat, 472 mg cholesterol, 18 g protein, 10 g carbohydrate, 1 g fiber, 1,086 mg sodium.

___

Q: I've been trying to find a cookie recipe from the 1970s that I lost. They were called Santa's Stars. What I remember was that they were round and when you took them out of the oven you pressed a Brach's chocolate star in the center. One of the ingredients in the cookie was maple. I thought they were made with oatmeal so I contacted Quaker Oats but they told me they have no cookie recipe by that name. Can you help?

A: The closest I could come is a wonderful recipe for a maple-flavored oatmeal cookie, with the chocolate stars added (you could also use a chocolate kiss, or skip the chocolate altogether).

OATMEAL MAPLE COOKIES

ľ cup butter or margarine, cut in pieces

˝ cup brown sugar

1 cup maple syrup

1 egg

1 ˝ cups all-purpose flour

˝ teaspoon baking soda

Ľ teaspoon salt

1 teaspoon cinnamon

2 cups uncooked oatmeal

˝ cup of raisins and/or chopped nuts, if desired

48 chocolate candy stars (optional)

Beat the butter with the brown sugar until creamy, then beat in the maple syrup. Add the egg. In another bowl, whisk the flour, baking soda, salt and cinnamon. Add to the butter mixture. Add oats along with raisins and/or nuts. Drop dough by rounded tablespoon onto lightly greased baking sheets. Bake at 350 degrees for 11 to 13 minutes, until light golden. Remove from oven and press a chocolate star into the center of each cookie. Makes about 4 dozen cookies.

Per cookie: 81 calories (36 percent from fat), 3.2 g fat (1.9 g saturated, 0.8 g monounsaturated), 12 mg cholesterol, 1.1 g protein, 12.3 g carbohydrates, 0.4 g fiber, 48.8 mg sodium.

___

WHEAT-FREE BAKING

Veronica Khawly of Homestead, Fla., shares this advice:

In response to the question about making a flourless chocolate cake due to a wheat allergy, you can substitute oat flour, rice flour, potato flour or a combination of them in any chocolate cake recipe.

It may take some experimenting to find a texture you like and you may have to adjust the leavening, but I have done it many times in cakes, pancakes and muffins. These flours are readily available in health food stores and some supermarkets. I have even made oat flour using a coffee grinder and then sifting it through a strainer.

___

SLEUTH'S CORNER

Q: Back in the late 1970s and early '80s, Nabisco had a bar cookie that had chocolate on the outside that covered a crunchy cookie with peanut butter inside. The peanut butter was not smooth and gooey but had a texture to it. Nabisco quit making them in the '80s. They are my all-time favorite cookie. Can you get the recipe or something like it? I know I am not the only Ideal Bar lover; I've seen people discussing it on the Internet. It was the best cookie you could buy _ and so great with a bottled Coke.

A: Ideal Bars do have a cult following, and there are quite a few Internet blogs that mention them, but I've never seen a recipe that pulled it all together. The closest I've come to the flavor is Nutter Butter cookies dipped in melted milk chocolate that I tried at a cookie exchange. We'll hope readers can give us a real recipe.

Q: The old Andalusia Bakery in Coral Gables used to make these fabulous flat, square brownie cookies encrusted with chopped nuts. I've tried to make them on my own with no success. Does anyone know the secret?

___

© 2008, The Miami Herald.
---
---
---

By Marshall Connolly (CALIFORNIA NETWORK)
A massive revolution in how we eat is about to hit store shelves and it will mark the greatest change in human food consumption since farming and ranching were developed over 12,000 years ago. This is no editorial exaggeration either, our diets are about the change. ... continue reading
---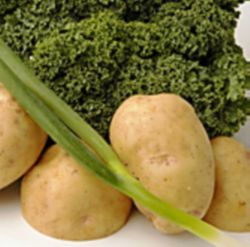 By Augusta Scattergood
(The Christian Science Monitor) - My younger daughter was born one day shy of St. Patrick's Day. We named her Kate for her Great-Aunt Kitty because we loved the name, not because she was Irish. I didn't understand then that a strong ancestral link could be forged with ... continue reading
---

By Kenya Sinclair (CALIFORNIA NETWORK)
Ave Maria Town, meaning "Hail Mary" Town, is located in Florida, roughly 40 miles from Naples. It opened in 2007 after popular pizza chain Domino's' CEO, Tom Monaghan, invested in its creation. LOS ANGELES, CA (Catholic Online) - In accordance to Monaghan's ideals, Ave ... continue reading
---

By Kenya Sinclair (California Network)
As soon as Thanksgiving is over, pine trees are erected and decorated, festive music can be heard, Christmas presents are purchased and wrapped and iconic holiday candies are released from their summertime hibernation. LOS ANGELES, CA (Catholic Online) - Every December ... continue reading
---

By Catholic Online (CALIFORNIA NETWORK)
Have you seen the Catholic Online YouTube channel yet? Every day thousands of people stop by our channel for a wonderfully peaceful and prayerful experience. Don't forget to subscribe today, so you don't miss out on over 100 beautiful Catholic videos, with new ones ... continue reading
---
By Kenya Sinclair (CALIFORNIA NETWORK)
We all love our fuzzy, soft, rough, feathery, scaly, wet, interesting pets, but sometimes they can be high-maintenance. What are a few fast and easy ways to keep them happy without costing us our comfort, time and money? LOS ANGELES, CA (Catholic Online) - You've ... continue reading
---

By Kenya Sinclair (CALIFORNIA NETWORK)
Cleaning, seasoning and maintaining cast iron cookware is important and can save you quite a bit of money. Cooking with cast iron pans and skillets is also a great way to get a healthy dose of iron, but what are the other benefits? LOS ANGELES, CA (Catholic Online) - ... continue reading
---

By Linky C. (NEWS CONSORTIUM)
Experts revealed the top 22 foods you should eat at work to improve your performance in the office. MUNTINLUPA CITY, PHILIPPINES (Catholic Online) - Experts revealed why you should be eating beetroot, marmite and yogurt to keep your performance at work in top ... continue reading
---

By Atarah Haely (NEWS CONSORTIUM)
New York is considering a bill to limit the calorie count of fast food children's meals to only 500 calories. In an investigation conducted by Eat This, Not That! Magazine, meals served for kids in fast food chains go far above the limit. MUNTINLUPA, PHILIPPINES ... continue reading
---

By Kenya Sinclair (NEWS CONSORTIUM)
Homeless people come together and plant a garden to provide food for a shelter in Atlanta. LOS ANGELES, CA (Catholic Online) - Anita Beaty, executive director of Metro Atlanta Task Force told Atlanta Progressive News, "It is important to share and train residents in ... continue reading
---
All Home & Food News