A man finds that he's not the only one who pairs his peanut butter with odd ingredients
The Christian Science Monitor) - "A peanut butter and tomato sandwich? Yuck!"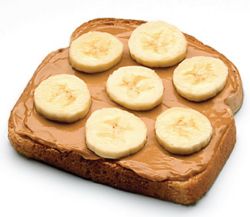 PB GOES WITH EVERYTHING - Not everyone sticks with peanut-butter and jelly sandwiches. Many enjoy their peanut butter in combination with diverse items such as mayonnaise, spicy mustard, pickles, bacon, and other favorite foods and condiments.
I've gotten that reaction ever since grade school when I brown-bagged it with my mother's lunch creation. No one in the cafeteria ever wanted to trade. My mother was the only other person I knew who ate it. Fifty years later, I still fix it for myself. My wife turns her nose up at it. Friends and relatives give it that "thanks, no thanks" look.

I began to think I was alone in relishing unusual peanut butter sandwich combinations. But then I ate at Mo's Restaurant in Burbank, Calif. There, I discovered the Foggybottom Burger, which features peanut butter and sour-plum jam, in addition to other toppings.

I was telling my wife's cousin this and he recalled, "Near Purdue, the Triple XXX Family Restaurant served the Duane Purvis All-American." The menu describes this as a hamburger on a "toasted sesame seed bun with melted cheese on top with lettuce, tomato, pickle, [and] Spanish onion.... Add thick creamy peanut butter on the lower deck and you're in for the touchdown!"

I began asking friends and total strangers if they knew of other out-of-the-ordinary peanut butter sandwiches. I discovered that I run in a very sheltered culinary crowd. Almost without exception, they mentioned the pedestrian peanut butter and mayo combo. The exception was a delightful young woman with purple hair, who said, "You just gotta try peanut butter and spicy mustard."

Not long after, I came across an article about an Elvis cookbook, "Are You Hungry Tonight?" Turns out that the King loved fried peanut butter and banana sandwiches, although Elvis experts debate whether he preferred sliced or mashed bananas.

Odd PB sandwich eaters out of the closet

Recently, I got the bright idea to search for fellow peanut butter sandwich adventurers on Craigslist.org.

"I used to like peanut butter and fried egg sandwiches," wrote eshta from Boston. "When I was a kid, I think I ate it on a dare, and it was surprisingly good so I kept making them."

Quackyduck yearned for "foods I miss from Jersey/Philly." An example: "peanut butter, bacon, and honey on toast sandwiches."

"My wife grew up eating peanut butter and pickle sandwiches," spanman from san fran reported.

Others listed peanut butter (PB) and brown sugar on toast, PB and bologna, fruit and yogurt PB sandwiches, and PB and kimchi (the Korean pickled vegetable dish).

One of my favorite Craigslist postings is "Spitwad Sandwiches" from San Francisco's fatcat94585. The recipe: "2 sl bread, creamy peanut butter, 2 lg marshmallows. Tool: Butter knife. Spread each slice of bread with peanut butter. Using clean fingers, pull apart marshmallows into many, tiny spitwad-size pieces. Press marshmallow wads onto the peanut butter. Put together, wad sides facing, and enjoy. Serves 1 who loves spitwads."

I also learned that PB and mayo does not have to be pedestrian.

"An organically grown, hand-crushed peanut butter and hand-whisked mayonnaise sandwich is the greatest thing on this earth," wrote turbid_rabbit from San Francisco.

I was starting to think that there was a business venture in opening a restaurant specializing in peanut butter sandwiches. Then korncobbed in nyc directed me to www.ilovepeanutbutter.com, which took me to the site for Peanut Butter & Co., a sandwich shop in Greenwich Village. Its menu features spicy peanut butter and chilled grilled chicken with a little pineapple jam, a peanut butter BLT, and a "Peanut Butter Sampler" of freshly ground peanut butters, served with Melba toast and freshly cut carrots, celery, and apple slices.

I'd succeeded in my quest: I'd found people like me, food adventurers willing to try strange and wonderful combinations with our favorite food, peanut butter.

Still, I haven't found anyone else willing to try peanut butter and tomato on wheat toast. Maybe someone will read this and give it a try. Maybe Peanut Butter & Co. will put it on their menu. I can dream, can't I?

Recipe: Grilled Peanut Butter & Banana Sandwich

INGREDIENTS:

6 to 8 tablespoons smooth or crunchy peanut butter

8 slices whole-grain bread

2 large ripe bananas, sliced into a total of 16 pieces

Honey, to taste

Honey-butter-flavored cooking spray

DIRECTIONS:

Spread about 1 tablespoon of the peanut butter on each of the bread slices. Place the banana pieces on top of the peanut butter on 4 of the slices, and drizzle with honey. Press the remaining slices of bread on top to make 4 sandwiches.

Place a large, nonstick skillet over medium-high heat. Coat the bread with the cooking spray just before browning each side. Sauté or grill sandwiches in batches until golden brown (approximately 2 minutes per side). Slice the sandwiches diagonally and serve warm.

Makes 4 servings.
- Adapted from the National Peanut Board

---
---
---
By Kenya Sinclair (CALIFORNIA NETWORK)
We all love our fuzzy, soft, rough, feathery, scaly, wet, interesting pets, but sometimes they can be high-maintenance. What are a few fast and easy ways to keep them happy without costing us our comfort, time and money? LOS ANGELES, CA (Catholic Online) - You've ... continue reading
---

By Kenya Sinclair (CALIFORNIA NETWORK)
Cleaning, seasoning and maintaining cast iron cookware is important and can save you quite a bit of money. Cooking with cast iron pans and skillets is also a great way to get a healthy dose of iron, but what are the other benefits? LOS ANGELES, CA (Catholic Online) - ... continue reading
---

By Linky C. (NEWS CONSORTIUM)
Experts revealed the top 22 foods you should eat at work to improve your performance in the office. MUNTINLUPA CITY, PHILIPPINES (Catholic Online) - Experts revealed why you should be eating beetroot, marmite and yogurt to keep your performance at work in top ... continue reading
---

By Atarah Haely (NEWS CONSORTIUM)
New York is considering a bill to limit the calorie count of fast food children's meals to only 500 calories. In an investigation conducted by Eat This, Not That! Magazine, meals served for kids in fast food chains go far above the limit. MUNTINLUPA, PHILIPPINES ... continue reading
---

By Kenya Sinclair (NEWS CONSORTIUM)
Homeless people come together and plant a garden to provide food for a shelter in Atlanta. LOS ANGELES, CA (Catholic Online) - Anita Beaty, executive director of Metro Atlanta Task Force told Atlanta Progressive News, "It is important to share and train residents in ... continue reading
---

By Hannah Marfil (NEWS CONSORTIUM)
American children were filmed trying seven different foreign school lunches and most were met with disapproval. The video by Cut.com quickly became viral, with over 200,000 views within 24 hours. MUNTINLUPA, PHILIPPINES (Catholic Online) - Common school lunches from ... continue reading
---

By Hannah Marfil (NEWS CONSORTIUM)
A new health study found that chilies can help shed pounds. According to The Daily Mail, adding some fiery chilies to food can help stop overeating -which leads to obesity- by triggering a receptor in the stomach. Further research will be conducted to present a more ... continue reading
---

By Hannah Marfil (NEWS CONSORTIUM)
It is highly recommended to eat nutrient and fiber-rich food and avoid carbohydrates when trying to speed up metabolism, as advised by Nutritionist Frida Harju in an interview with Daily Mail. MUNTINLUPA, PHILIPPINES (Catholic Online) - Food is not really the main ... continue reading
---

By Atarah Haely (NEWS CONSORTIUM)
Although studies are still to be conducted to establish a strong relationship between electromagnetic radiation through phones and other similar devices and fertility, a line of boxer underwear has been launched linked with this concern. The "Wireless Armour" boxers ... continue reading
---

By Atarah Haely (NEWS CONSORTIUM)
The way we cook food affects our health, not only the food we eat. Dietitian and weight-loss expert Sophie Claessens shared some tips on proper preparation of different foods for health benefits, as cited in The Daily Mail. To ensure we are consuming good food, the ... continue reading
---
All Home & Food News