---
(Catholic Digest) - Ariella Angert is no fan of math class, but her discomfort has nothing to do with decimals, fractions, or formulas. Rather, Ariella can't stand the room where class is held. "The bright-yellow walls in my algebra class really freak me out," said this student at Oceanside High School in New York. "Sometimes, it's hard for me to concentrate in that room, and I usually walk out with a migraine."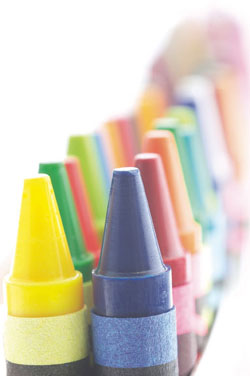 Her negative reaction toward the color yellow may seem odd, but it really isn't. The human eye can see 7 million colors. All these colors can affect a person's mind and body. According to experts in fields ranging from interior decorating to psychology, color can alter moods, influence behavior, and even cause physical reactions -- like raising blood pressure or suppressing appetite. In addition to causing headaches, colors can make a person feel nauseated or tired. Bright lemon yellow is the most fatiguing of all colors. Why? The answer comes from the physics of light and optics. Bright colors reflect more light, and as a result they excessively stimulate the eyes If you look at yellow for too long your eyes may get irritated. Research shows that babies cry more in yellow bedrooms, and families are more apt to fight in yellow kitchens. But the news isn't all bad for yellow. The color is known to promote confidence and learning. So while that yellow classroom may contribute to Ariella's headaches, at the same time it might actually be helping her solve those challenging square root equations. Other colors also have positive effects on people. For instance, blue helps the body relax, and orange tends to improve a person's mood and appetite. Think all of this is hogwash? The ancient Egyptians didn't. Four thousand years ago, the Egyptians built healing temples of light, which filtered the sun's rays and bathed patients in specific colors to treat particular illnesses and emotional states. More recently, studies have shown that colors can affect you when you don't see them. Noted neuropsychologist Kurt Goldstein confirmed in his classic, The Organism, that a blindfolded person will experience physiological reactions under rays of different colors. In other words, the skin reads color, and our bodies, minds, and emotions respond. Exactly how does this happen? Attached to the human brain is the pineal gland, which controls the daily rhythms of life. When light enters through the eyes or skin, it travels along neurological pathways to this pineal gland. Different colors give off different wavelength frequencies, and these different frequencies have different effects on us. It's not by chance that McDonald's restaurants executives chose a golden color for their arches, and that employee uniforms of many successful fast food chains are a combination of yellow, range, and red. These colors, with some of the longest wavelengths, are known to stimulate the appetite. In fact, years ago, when Burger King changed the color of its employee uniforms to blue and green -- colors reputed to suppress the appetite -- sales went down considerably. Pink is another color that has proved to suppress the appetite and stop stress-related snacking. As part of a weight-control program at Johns Hopkins University in Baltimore, Maryland, patients are given a color square called bubble-gum pink to help them eat less. Even the National Institute of Mental Health has done studies showing that our mental health and behavior depend in part on having a normal balance of colors in our life. Color is all around you -- at work, in your home, in your wardrobe, and on your dinner plate. Many of these colors affect study habits, friendships, sleep patterns, and self-esteem. Picture the T-shirt or sweatshirt you like to wear most when you play sports. Imagine the rooms in which you feel most comfortable, nervous, or irritable. Think about foods or meals that turn you off. The colors in clothes, carpeting, or food may be influencing your moods. Does this mean that you should carry color swatches with you to make sure you always benefit from the colors around you? No. Color is light energy that you can tap into simply by looking at or being around those that you need most at a given moment. "You can keep the right color energies around you by carefully selecting the foods you eat, the clothes you wear, and the places you park yourself," says Emma Swedlow, an alternative healing practitioner in Baltimore, Maryland." Color really can be a wonderful tool for creating balance in your life. " Make color work for you: Color qualities, negative effects and practical uses. Black: Promotes self-confidence, power, and strength. But, too much black can make a person feel depressed. Dress in black if you need to make a good impression -- except when you're trying to console a friend whose pet just died. Violet Brings about a feeling of peacefulness and understanding; promotes sleep, suppresses appetite. But, too much violet can make a person feel disoriented. If you're having trouble sleeping, place a purple bulb in your bedside table lamp. Turn the light on when you go to bed. Blue: Calms the mind; gets rid of nervous tension; suppresses appetite But too much blue can make a person feel cold, sad, or depressed. Are you facing a test or other stressful challenge today? Dress in blue and wear a pair of blue-tinted sunglasses. Green: Mentally and physically relaxing; balances emotions; creates openness between you and others. But too much green can make a person in a bad mood feel worse. Next time you have a headache or muscle aches, look at a plant. Even better, surround yourself with foliage. Yellow: Energizes; promotes learning; improves memory; stimulates appetite; combats the doldrums. But too much yellow can make a person feel tired or irritated. If you really want to remember something, take notes on a yellow legal pad or yellow sticky notes. Orange: Like the sun, orange is a natural healer and mood lifter; has a gentle warming effect, and increases appetite. But too much orange can make nervous people more agitated. If you're feeling low, eat cake and drink a glass of orange juice. Red: Stimulates brainwave activity; increases heart rate and blood pressure; improves circulation. But too much red can make people aggressive and agitated. Trying out for the team or need to make a speech? Wear something red - a scarf, cap, or shirt. Pink: Suppresses appetite; relaxes muscles; relieves tension and violent tendencies. But too much pink can make people sleepy. Going home with bad news? Give your spouse a bouquet of pink flowers before delivering it. How does color work? Color originates in light. What a person sees as color is actually a ray of light out of the sun's entire spectrum reflected off an object and perceived by the eye. If you are looking at a red apple, all the invisible rays of sunlight shine on the apple. The surface of the apple absorbs all the colored light rays, except those corresponding to red. Red is reflected. Your eyes receive the reflected red rays and send a message to your brain that you are looking at the color red. Each color radiates a different wavelength of energy. Violet has the shortest wavelength. Red has the longest wavelength. From shortest to longest wave length the color order goes as follows: violet, blue, green, yellow, orange, and red. - - - Article from Scholastic Choices May 2002 printed in the February 2006 issue of Catholic Digest.
---
Republished by Catholic Online with permission of Catholic Digest (www.catholicdigest.org), a Catholic Online Preferred Publishing Partner.
---
---
---

By Marshall Connolly (CALIFORNIA NETWORK)
A massive revolution in how we eat is about to hit store shelves and it will mark the greatest change in human food consumption since farming and ranching were developed over 12,000 years ago. This is no editorial exaggeration either, our diets are about the change. ... continue reading
---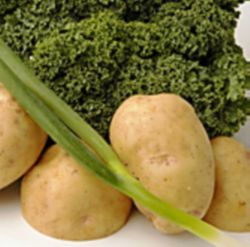 By Augusta Scattergood
(The Christian Science Monitor) - My younger daughter was born one day shy of St. Patrick's Day. We named her Kate for her Great-Aunt Kitty because we loved the name, not because she was Irish. I didn't understand then that a strong ancestral link could be forged with ... continue reading
---

By Kenya Sinclair (CALIFORNIA NETWORK)
Ave Maria Town, meaning "Hail Mary" Town, is located in Florida, roughly 40 miles from Naples. It opened in 2007 after popular pizza chain Domino's' CEO, Tom Monaghan, invested in its creation. LOS ANGELES, CA (Catholic Online) - In accordance to Monaghan's ideals, Ave ... continue reading
---

By Kenya Sinclair (California Network)
As soon as Thanksgiving is over, pine trees are erected and decorated, festive music can be heard, Christmas presents are purchased and wrapped and iconic holiday candies are released from their summertime hibernation. LOS ANGELES, CA (Catholic Online) - Every December ... continue reading
---

By Catholic Online (CALIFORNIA NETWORK)
Have you seen the Catholic Online YouTube channel yet? Every day thousands of people stop by our channel for a wonderfully peaceful and prayerful experience. Don't forget to subscribe today, so you don't miss out on over 100 beautiful Catholic videos, with new ones ... continue reading
---
By Kenya Sinclair (CALIFORNIA NETWORK)
We all love our fuzzy, soft, rough, feathery, scaly, wet, interesting pets, but sometimes they can be high-maintenance. What are a few fast and easy ways to keep them happy without costing us our comfort, time and money? LOS ANGELES, CA (Catholic Online) - You've ... continue reading
---

By Kenya Sinclair (CALIFORNIA NETWORK)
Cleaning, seasoning and maintaining cast iron cookware is important and can save you quite a bit of money. Cooking with cast iron pans and skillets is also a great way to get a healthy dose of iron, but what are the other benefits? LOS ANGELES, CA (Catholic Online) - ... continue reading
---

By Linky C. (NEWS CONSORTIUM)
Experts revealed the top 22 foods you should eat at work to improve your performance in the office. MUNTINLUPA CITY, PHILIPPINES (Catholic Online) - Experts revealed why you should be eating beetroot, marmite and yogurt to keep your performance at work in top ... continue reading
---

By Atarah Haely (NEWS CONSORTIUM)
New York is considering a bill to limit the calorie count of fast food children's meals to only 500 calories. In an investigation conducted by Eat This, Not That! Magazine, meals served for kids in fast food chains go far above the limit. MUNTINLUPA, PHILIPPINES ... continue reading
---

By Kenya Sinclair (NEWS CONSORTIUM)
Homeless people come together and plant a garden to provide food for a shelter in Atlanta. LOS ANGELES, CA (Catholic Online) - Anita Beaty, executive director of Metro Atlanta Task Force told Atlanta Progressive News, "It is important to share and train residents in ... continue reading
---
All Home & Food News