Head grew to monstrous size; Doctors fear she may have suffered brain damage
With a freakish head 37 inches in circumference, a three-year-old Indian girl has underwent surgery to reduce her deformity. Arduous hours of surgery later, she's smiling for the first time with a more normal-sized head.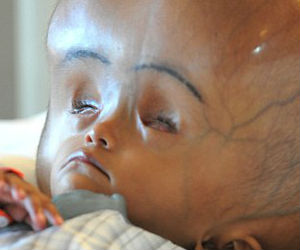 Surgeons carried out a series of operations to reduce the size of Roona's head. Sent home after surgery, her parents were warned she had little chance of survival.
LOS ANGELES, CA (Catholic Online) - Three-year-old Roona Begum was taken to a New Delhi hospital last year, suffering an extreme form of hydrocephalus, more commonly known as water on the brain.

Surgeons carried out a series of operations to reduce the size of Roona's head. Sent home after surgery, her parents were warned she had little chance of survival. Medics were shocked and amazed to find out that not only was Roona alive, she is starting to smile and laugh.

Live Catholic, Shop Catholic -- by going here --


"The doctors said she would not live - but she has survived," Roona's 23-year-old mother Fatima Khatun says.
"She is much better now. She can hold her head straight and she can move her head from side to side on her own. She responds to other kids and she will smile if other kids call out her name.
"I would be very happy if she could stand and talk and be like a normal child. We hope she will one day go to school." Roona cannot yet walk because due to the weight of her head.
She is able to crawl, eat, sleep and interact with her parents with much more comfort at their home in Tripura, western India.
Admitted to the Fortis Memorial Research Institute and Hospital in Gurgaon, on the outskirts of New Delhi, in April of last year, her family faced a huge medical bill. The couple were overwhelmed when images showing Roona's plight attracted international sympathy and prompted the hospital to treat her rare condition for free.
Several rounds of surgery in May and June last year had doctors draining excess fluid from her head and dramatically reducing the size of her skull.
Spending 105 days at the hospital before being discharged in August, Roona returned in December for further reconstruction on her deformed skull.
Neurosurgeon Dr. Sandeep Vaishya who assessed Roona again this week has been surprised by the extent of her recovery. He says that there remains a long road ahead.
"I see a lot of improvement, which I didn't expect. She has started laughing, she makes a lot of sounds and she occasionally speaks a few words.
"She has gained a lot of weight and her activities have improved a lot. But whether she will be able to live a normal life, nobody can say.
"But most likely I don't think she will be absolutely normal because with such a severe case of hydrocephalus there has to be some damage to the brain.
"But with the improvement she has shown we are hopeful she will be able to do some things."
---
Copyright 2016 - Distributed by THE CALIFORNIA NETWORK
Pope Francis Prayer Intentions for SEPTEMBER 2016
Universal:
Centrality of the Human Person: That each may contribute to the common good and to the building of a society that places the human person at the center.
Evangelization:
Mission to Evangelize: That by participating in the Sacraments and meditating on Scripture, Christians may become more aware of their mission to evangelize.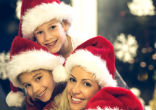 By Catholic Online
Catholic Online wants YOU to be a part of our newest video production! "Christmas Memories from Around the World" invites YOU to send us your favorite family Christmas memories for a chance to become a part of Catholic Online's new Christmas celebration video. We are ... continue reading
---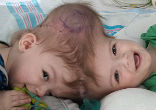 By Kenya Sinclair (CALIFORNIA NETWORK)
Christian and Nicole McDonald discovered they were pregnant, so like any couple they paid a visit to the doctor. Throughout her pregnancy, Nicole was healthy, as was her child, until one day she went in for an ultrasound and everything changed. LOS ANGELES, CA ... continue reading
---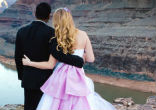 By Kenya Sinclair (CALIFORNIA NETWORK)
We all love our spouses - and some of us are still looking for that special someone - but whether you are in a relationship or just waiting for the person God chose for you, take a moment each day to consider these scriptures. LOS ANGELES, CA (Catholic Online) - The ... continue reading
---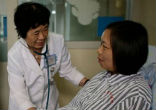 By Kenya Sinclair (CALIFORNIA NETWORK)
Doctors at Guangdong General Hospital were forced to perform immediate emergency surgery on an unborn 28-week-old child still in the womb. LOS ANGELES, CA (Catholic Online) - Daily Mail explained the child's heart was no larger than the size of a walnut but required ... continue reading
---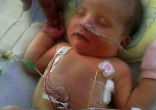 By Kenya Sinclair (CALIFORNIA NETWORK)
Frankie Morrison was born via emergency C-section when medics discovered she was not moving within the womb. Doctors warned her parents, Maria and Chris Morrison, to expect the worst - But God had other plans. LOS ANGELES, CA (Catholic Online) - Maria was rushed to an ... continue reading
---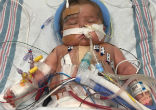 By Kenya Sinclair (CALIFORNIA NETWORK)
Henry Charles Dolan was born 12-weeks premature with two congenital heart defects. His miraculous journey has been captured from the beginning by his parents Mollie and Sam Dolan. LOS ANGELES, CA (Catholic Online) - According to the Hope for Henry Facebook page, Henry ... continue reading
---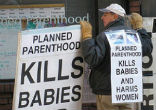 By Matt Hadro (CNA/EWTN News)
As Planned Parenthood celebrates the centennial of the opening of its first birth control clinic, pro-life leaders are condemning the abuses of the nation's largest abortion provider. Washington D.C. (CNA/EWTN News) - "Planned Parenthood's 100-year anniversary is a ... continue reading
---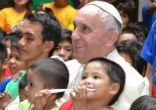 By Hannah Brockhaus (CNA/EWTN News)
On Friday Pope Francis visited with young children at the "SOS Village" in Rome, a community made up of homes for children who are in positions of family or social hardship, as recommended by social services. Rome, Italy (CNA/EWTN News) - The Village, as it is called, ... continue reading
---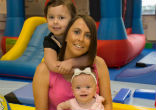 By Kenya Sinclair (CALIFORNIA NETWORK)
Jo and Chris Scott were told their unborn daughter Emie was "incompatible with life" and the doctors claimed the little girl only had a 15 percent chance of survival. LOS ANGELES, CA (Catholic Online) - The Scotts refused to listen as doctor after doctor recommended ... continue reading
---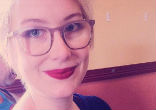 By Kenya Sinclair (CALIFORNIA NETWORK)
Natashjja Heming experienced severe pain since she was 13-years-old. She chalked it up to menstrual cramps, but discovered the truth was something much worse. LOS ANGELES, CA (Catholic Online) - Heming believed the sharp pain she experienced was normal but when she was ... continue reading
---
All Marriage & Family News