Young teens, girls age 11-14 sending sexually explicit photos on the rise, laws may change to accommodate them
---
By Catholic Online (NEWS CONSORTIUM)
11/20/2013 (3 years ago)
Catholic Online (www.catholic.org)
Sexting by teens on the rise, officials want to change laws.
Sexting among teens continues to be a problem according to the FBI, and authorities are looking at revising laws as more and more teens get caught up in sharing explicit photos of themselves.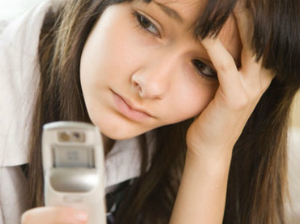 Teens who sex sexually explicit images of themselves face embarrassment, harassment, blackmail, and even criminal charges.
Highlights
By Catholic Online (NEWS CONSORTIUM)
Catholic Online (www.catholic.org)
11/20/2013 (3 years ago)

Published in Marriage & Family
Keywords: Sexting, emails, photos, young children, video games, media, schools, peer pressure, snapchat, Facebook, text messaging, stolen, pics
---
LOS ANGELES, CA (Catholic Online) - Teens as young as 11 years old are sending sexually explicit text messages which include photographs of themselves to other kids and sometimes adults. As cell phones and cameras become ubiquitous and kids learn how to hide their sexting activity from others, the practice is becoming common.
According to the FBI, a recent study revealed that at least 20 percent of teens admitted to taking sexually explicit photos of themselves and sharing them with others. It is likely the number of teens sending sex photos of themselves is higher than the quoted percentage.
Nearly one-in-six teens, 12-17, have received sexually explicit photos of other teens. At least half of all teens have been asked at some point to take and share a photo of themselves with others. The majority of teens who are taking the photos are female, and the majority of recipients are male.
Juvenile sexting is still a crime. Child pornography is fueled in part by teens who engage in what they may assume is low risk behavior and whose images end up in the hands of an unscrupulous other who shares their explicit photo with third parties.
Adults also exploit teens via sexting, encouraging them to take and share such photos. However, people, including teenage girls, who take and transmit such images can be subject to child porn laws and can even be compelled to register as sex offenders for the rest of their lives.
In worse cases, images have been seen or stolen by others, and these pics have become fodder for blackmail, harassment, bullying, and ultimately great shame. At least one eighteen-year-old girl committed suicide after a nude photo she sent to her boyfriend was also sent to hundreds of other students in her school.
The current spate of sexting, which is particularly on the rise among girls between 11 and 13 years old, is causing authorities to reevaluate laws related to the crime. State sex offender laws were mostly composed during the 1990s and deal broadly with issues including kiddie porn.
However, the broadness of those laws is coming under increasing scrutiny as a growing population of activists and legislators call for their reform. Included are a number of law enforcement and judicial officials.
Although children should not be engaging in such behavior, it also happens to be common. Sexual urges, driven by raging hormones, combine with the low-impulse control and poor judgment inherent to teens and results in poor decision-making. Some teens have been subjected to a lifetime on state sex offender registries for their poor decisions. Should a child who engages in poor, but sometimes typical teen behavior, be subjected to a lifetime of stigma and lingering punishment for it?
Increasingly the answer is no. Although prosecutors and judges generally do a good job of protecting teens who get caught in the juvenile justice system for these offenses, there are cases where prosecutors become overzealous or teens accept plea bargains without fully appreciating the impact of being placed on a sex offender registry.
New proposals in states such as New Jersey would exempt teens from the registry for sexting, although it would still maintain the criminal status of the offense. It's a step in the right direction.
Parental responsibility is also a factor. Properly raised children should know better. Still, parents cannot constantly police their teenage children. Teens find time to spend alone in bathrooms and bedrooms where they can engage in inappropriate-even criminal behavior.
Another option would be to give parents the ability to disable a teen's cellphone camera. Although this would not stop teens from taking and sharing explicit photos of themselves, it would certainly make the practice more difficult, thus stemming the tide of images they produce.
It is important for parents to remind children that images and messages they post to the internet, via text, social networks, and even via popular messaging apps, are in fact permanent. Even applications that claim to delete data after a specified period of time cannot secure compromising images or prevent data from being stolen.
The law can be tweaked to protect teens from themselves. Unfortunately, the dark side of the internet, as seen explicitly in child pornography, can't be.
A birth foretold: click here to learn more!
---
Copyright 2017 - Distributed by THE CALIFORNIA NETWORK
Pope Francis Prayer Intentions for JULY 2017
Lapsed Christians.
That our brothers and sisters who have strayed from the faith, through our prayer and witness to the Gospel, may rediscover the merciful closeness of the Lord and the beauty of the Christian life.
---
---