I like chivalry.

Yes, I admit it. I know I'm not supposed to, but I actually like it when men open doors for me, and take my coat, and do all of those other little things that modern feminism says I should find horrifying and offensive. I know it's supposed me make me feel belittled and patronized, but instead I find it makes me feel special, and feminine, and even protected and somehow treasured.

Is that so wrong?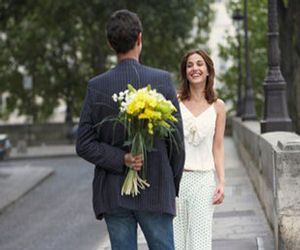 Is chivalry really dead?
I get their thinking-that doing little things for women implies that we are incapable of doing them for ourselves. And so, chivalry has been called "benevolent sexism," with those nice men stooping down to assist us helpless little women-folk. If that's what chivalry really was, I'd resent it, too. But that's not how I see it. Sure, I'm perfectly capable of opening my own doors. But I see it as a sign of respect-for me and for women in general-when a man does that for me. It is an acknowledgement of the politically incorrect truth that men in general are physically stronger than women. By putting that strength at the service of women, a man is signaling that he respects her, and that he has no intention of using it against her. I have been, I hate to admit, afraid that chivalry is indeed dead-or at least slowly dying. I still see it here are there, mostly among older gentlemen and the younger ones ... [Read the rest of the article at CatholicMatch.com/blog]
---


CatholicMatch.com gives single Catholics the best opportunity to grow in their faith and fall in love. It is the largest, widest-reaching and most dynamic Catholic dating site, home to singles of all ages across the globe. Founded in 1999, CatholicMatch is dedicated to St. Raphael and endorsed by clergy, including members of the Magisterium. The site offers single Catholics an online community like no other – one that encourages and edifies its members through an exclusive temperament test, a first-of-its-kind in-line chat system, polls, a blog and 41 forums, where every dimension of Catholicism and single life is discussed. Sign up today and prepare to make wonderful new friendships while you grow in faith and fall in love!

By Kenya Sinclair (CALIFORNIA NETWORK)
Pastor Israel Avelar and his family were the victims of a horrific car crash that left four dead and three in critical condition. LOS ANGELES, CA (Catholic Online) - Following Pastor Avelar's commencement exercises in Insituto Biblico Bautista Libertad, the Freedom ... continue reading
---

By Kenya Sinclair (CALIFORNIA NETWORK)
At 20-weeks-old, unborn babies have the ability to suck their thumbs, yawn, stretch, make faces and react to physical pain, yet hundreds are murdered each year as they are not LOS ANGELES, CA (Catholic Online) - By claiming a mother's personal choice is more important ... continue reading
---

By Kenya Sinclair (CALIFORNIA NETWORK)
Ben and Alyssa Reidhead were overjoyed to hear they were pregnant - until the doctors told them to prepare a funeral for the little life that wouldn't make it out of the womb. LOS ANGELES, CA (Catholic Online) - During the couple's 20-week ultrasound, their son was ... continue reading
---

By Kenya Sinclair (CALIFORNIA NETWORK)
South Carolina legislature passed a bill on Tuesday that puts an end to abortions after 19 weeks. Dare we hope the bill is the beginning of the end of abortion? LOS ANGELES, CA (Catholic Online) - With South Carolina on board, there are seventeen U.S. states banning ... continue reading
---

By Kenya Sinclair (CALIFORNIA NETWORK)
A 70-year-old woman overcame an infertility with the help of several dead babies and one test tube baby. LOS ANGELES, CA (Catholic Online) - Daljinder Kaur and her husband Mohinder Singh Gill spent nearly fifty years of marriage unable to conceive.Finally, at roughly ... continue reading
---
By Kenya Sinclair (CALIFORNIA NETWORK)
Abortion rates have hit a historic low in wealthy countries - but at what cost? LOS ANGELES, CA (Catholic Online) - To put it bluntly, abortion rates have dropped due to a rise in the use of contraceptives, not because more women have decided that murdering their ... continue reading
---

By Kenya Sinclair (CALIFORNIA NETWORK)
A 7-year-old girl who was born without hands beat fifty other first-graders in a national handwriting competition, proving anyone can do anything they put their mind to. LOS ANGELES, CA (Catholic Online) - Rather than accepting prosthetic hands, little Anaya Ellick ... continue reading
---

By Abigail James (CALIFORNIA NETWORK)
In a strange request, an Israeli man has petitioned for a restraining order against God. LOS ANGELES, CA (Catholic Online) - Representing himself in court, the unnamed man entered the Haifa Magistrate's Court in Israel and claimed God had been ... continue reading
---

By Kenya Sinclair (CALIFORNIA NETWORK)
A beautiful set of newborn triplets were delivered via C-section at the Tanjungpinang Regional Genearal Hospital in Indonesia. The girls were strong and healthy with ten little toes and ten little fingers each - but there was one little problem: Two of the girls were ... continue reading
---

By Marshall Connolly (CALIFORNIA NETWORK)
Scientists have been conducting horrifying experiments on unborn babies, fertilizing eggs and seeing how long before they die in a test tube, outside of the womb. LOS ANGELES, CA (Catholic Online) - It's sounds like a horrifying lab experiment out of a prequel to ... continue reading
---
All Marriage & Family News