---
By Catholic Online (NEWS CONSORTIUM)
11/9/2012 (3 years ago)
Catholic Online (www.catholic.org)
Decision made by 'jirga' assembly found illegal; several people arrested
A six-year-old Pakistani girl, who was ordered to marry a teenage in order to stem "enmity" between two families have been saved at the last minute by a court decision in a nearby town. The girl's family, who lived in a rural section of the Swat Valley made a plea with local authorities to halt the marriage. Officials in the town of Saidu Sharif put an end to the arrangement, and have arrested five people in connection with the case.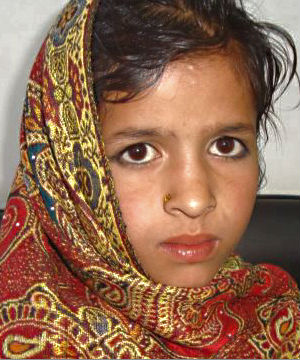 Bibi Roza, the girl in question had been ordered by village elders to be married on November 11 under a practice known as "swara."
LOS ANGELES, CA (Catholic Online) - Bibi Roza, the girl in question had been ordered by village elders to be married on November 11 under a practice known as "swara." In the mountainous areas of northwest Pakistan, local feuds are commonly resolved in customary fashion rather than through common law, deliberated by tribal elders gathered in an assembly called a jirga.

In the event of a guilty verdict from this "kangaroo court," the defendant is often ordered to compensate the victim by handing over land, money, livestock, or as in keeping with the swara tradition -- an unmarried daughter.

The tribal practice is often viewed as a peaceful way to settle blood feuds. In the case of Bibi Roza, a jirga ordered that she be married off to a 16-year-old boy from a rival family in order to resolve an ongoing feud.

Azim Khan, Bibi Roza's 65-year-old father, said he made numerous pleas to tribal elders to reconsider their ruling, but with no success. He said the local police, who he accused of supporting the ruling, told him to accept the verdict, and told him if he were to disallow the marriage, his disobedience would establish an "enmity" between the two families.

"They [the jirga members] are telling us: 'You agreed with the authorities in Ashari to marry your daughter into the other family. You have no other option,'" Khan says. "Yes, I agreed. But the police officers forced me to agree. They are saying that she will be married this Sunday [November 11]. I have pleaded with them that I cannot let her marry."

The local police chief in Ashari, Shah Dauran rejected Khan's claims, saying the police had no role in the jirga's decision. The police launched a criminal investigation after the girl's age was revealed.

The five people who have now been arrested in connection with the case include three jirga members, plus the man who was planning to marry the girl and his father.

Swara, the practice of exchanging women and girls to settle personal feuds, is common in places like the Swat Valley, located in Khyber Pakhtunkhwa Province, and the Federally Administered Tribal Areas.

The Pakistani parliament declared the practice a criminal offense in 2004, punishable by a minimum of a three-year prison sentence. But the practice continues in regions where customary law and tradition remain strong.


---
Copyright 2015 - Distributed by THE CALIFORNIA NETWORK
Pope Francis Prayer Intentions for April 2016
Universal:
Small Farmers: That small farmers may receive a just reward for their precious labor.
Evangelization:
African Christians: That Christians in Africa may give witness to love and faith in Jesus Christ amid political-religious conflicts.
---
---
---

By Kenya Sinclair (CALIFORNIA NETWORK)
In a miraculous, literally life-changing discovery, scientists have discovered the moment a soul enters a fertilized egg. LOS ANGELES, CA (Catholic Online) - Catholics have long believed life begins at the moment of conception, which is why in vitro fertilization and ... continue reading
---

By Kenya Sinclair (CALIFORNIA NETWORK)
Mother-to-be Aley Meyer was so excited to have a child, she didn't notice the image of Christ until someone else pointed it out during her baby shower. LOS ANGELES, CA (Catholic Online) - "She was like, 'do you see this?' And I was like, 'see what?' And she pointed to ... continue reading
---

By Kenya Sinclair (CALIFORNIA NETWORK)
The internet may be full of cat videos but let's face it: Dogs are more expressive, more adorable and much more entertaining! LOS ANGELES, CA (Catholic Online) - Calling all dog people! Have you ever wondered what your dog would say if it could speak people?Maybe your ... continue reading
---

By Kenya Sinclair (CALIFORNIA NETWORK)
If you've been married long enough to pass the honeymoon phase, you know maintaining a relationship can be hard - especially when you feel you aren't being heard or if you've begun to communicate through a series of screaming matches. So how can you keep calm and enjoy ... continue reading
---

By Kenya Sinclair (CALIFORNIA NETWORK)
For years pregnant mothers were tested and told their unborn children contained abnormal cells, indicating a higher possibility of developmental disorders such as Down's syndrome.Many of these mothers choose to abort for a variety of reasons. Unfortunately for these ... continue reading
---

By Kenya Sinclair (CALIFORNIA NETWORK)
When cat-owner Doug Taw heard a few gunshots in his Ardleigh, Essex neighborhood, he thought nothing of it. He continued with his regular routine until he realized his 3-year-old cat, Puss-Puss, didn't come home that night. LOS ANGELES, CA (Catholic Online) - According ... continue reading
---

By Mary Rezac (CNA)
"(W)hen it comes to issues like abortion, amnesty, and acid, I'm about as liberal as your grandmother. I don't like the Supreme Court decision on abortion. I think it went too far." Washington D.C. (CNA) - So said then-Senator Joe Biden <a ... continue reading
---

By Marshall Connolly, (NEWS CONSORTIUM)
"I'm in love with my son, and I want to have his baby." This comes from a 51 year old woman who is reportedly in love with her 32 year old son, and intends to get pregnant by him. LOS ANGELES, CA (California Network) - Over thirty years ago, a young Kim West gave her ... continue reading
---

By Kenya Sinclair (CALIFORNIA NETWORK)
Kim Vaillancourt was five months pregnant when she, her husband Phil and their two children welcomed three sisters into their family. Two days later, the family was set to celebrate Christmas but instead of a family meal and presents, Kim was diagnosed with brain ... continue reading
---

By Catholic News Agency
Among the less-noticed passages of Pope Francis' new exhortation was a lengthy section on marriage preparation, a subject that the pontiff has repeatedly spoken on, calling for additional focus at the diocesan and parish levels. Vatican City, (CNA/EWTN News) - ... continue reading
---
All Marriage & Family News