By Catholic Online (NEWS CONSORTIUM)
10/19/2012 (2 years ago)
Catholic Online (www.catholic.org)
Mitt Romney could not make the appearance.
Mitt Romney's wife defended him on The View yesterday, affirming her husband's pro-life credentials. Ann Romney explained that her husband's position strengthened after he was compelled to reject a plan to conduct stem-cell research in Massachusetts.
LOS ANGELES, CA (Catholic Online) - "He could not have on his conscience, creating human life for experimentation," Ann Romney said. 
She added, "That's when he came out saying he was pro life. I think we all have to understand this is an issue that is so tender and there are people on both sides of the issue, with very good conscience, coming with a different opinion." 

Ann Romney then explained that women today are more concerned about economic problems facing their families than anything else. 

Mitt Romney's current stance on abortion includes a strong personal objection to it with a preference that the issue be decided on the state level. Romney remains willing to allow exceptions in cases of rape, incest, and the life of the mother. 

Romney's position on this critical issue is important because the next president is widely expected to appoint one or two new Supreme Court justices, which could solidify the court's position one way or another. Currently, the court has a slim conservative majority. 

Ann spent most of the time during the interview discussing lighter topics, such as Costco, the household chore wheel, and television. 

She also mentioned that she has stopped watching television because she can no longer stand watching campaign ads. "The American people are sick of campaign ads, am I right?" 

Perhaps the biggest disappointment for the show was that Mitt Romney himself did not appear. Although he was invited, other concerns prevented him from attending. Ann quoted her husband's quip that the women hosting the show were "too shared-tongued and not conservative."

Mitt Romney's staff did confirm that the Governor has scheduling issues and could not appear on the show. 

Despite the Governor's absence, the appearance of Ann Romney should help Mitt Romney's ratings as more Americans have the opportunity to see the personal side of the Romney family.



---
Copywriter 2015 - Distributed by THE NEWS CONSORTIUM
Pope Francis Prayer Intentions for July 2015
Universal:
That political responsibility may be lived at all levels as a high form of charity.
Evangelization:
That, amid social inequalities, Latin American Christians may bear witness to love for the poor and contribute to a more fraternal society.
---
---
---

By Talia Ramos (NEWS CONSORTIUM)
No one can ever tell Melanie Gaydos she is not beautiful. In fact, the 27-year-old model embraces her appearance with such comfort and confidence that she successfully taken on the fashion industry, despite her diagnosis of a rare genetic disease. MUNTINLUPA, ... continue reading
---

By Hannah Marfil (NEWS CONSORTIUM)
Channel 4's <i>Extraordinary Births</i>, host Katie Piper visited a mom-to-be and her partner in Hawaii for their extraordinary, unorthodox birth plan. MUNTINLUPA, PHILIPPINES (Catholic Online) - Dorina Rosin, a spiritual healer, wanted introduce her baby ... continue reading
---

By Atarah Haely (NEWS CONSORTIUM)
Fred and Kim Spratt desperately want to return home to New Jersey after their romantic "babymoon" to Portugal ended in tragedy. MUNTINLUPA, PHILIPPINES (Catholic Online) - Before traveling to Portugal on May 2, the Spratts consulted with their doctor, who cleared ... continue reading
---

By CNA/EWTN News
The World Meeting of Families event next month in Philadelphia aims to lead families to know their importance as a gift from God and to help them open their hearts to Jesus Christ, a priest involved in the event has said. Vatican City (CNA/EWTN News) - The family "is ... continue reading
---

By Kenya Sinclair (NEWS CONSORTIUM)
The website twinstrangers.com brought together 23-year-old Ambra and 33-year-old Jennifer in an astonishing doppleganger encounter. LOS ANGELES, CA (Catholic Online) - 26-year-old Niamh Geaney joined forces with two friends to work on a project called Twin Strangers. ... continue reading
---

By Abigail James (NEWS CONSORTIUM)
During the upcoming Holy Year, Pope Francis will allow all priests to forgive women who seek absolution and have had abortions. The pope proceeds with his "year of mercy" by opening up this opportunity. LOS ANGELES, CA (Catholic Online) - By expanding the number of ... continue reading
---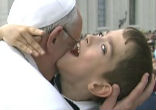 By Matt Hadro, CNA/EWTN News
A group representing Catholic students with intellectual disabilities is hoping a U.S. visit from Pope Francis could spark nothing less than a renaissance in Catholic education. Washington D.C. (CNA/EWTN) - "We hope that Pope Francis will further open up the ... continue reading
---

By Talia Ramos (NEWS CONSORTIUM)
David Finlayson and his 13-year-old son Charlie have a stronger bond now after the teen heroically saved his father from death following a terrible hiking accident. MUNTINLUPA, PHILIPPINES (Catholic Online) - The Finlayson father-son duo were on a two-week backpacking ... continue reading
---

By Atarah Haely (NEWS CONSORTIUM)
Most people think the wedding is perfect if everything they had planned for the event was successfully enacted - the dress, the entourage, the food, the music, etc. Couples spend a lot of time, effort and money just to make sure they will have that magical ceremony ... continue reading
---

By Nikky Andres (NEWS CONSORTIUM)
When families are devastated with unfortunate life events, children are sometimes positioned to become a collateral damage in an often overburdened foster care system. Safe Families for Children provides a much proper alternative. MUNTILUNLPA, PHILIPPINES (Catholic ... continue reading
---
All Marriage & Family News