It is only through an anthropology informed by the full truth about man that the question of homosexual union in all its aspects can be appropriately answered.
"All the evils which poison men and nations and trouble so many hearts have a single cause and a single source: ignorance of the truth -- and at times even more than ignorance, a contempt for truth and a reckless rejection of it. Thus arise all manner of errors, which enter the recesses of men's hearts and the bloodstream of human society as would a plague. These errors turn everything upside down: they menace individuals and society itself" -- Pope John XXIII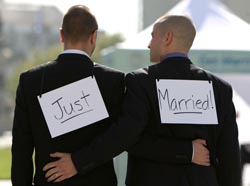 Highlights
Catholic Online (www.catholic.org)
6/29/2012 (3 years ago)
Published in U.S.
Keywords: homosexual unions, homosexual sex acts, same-sex union, same-sex marriage, anthropology, truth of the human person, marriage, marital union, union of one man and one woman, man and woman, matrimony, unitive and procreative, transmission of life, F. K. Bart
---
GLADE PARK, CO (Catholic Online) -- There is no shortage of articles posted on the Internet that, in some form or other, argue in favor of unions between homosexual persons; i.e. same-sex unions. If one should desire to peruse the long list, the New York Times is the undisputed champion. 

Proponents of homosexual unions who write there and elsewhere continue to argue from the same predictable positions of fundamental rights, basic human fairness, unjust discrimination, emerging consensus, and shift in public morality.

All of those positions are based on false premisses, and betray a serious failure to recognize the full truth about who man is. As the Compendium of the Social Doctrine of the Church informs us, only "an anthropology corresponding to the full truth of the human person can give an appropriate response" to the question of unions between homosexual persons (No. 228). In other words, the various aspects of who man is, his purpose and destiny, the consequences of his abuse of free will, the purpose of the sexual faculties with their differences between man and woman, the meaning of marriage and those ends toward which it is ordered and so forth, all need be taken into account in order to understand why homosexual unions gravely contradict the truth about the human person.

Before continuing, it is important at the outset to note the constant teaching of the Catholic Church on human dignity: all people possess human dignity and are therefore to be always treated with the proper respect, which obviously includes homosexual persons. In fact, it is precisely because of the dignity of homosexual persons that they deserve to be informed about the real dangers homosexual unions pose to those involved individually and to society collectively.

Pope Benedict XVI wrote in his encyclical Caritas In Veritate: "To defend the truth, to articulate it with humility and conviction, and to bear witness to it in life are . . . exacting and indispensable forms of charity." Love of God for his sake and love of neighbor obligates the Christian to live by the truth, always and everywhere. That aim is twofold here: to defend the truth about the human person, and to defend the truth about the dignity of the institution of marriage, an indissoluble and permanent bond between one man and one woman, because charity demands it.

But let's look briefly at some of the typical arguments posited by marriage equivalency advocates. Take, for instance, the notion that homosexual persons have a "fundamental right to marry." This not only implies that homosexual unions are identical to heterosexual ones, but also suggests that homosexual persons have a right to engage in homosexual sex acts. But does the human person -- any person -- possess the "right" to engage in any sex act deemed to be desirable? Nope.

The natural law inscribed into the heart of every person and recognizable by reason, reveals that certain actions or inactions are opposed to true goodness and are therefore evil. Just as we know that murder is evil, so too we know that certain uses of the sexual faculties are disordered and run contrary to their purpose intended for goodness. Another way to think about this concept, is that some actions and/or inactions are opposed to the reality of man's existence and to his nature: if man willfully complies with these, then he is engaging in a self-dehumanizing action. If man combats the truth about who he is, he intentionally diminishes his dignity, and brings grave harm to not only himself but to society as a whole.

The homosexual person has no "right" to engage in homosexual sex acts any more than any other person has a "right" to incest, adultery, fornication or other disordered uses of free will with respect to the sexual faculties. The fact is, by choices of free will, to act or not to act, to do this or that, good or evil, the human person shapes his character and fathers his own being, either toward the good or toward its opposite: evil. The person who, for example, steals, is not merely a person who made a mistake but is a thief.

Another premiss we find in the argument in favor of homosexual unions is that there is more to be gained by capitulation than by resistance. The basic notion is, if same-sex unions were legitimized, then perhaps we could all agree on other important issues involved in the marriage equation. For instance, perhaps both homosexuals and heterosexuals could agree that cohabitation, extramarital sex, "trial marriages" and so forth are wrong. It's not unlike saying, "Let's all go along to get along."

It is both a naďve and instructive premiss. It is naďve because proponents of marriage equivalency are uninterested in shoring up moral values as they apply to human sexuality and marriage. And it is instructive, not because the premiss is in this case somehow true but precisely because it is not; that is, the truth is further illuminated when contrasted with what is false. The fact is, the more the notion of marriage equivalency is accepted, the more the timeless values and goods inherent in traditional marriage are viewed in a diminished manner. Soon, marriage could mean anything or nothing.

The more the institution of marriage is undervalued in society, the more frequently it is rejected in favor of extramarital partnerships, so-called trial marriages, or discarded through civil divorce the moment difficulties arise between spouses. While men and women suffer the heartbreaking consequences, children bear the brunt of the burden. For instance, if we think for a moment about the delicate and impressionable nature of children, their need to be raised in a stable paternal and maternal family environment, and the potential grave psychological harm that can ensue if they are deprived of that loving nourishment, it is easy to see that marriage is indeed a vital component for their human growth and flourishing. Children have a right to a father, mother, and stable family in which they can be properly nourished in the womb of nuptial love.

That the healthy future of society rests on the institution of marriage, an "intimate partnership of life and love" (GS 48), is self-evident in virtue of the objective truth of the marital union: it is ordered toward the procreation and education of children (GS 48, 50). Marriage is not merely one phenomenon found in society among others, it is the undergirding principle upon which the family and the society that flows from it is founded. Every society traces its origin to the basic familial unit produced by the fruits of the union of man and woman. There are no exceptions. The family is a primary, vital and indispensable cell of society. A culture devoid of marriage is also devoid of that vital family cell, and, even if it were possible to somehow sustain itself, it would cease to function as a fully human community, since it would rapidly descend into irreparable and dehumanizing chaos.

Given the necessity and importance of marriage, one does not have to think long nor hard about the marriage equivalency movement to realize that it can be harmful to people individually and collectively through its injurious tendency to falsely redefine marriage. Marriage equivalency teaches the unwary that traditional marriage is ultimately valueless, which perpetuates and reinforces severely problematic ideologies. At the nucleus of society is marriage and family; whatever undermines that center and foundation affects the whole structure. If the damage is extensive enough, society may well collapse into ruin.

Blessed John Paul II emphatically observed the importance of a proper anthropology of the human person in order to address the question of homosexual unions. Speaking to the Tribunal of the Roman Rota, he noted that the light of such an anthropology reveals "how incongruous is the demand to accord 'marital' status to unions between persons of the same sex. It is opposed, first of all, by the objective impossibility of making the partnership fruitful through the transmission of life according to the plan inscribed by God in the very structure of the human being. Another obstacle is the absence of the conditions for that interpersonal complementarity between male and female willed by the Creator at both the physical-biological and the eminently psychological levels. It is only in the union of two sexually different persons that the individual can achieve perfection in a synthesis of unity and mutual psychophysical completion" (given 21 January 1999).

With that statement, John Paul II is noting three important facts. First, to give same-sex unions marriage equivalency is incompatible with the natural law. It is clear from human reason that homosexual couples lack the necessary sexual differences to join in true marital union. Second, the homosexual sex act is entirely incapable of procreation; therefore the transmission of life, which marriage is ordered toward, is an impossibility. Third, homosexual partners lack the sexual complementarity and differences necessary to achieve the full dimension of perfection and unity that is possible in the marital bond of husband and wife.

It is important to remember that the question of unions between homosexual persons cannot be reduced merely to questions of "the dignity of homosexual love" or "basic fairness." Nor is the moral licitness of these unions dependent upon popular consensus. The duty to respect homosexual persons "does not justify the legitimization of behavior that is not consistent with the moral law, even less does it justify the recognition of a right to marriage between persons of the same sex and its being considered equivalent to the family" (CSDC 228).

The dignity of homosexual persons demands that they be informed by an anthropology which is consistent with the full truth about the human person. It is clear that homosexual unions betray that truth.

-----

F. K. Bartels is a Catholic writer who knows his Catholic Faith is one of the greatest gifts a man could ever receive. He is a contributing writer for Catholic Online. Visit him also at catholicpathways.com
---
Copyright 2016 - Distributed by THE CALIFORNIA NETWORK
Pope Francis Prayer Intentions for May 2016
Universal:
Respect for Women: That in every country of the world, women may be honored and respected and that their essential contribution to society may be highly esteemed.
Evangelization:
Holy Rosary: That families, communities, and groups may pray the Holy Rosary for evangelization and peace.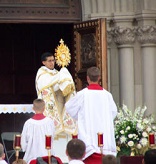 By Deacon Keith Fournier
We have received the Bread of Heaven. Let us choose to become what we consume. These Feasts are not just rituals on a Church calendar. They are invitations to encounter the Lord Jesus Christ, and then offer Him to a world waiting to be born anew. On this Feast of ... continue reading
---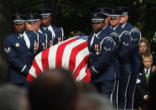 By Deacon Keith Fournier
I live in Chesapeake, a wonderful city in Southeastern Virginia where there are many members of the military. The parish I serve is an example of this. Every day, I witness the many sacrifices which military families make for our Nation. On this Memorial Day, I ... continue reading
---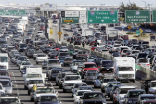 By Marshall Connolly (CALIFORNIA NETWORK)
We have money for perpetual war and can afford generous foreign aid, tax subsidies and cuts for the wealthy, but we cannot find the money to fix a pothole or repair a collapsing bridge. This is the sorry state of affairs U.S. infrastructure is in as we let the nation ... continue reading
---

By Kenya Sinclair (CALIFORNIA NETWORK)
Protesters at Republican presidential candidate Donald Trump's New Mexico rally erupted in violent acts including the attempted stoning of police, glass bottles thrown at mounted units and their horses, burning shirts and more. LOS ANGELES, CA (Catholic Online) - ... continue reading
---

By Kenya Sinclair (CALIFORNIA NETWORK)
Illegal aliens continue to surge into the United States from the Southwest U.S. border, leading the U.S. Customs and Border Protection (CBP) units to announce record-breaking apprehensions in April, 2016. LOS ANGELES, CA (Catholic Online) - According to the U.S. ... continue reading
---

By Marshall Connolly (CALIFORNIA NETWORK)
The arresting officer in the Freddie Gray case, Edward Nero, has been declared "not guilty" by the judge in his criminal trial. Now, the community waits to see if violence will erupt or if the streets will remain quiet. LOS ANGELES, CA (California Network) - Officer ... continue reading
---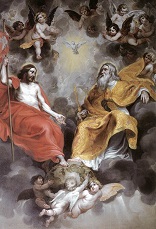 By Deacon Keith Fournier
'The mystery of the Most Holy Trinity is the central mystery of Christian faith and life. It is the mystery of God in himself. It is therefore the source of all the other mysteries of faith, the light that enlightens them. It is the most fundamental and essential ... continue reading
---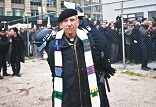 By Fr Frank Pavone
Father Berrigan was a radical figure who sent a total of almost seven years in prison. What many don't realize though is that his activism extended beyond the anti-war movement and into the anti-abortion movement. Believing in what he called a consistent ... continue reading
---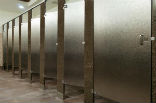 By David Drudge (CALIFORNIA NETWORK)
Under a new law, businesses in New York will be fined if they don't use a person's preferred pronoun when referring to them. This especially becomes a problem when it is understood there are at least 58 possible pronouns with at least five grammatical variations ... continue reading
---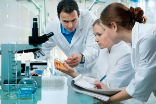 By Marshall Connolly (CALIFORNIA NETWORK)
The Federal Government has discovered the grocery list technology. This unlock apparently occurred recently as the Department of Agriculture sent encouraging, rapid-fire tweets to the public about how to use this remarkable new advancement. LOS ANGELES, CA (California ... continue reading
---
All U.S. News