The role of fatherhood is critical to the life and health of the family and society
I had two experiences this year which shed some light on the meaning of fatherhood for me. One concerns a story told by a nun from Africa. Her story helped me see the relationship between masculinity and fatherhood. The second experience is based on the eulogy given for a father by one of his daughters at his funeral. It was a beautiful testament to fatherhood.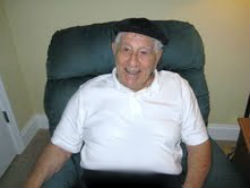 99-year-old Joseph Burriesci
KNOXVILLE, TN (Catholic Online) - I would like to share two experiences I had this year which shed some light on the meaning of fatherhood for me. The first experience concerns a story told by a nun, Sister Elizabeth. Her story helped me see the relationship between masculinity and fatherhood. My second experience is based on the eulogy given for a father by one of his daughters at his funeral. It was a beautiful testament to fatherhood.

On the relationship between masculinity and fatherhood

Sister Elizabeth is a missionary from Africa and presently assigned to the Diocese of Knoxville in Tennessee. She recently held a men's retreat which focused on fatherhood. She described fathering as faithfully providing for the needs of the life one is responsible for bringing into existence. This includes providing leadership, guidance and security, as well as material, emotional and spiritual support.

She also pointed out that the role of fatherhood is largely determined by masculine characteristics and the needs of the children and their mother. To drive this point home, she told us about some members of her congregation who were attacked by a band of armed Muslims at a mission where they were living.

One of the sisters was captured by the Muslims. By God's grace, she escaped unharmed. The other nuns huddled together in a room in one of the buildings. The Muslims were searching for them and tearing up the mission. The stress was unbearable and they felt utterly helpless. Then they heard trucks racing across the mission grounds, men shouting and gunfire. Help had arrived.

According to sister, the presence of the men and the sound of their voices was enough to calm the nun's fears and make them feel secure, even before the battle was won. I think this is significant. Masculine characteristics--such as size, strength, deep voice, and assertiveness--manifest a strength that is meant to fulfill certain needs in others, especially those who are weaker.

Sister's story also reminded me that children have real needs. They need to be cared for materially, emotionally and spiritually. They need to know that you will be there for them. They need to feel secure, and so do their mothers. Men fulfill this role in a unique way for children, women and others in society. The role of fatherhood is critical to the life and health of the family and society. And it has a lifelong impact on children, which is evident based on the eulogy included below.

A beautiful testament to fatherhood

Joseph Burriesci fulfilled Sister's definition of fatherhood. He was faithful to his children and their mother. He provided them with leadership; guidance, security; and support for their material, emotional, and spiritual needs. Joe learned about fatherhood at a young age. He was the eldest of eight children. His dad died while they were still young, so Joe had to take over for his dad. He even gave away four of his sisters when they got married. Joe was born on October 30, 1912, and he died on March 1, 2012, about eight months before his 100th birthday.

My wife and I went to Joe's funeral. I never met him. I learned about him from his daughter, Marilyn, who is a friend of ours. At the funeral, Marilyn's older sister gave the eulogy for their father. I thought it was so inspiring and offered such an excellent example of fatherhood that I asked Marilyn if I could share it with Catholic Online readers. She kindly agreed, so here it is in its entirety:

"Patient, gracious, intelligent, and benevolent are just of the few of the virtues that describe our Dad and Grandfather. He was a role model for many during his lifetime. I held him in the highest esteem, which my siblings, husband and daughter can testify. He was never a burden as everything done for him was done out of love.

"So on this day of our final farewell, I have a few words to impart about our Dad and Grandfather. He spent his long life as an inspiration to all of us. Because of Dad and of course his right arm, our Mom, we kids had a wonderful, happy life. They set the foundation, and we were very lucky to have been their children and grandchildren.

"Our Dad was a loving husband and a generous, dedicated and selfless father. He was the father of three daughters and one son, the grandfather of nine and the great grandfather of 31, with another on the way, not a small feat.

"I was well into adulthood before I realized that there was nothing Dad couldn't fix. And he could come up with an idea to fix anything using many a creative means. My husband referred to him as the "Pope," as that is the way he said I viewed Dad--infallible!

"He was a fantastic Dad always there when we needed him emotionally, physically and otherwise. I'm sure each of us has a selfless story about Dad as that was the type of individual he was.

"He was a very upbeat guy. He had a super positive attitude. Nothing could get him down for long. He was always the gentleman, holding the door so you could pass first. He did this well into his nineties and most times for those younger than he.

"He led by example. He never thought of himself first. He would wait until everyone was seated at the dinner table before taking his first bite of food. He was physically, emotionally and mentally strong. For these virtues he was greatly admired. He never complained. He was the most appreciative man. He always thanked you for whatever you did for him, no matter how small.

"In our eyes our Dad was a notch or two above the rest. We were all blessed to have him in our lives. He will be sorely missed. He leaves immensely large shoes to fill and a gigantic hole in our hearts.

"I don't believe we will ever look at a bird in our back yards and not think of him. He enjoyed looking at the birds and the clouds going by. When we see a chess puzzle, a boxing match or baseball game scheduled for TV, or pasta and wine on Sundays, we'll think of Dad as those were what he enjoyed.

"As our Mom said many times "God threw the mold away after he made your Dad." Very true! And if Dad were sitting out there among you now he would lean over to whichever of his children was next to him and say, "Look at that Jackie, she doesn't know enough to stop talking and sit down."

"We love you Dad! We'll miss you! Rest in peace. You've earned it!"

God bless you Joe and all fathers on this Father's Day.

 
-----

Michael Terheyden was born into a Catholic family, but that is not why he is a Catholic. He is a Catholic because he believes that truth is real, that it is beautiful and good, and that the fullness of truth is in the Catholic Church. However, he knows that God's grace operating throughout his life is the main reason he is a Catholic. He is greatly blessed to share his faith and his life with his beautiful wife, Dorothy. They have four grown children and three grandchildren.

-----
---
Copyright 2016 - Distributed by THE CALIFORNIA NETWORK
Pope Francis Prayer Intentions for May 2016
Universal:
Respect for Women: That in every country of the world, women may be honored and respected and that their essential contribution to society may be highly esteemed.
Evangelization:
Holy Rosary: That families, communities, and groups may pray the Holy Rosary for evangelization and peace.
---
---
---

By Kenya Sinclair (CALIFORNIA NETWORK)
South Carolina legislature passed a bill on Tuesday that puts an end to abortions after 19 weeks. Dare we hope the bill is the beginning of the end of abortion? LOS ANGELES, CA (Catholic Online) - With South Carolina on board, there are seventeen U.S. states banning ... continue reading
---

By Kenya Sinclair (CALIFORNIA NETWORK)
A 70-year-old woman overcame an infertility with the help of several dead babies and one test tube baby. LOS ANGELES, CA (Catholic Online) - Daljinder Kaur and her husband Mohinder Singh Gill spent nearly fifty years of marriage unable to conceive.Finally, at roughly ... continue reading
---
By Kenya Sinclair (CALIFORNIA NETWORK)
Abortion rates have hit a historic low in wealthy countries - but at what cost? LOS ANGELES, CA (Catholic Online) - To put it bluntly, abortion rates have dropped due to a rise in the use of contraceptives, not because more women have decided that murdering their ... continue reading
---

By Kenya Sinclair (CALIFORNIA NETWORK)
A 7-year-old girl who was born without hands beat fifty other first-graders in a national handwriting competition, proving anyone can do anything they put their mind to. LOS ANGELES, CA (Catholic Online) - Rather than accepting prosthetic hands, little Anaya Ellick ... continue reading
---

By Abigail James (CALIFORNIA NETWORK)
In a strange request, an Israeli man has petitioned for a restraining order against God. LOS ANGELES, CA (Catholic Online) - Representing himself in court, the unnamed man entered the Haifa Magistrate's Court in Israel and claimed God had been ... continue reading
---

By Kenya Sinclair (CALIFORNIA NETWORK)
A beautiful set of newborn triplets were delivered via C-section at the Tanjungpinang Regional Genearal Hospital in Indonesia. The girls were strong and healthy with ten little toes and ten little fingers each - but there was one little problem: Two of the girls were ... continue reading
---

By Marshall Connolly (CALIFORNIA NETWORK)
Scientists have been conducting horrifying experiments on unborn babies, fertilizing eggs and seeing how long before they die in a test tube, outside of the womb. LOS ANGELES, CA (Catholic Online) - It's sounds like a horrifying lab experiment out of a prequel to ... continue reading
---

By Kenya Sinclair (CALIFORNIA NETWORK)
Are you tired of giving your mother the same old Mother's Day gifts? How many more pictures does mom really need? Perhaps it's time to stop ordering the same old flowers and move on to something a little more exciting. LOS ANGELES, CA (Catholic Online) - Moms are not ... continue reading
---

By Kenya Sinclair (CALIFORNIA NETWORK)
Mothers are God's gift to us all. It is mothers who tend to love us with an unbridled passion and who can kiss all our boo-boos away - but what about the mothers of the Bible? LOS ANGELES, CA (Catholic Online) - The Bible mentions several mothers and each of them teach ... continue reading
---

By Abigail James (CALIFORNIA NETWORK)
The dictionary definition of a mother reads, "Mother: noun. A woman in relation to a child or children to whom she has given birth." However, a mom is so much more than the person who has given birth to the child. LOS ANGELES, CA (Catholic Online) - Your mom is the one ... continue reading
---
All Marriage & Family News