Internet proves popular in meeting people
A recent study of couples in a romantic relationship shows that more and more people are meeting their life partner online. According to a survey of 3,009 adults with a romantic partner, the Internet is now the second most important way people meet.
LOS ANGELES, CA (Catholic Online) - It was learned that couples with more recent partners, those who met two years before the survey, 23% of heterosexual couples and 61% of gay and lesbian couples met online. Of those surveyed, 474 were gay or lesbian. In fact, only one other factor proved to more popular in meeting people -- at least 32% of respondents said that friends brought them together. "It's the one category that works for every kind of couple — gays and straights, young and old. Everybody relies on their friends," says Michael Rosenfeld, an associate professor of sociology at Stanford University in Stanford, California. He will discuss his preliminary findings at a meeting of the Population Association of America in April. USA TODAY asked readers for their own "how we met" stories, and more than 300 responded. Coupled with Rosenfeld's research, the study is an especially revealing look at how romances form in contemporary society. Rosenfeld says he was surprised that people over 30 were the ones who met partners online — rather than the twenty-somethings he expected.
---
Copywriter 2015 - Distributed by THE NEWS CONSORTIUM
Pope Francis Prayer Intentions for March 2015
Universal:
Scientists: That those involved in scientific research may serve the well-being of the whole human person.
Evangelization:
Contribution of women: That the unique contribution of women to the life of the Church may be recognized always.

By Talia Ramos (NEWS CONSORTIUM)
Nicole Mayhew went home immediately after experiencing a bugging feeling that her husband was in trouble. Scott Mayhew was pinned under their Ford Explorer and had been yelling for help which no one apparently heard. She arrived home right on time to save him from ... continue reading
---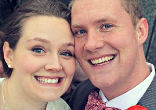 By Catholic Online (NEWS CONSORTIUM)
If a picture is worth a thousand words, some elements of a picture become known only long afterwards. A couple in Virginia had the fact pointed out to them that a macabre "photo bomber" lurks on their favorite wedding photo. The person appears to be a child, a ... continue reading
---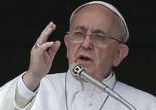 By Catholic Online (NEWS CONSORTIUM)
Pope Francis, in a homily earlier this week said that a culture that does not value "the stable and life-giving covenant between a man and woman is certainly a loss for everyone. We must bring honor back to marriage and the family." LOS ANGELES, CA (Catholic ... continue reading
---

By Talia Ramos (NEWS CONSORTIUM)
After a family falsely claimed their three-year-old daughter suffers from a dangerous heart disease, a family friend posted a page on the GoFundMe website for their support. The family trio from Marietta, Georgia is now arrested and faces charges of felony conspiracy. ... continue reading
---

By Atarah Haely (NEWS CONSORTIUM)
Horrific reports have come out that a woman, claiming to be a social worker, went to an apartment in Indiana where a newly-born child and her mother resided, with means to take the baby away. However, the woman was found to have never even worked in the child-welfare ... continue reading
---

By Atarah Haely (NEWS CONSORTIUM)
Natali Castellanos-Tyler was involved in a single car accident after losing control of her Ford explorer and hitting a tree that resulted in her death, according to police back in February. However, her husband has observed their young daughter screaming about a ... continue reading
---

By Talia Ramos (NEWS CONSORTIUM)
Recent government research projected an increase of new breast cancer cases up to 50 percent by 2030, as well as a change on its age distribution. The current statistic is one in every eight women will develop the disease during her lifetime. The surge will definitely ... continue reading
---

By Nikky Andres (NEWS CONSORTIUM)
Allowing young kids to read books about something controversial is considered by most as one aggressive move. Recently, in Mitchell Primary School, school officials publicly stated their apology for allowing kindergarten through third grade students to read a book ... continue reading
---

By Atarah Haely (NEWS CONSORTIUM)
A new study suggests that rebelliousness is triggered with teenagers' desire to separate from their parents in pursuing individuality. With the use of Magnetic Resonance Imaging (MRI), psychologists were able to track the brain activity of 22 teenagers responding to ... continue reading
---

By Talia Ramos (NEWS CONSORTIUM)
A father went inside the hospital armed with a 9mm handgun with a plan to kill himself if his son died. George Pickering, 59, was going to commit suicide in order to die with his son, after the doctors told him he was already brain dead and would be pulled off life ... continue reading
---
All Marriage & Family News