LONG ISLAND, N.Y. (Long Island Catholic) - In a quiet church on Dec. 30, he knelt down and washed her feet. When he was done, he kissed each foot and then popped the question right there in the chapel at St. Gabriel's Spiritual Center for Youth on Shelter Island.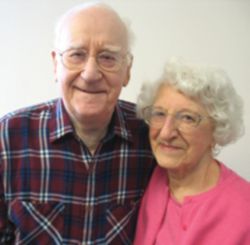 COMMITMENT - August and Rita Ripp, both 92, got married when they were 23 years old and have been married more than 68 years.

For Anthony Muhs, 23, and Stephanie Kerchinski, 23, it was their dream engagement. For years, Stephanie had imagined that her husband would wash her feet. For her, it was the sign of ultimate humility and service.

When she saw the pail of water that day, she knew what was coming. He did too. "I knew she would say, 'yes,'" he said.

While it may seem odd to some that an engagement story included a foot washing, to this couple it symbolizes what their relationship is all about: service.

When Jesus knelt before the disciples to wash their feet, it was a symbol of "Christ serving the bride of the Church," Anthony explained.

As Anthony and Stephanie make plans to wed on August 9 this year, they are also preparing for a life of service to each other. "My job is to serve her, she will serve me," Anthony said.

Human love is divine

Recently, the engaged couple sat together at Hofstra University in Hempstead. They agreed to be interviewed by TLIC before their weekly group meeting of Theology of the Body on the divine meaning of human love. When the interview went a little late and they missed the meeting, they didn't mind. They had already read and discussed the chapters at home.

It's been four years since Anthony and Stephanie met in music class at Franciscan University of Steubenville, Ohio. It wasn't love at first sight.

"He was a New York punk wearing a bandana and sweat pants," she said.

"I thought she was nerdy and joyful, like a product of the '70s," he countered. "I was not used to people smiling so much. She wore overalls and loved daisies."

But feelings changed, first for Stephanie. One day, she heard him play a song on the piano that he had written for the person he hoped to marry someday. It was called, "Everything You Are to Me."

"I was just in awe," she said.

They became good friends, but Anthony was not ready for a relationship. When he first arrived at school, he did not attend Mass regularly. But soon he felt God calling him to something more. Along with growing a beard, he grew in his relationship with Christ. He questioned his future. Should he become a priest?

"Eventually, prayer changed my heart," Anthony said. "It was like God was washing my window so I could see clearly." He realized he was being called to marriage, but "for me to be a St. Joseph, I needed a Mary," he said.

He realized he already cared for someone like that: Stephanie. They were both passionate about God, singing and playing the guitar and piano.

"I was co-chair of the liturgy committee at school," she said.

"I did the praise and worship music," he said.

After graduation, Stephanie moved into an apartment in Anthony's hometown of Farmingdale.

Now, Stephanie teaches chorus at St. Martin de Porres Marianist School in Uniondale while Anthony is a campus minister at Holy Trinity Diocesan High School in Hicksville.

They lead song at Adelphi University in Garden City at the 7 p.m. Sunday Mass and lead music for the Spiritual Children of Padre Pio, a young adult ministry at Holy Name of Jesus Church in Woodbury. They also play for various vocation, college and seminary retreats as well as charismatic conferences.

They are excited and nervous about the big day, when they will finally share a home and the rest of their lives together. "I want to live up to being the man that she deserves, being an image of Christ for her," Anthony said.

Marriage founded on faith

August and Rita Ripp, both 92, got married when they were 23 years old, the same age as Anthony and Stephanie are now. If you ask the Ripps what the secret is to their long-lasting marriage of 68 years, they can't quite put a finger on it.

"Well, we never go to bed angry," said Rita, a parishioner of St. Joseph's Church in Babylon. "And first thing in the morning, he kisses me."

But after many stories of Church and children, it's evident their relationship is built on faith and family.

Like the intertwined fingers of lovers, the Ripps' family life and religious life are almost indistinguishable.Lining the walls of their home in North Babylon, there are pictures of their children, grandchildren and great grandchildren. But just as notable are photos of themselves being honored by bishops and priests for their years of service.

In one picture, Bishop John McGann thanks them for raising funds for the Bishop's Appeal. In another, Bishop William Murphy awards them the St. Agnes Medal of Service. Bishop Murphy recently called recipients of this award "the unsung heroes in our midst who build up our parish communities by extraordinary service in parish ministry."

The Ripps admit they've done a lot of service over the years: the Bishop's Appeal, the Holy Name Society, bingo, the parish bazaar, the Chrysanthemum Ball, school fundraisers, hospital fundraisers and more.

And they are still going strong. August serves as an usher at the 9:30 a.m. Mass as he has done for 55 years. Rita has been an active member of the Catholic Daughters of the Americas just as long. Together, they still serve in the St. Vincent de Paul Society at the parish, helping those in need in the local community.

"The need is so great ... mortgage, rent, car insurance. I don't know how these people are doing it," said August, a retired director of production at Grumman.

Playing Santa

One of their favorite things to do together is to drop off Christmas presents to families, said Rita. Last year, they delivered gifts to a single dad raising a large family. The father was so grateful, he cried. "We went home and cried ourselves," Rita said. "It gives us such satisfaction. It makes us thank God for our blessings."

"God has been so good to us," Rita said, recalling their love story. "Auggie was friends with my brother. On my 16th birthday, he was at the house. We walked out into the hallway and he asked me, 'Have you ever been kissed?' And I said, 'Of course, my mom and dad kiss me all the time!'"

He leaned over and kissed her.

"I stood there, straight like this with my mouth open!"

"She was like a mummy!" he agreed with a laugh.

After that, they were a pair. Whether it was meeting at the Parthenon for a movie, sipping ice cream sodas for 10 cents, or meeting for a mid-day meal on their lunch break, they were always together.

Now, they share a different meal together every day at 7:45 a.m. They go to Mass to say, "Thanks."

"We have a lot to be thankful for," said August. They are hoping for one more blessing, "to celebrate our 70th anniversary together," said Rita, crossing her fingers.

August, noting his carpal tunnel syndrome, couldn't quite cross his fingers, so he dramatically used his other hand to do it. They laughed.

---
This story was made available to Catholic Online by permission of The Long Island Catholic(www.licatholic.org), official newspaper of the Diocese of Rockville Centre on Long Island, N.Y.

By Kenya Sinclair (CALIFORNIA NETWORK)
South Carolina legislature passed a bill on Tuesday that puts an end to abortions after 19 weeks. Dare we hope the bill is the beginning of the end of abortion? LOS ANGELES, CA (Catholic Online) - With South Carolina on board, there are seventeen U.S. states banning ... continue reading
---

By Kenya Sinclair (CALIFORNIA NETWORK)
A 70-year-old woman overcame an infertility with the help of several dead babies and one test tube baby. LOS ANGELES, CA (Catholic Online) - Daljinder Kaur and her husband Mohinder Singh Gill spent nearly fifty years of marriage unable to conceive.Finally, at roughly ... continue reading
---
By Kenya Sinclair (CALIFORNIA NETWORK)
Abortion rates have hit a historic low in wealthy countries - but at what cost? LOS ANGELES, CA (Catholic Online) - To put it bluntly, abortion rates have dropped due to a rise in the use of contraceptives, not because more women have decided that murdering their ... continue reading
---

By Kenya Sinclair (CALIFORNIA NETWORK)
A 7-year-old girl who was born without hands beat fifty other first-graders in a national handwriting competition, proving anyone can do anything they put their mind to. LOS ANGELES, CA (Catholic Online) - Rather than accepting prosthetic hands, little Anaya Ellick ... continue reading
---

By Abigail James (CALIFORNIA NETWORK)
In a strange request, an Israeli man has petitioned for a restraining order against God. LOS ANGELES, CA (Catholic Online) - Representing himself in court, the unnamed man entered the Haifa Magistrate's Court in Israel and claimed God had been ... continue reading
---

By Kenya Sinclair (CALIFORNIA NETWORK)
A beautiful set of newborn triplets were delivered via C-section at the Tanjungpinang Regional Genearal Hospital in Indonesia. The girls were strong and healthy with ten little toes and ten little fingers each - but there was one little problem: Two of the girls were ... continue reading
---

By Marshall Connolly (CALIFORNIA NETWORK)
Scientists have been conducting horrifying experiments on unborn babies, fertilizing eggs and seeing how long before they die in a test tube, outside of the womb. LOS ANGELES, CA (Catholic Online) - It's sounds like a horrifying lab experiment out of a prequel to ... continue reading
---

By Kenya Sinclair (CALIFORNIA NETWORK)
Are you tired of giving your mother the same old Mother's Day gifts? How many more pictures does mom really need? Perhaps it's time to stop ordering the same old flowers and move on to something a little more exciting. LOS ANGELES, CA (Catholic Online) - Moms are not ... continue reading
---

By Kenya Sinclair (CALIFORNIA NETWORK)
Mothers are God's gift to us all. It is mothers who tend to love us with an unbridled passion and who can kiss all our boo-boos away - but what about the mothers of the Bible? LOS ANGELES, CA (Catholic Online) - The Bible mentions several mothers and each of them teach ... continue reading
---

By Abigail James (CALIFORNIA NETWORK)
The dictionary definition of a mother reads, "Mother: noun. A woman in relation to a child or children to whom she has given birth." However, a mom is so much more than the person who has given birth to the child. LOS ANGELES, CA (Catholic Online) - Your mom is the one ... continue reading
---
All Marriage & Family News