Pope Francis lays out what he expects from confessors
---
By Catholic Online (NEWS CONSORTIUM)
3/31/2014 (3 years ago)
Catholic Online (www.catholic.org)
Pope Francis expects Confession to be available with confessors to be merciful and compassionate.
Pope Francis addressed the Apostolic Penitentiary, the Vatican court which oversees the sacrament of Reconciliation, more popularly known as Confession. Pope Francis urged them to promote the importance and convenience of confession and to be moderate in their approach.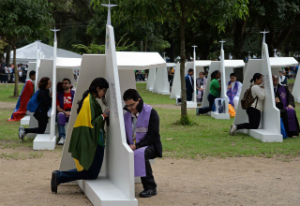 Confession was widely available at World Youth Day celebrations with Pope Francis himself hearing confessions.
VATICAN CITY (Catholic Online) - Pope Francis reminded the Apostolic Penitentiary that the faithful often find it difficult to attend confession for both practical and emotional reasons and they should do all they can to make the sacrament available to everyone.
Pope Francis explained to the court, "Let's not forget that the faithful often struggle to take part in the sacrament, both for practical reasons and because of the natural difficulty in confessing one's own sins to another person. For that reason we have to work really hard on who we are, on our humanity, so as to never be an obstacle, but to always help people be drawn to mercy and forgiveness."

Confession is a powerful sacrament. Always remember.
The Pope expressed his thanks to the court for doing a good job of directing confessors. He also reminded the court of what they should be looking for in confessors, calling for "men of the Holy Spirit" who are also "witnesses." He explained, "This witness is read on the face, you hear it in the voice of the priest" who administers the sacrament of reconciliation."
Pope Francis told the court that how a priest reacts to a confession is also important and that they should be neither too lenient nor too harsh. They should welcome penitents, "not with the attitude of a judge and not like a simple friend, but with the charity of God, with the love of a father who sees his son returning and then heads his way, like the shepherd who has found his lost sheep."
"Mercy is the heart of the Gospel. It's the good news that God loves us that he always loves sinful humanity and, with this love, he attracts people to him and invites them to conversion."
"Confession is not a prosecuting court" he reminded, "but an experience of forgiveness and mercy."
Pope Francis focused on the importance of the priests who do confessions that they must be moved by mercy and compassion and that each diocese ensure the sacrament is widely available. Churches run by religious communities ought to have "a constant presence of confessors" Pope Francis told the court.
Pope Francis has been focusing on the importance of Confession as a sacrament and as a way for the faithful to experience God's loving mercy. The presence of the priest is important because he can aid in the sacrament as well as serve as a representative of both the Church and the community. Sin has a communal aspect so it matters that sins are confessed before those chosen by God to administer the sacrament.
---
Copyright 2018 - Distributed by THE CALIFORNIA NETWORK
Pope Francis Prayer Intentions for JANUARY 2018
Religious Minorities in Asia.
That Christians, and other religious minorities in Asian countries, may be able to practise their faith in full freedom.
---
---