By Catholic Online (NEWS CONSORTIUM)
1/13/2014 (2 years ago)
Catholic Online (www.catholic.org)
If you haven't read one of Dr. Kelly Bowring's books on the heavenly messages of our times, his new book in the trilogy will send you in search of his other two, both of which have become best-sellers; if you have read his previous books, you will certainly look forward to reading his new book with great anticipation. And it will not disappoint, and even promises to be the best book you will read this year, and the one you will be most glad you did.

His newest book, the third on modern Catholic prophecy in his trilogy, attests to Bowring's continuing insightful and well-researched work of analyzing and reporting on credible and Church-approved modern prophecy: Bowring discusses what God is saying to the world today like no one else before him and in a way that inspires hope for the future. In doing so, he provides a full picture of Catholic prophecy of the latter times events and how to live through them into the coming Era of Peace with God's protection and guidance. By providing a divine Map to the spiritual terrain of the final events of our age, Bowring makes it possible to discover the divine Plan for victory to which many Catholics have for years been in search of and many more are awakening to now. For this, Catholics and all those open to the signs of the times will both appreciate and benefit greatly from Bowring's new book. It is no wonder reviews are calling it "masterful", "excellent", "terrific", "right on", and "smart, well-written, and life-changing!"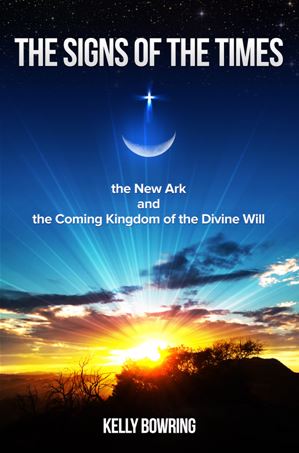 Cover of Bowring's New Book: The Signs of the Times
WASHINGTON, DC (Catholic Online) - Readers may already be familiar with the theological work of Dr. Kelly Bowring. His articles have appeared in National Catholic Register, Our Sunday Visitor, Magnificat Magazine, and Marian Studies. But the recent noteworthiness of Bowring's writings has been spurred by the publication of his highly-acclaimed trilogy of books on modern prophecy: The Secrets, Chastisement, and Triumph, with imprimatur by Cardinal Vidal, The Great Battle has Begun, and now The Signs of the Times, all three published by Two Hearts Press, LLC.

The significance of this extensive work on modern prophecy is unprecedented. With a distinctively Catholic approach, these three books are nothing less than a "prophetic" and "inspired" discussion of the Book of Revelation and other biblical and modern prophecies about the end times and how these prophecies relate to the times at hand today.

As he was approaching the writing of his new book, Dr. Bowring received a special sign that to him prompted his continuing the work of reporting on the heavenly messages of our times. He writes in the Preface about what he felt his signal grace meant:

I knew what this sign meant. I was being called to continue proclaiming the heavenly Message of our times. And I believe you are as well. This book is about the heavenly Messages, Warnings, and Signs of our times, which are coming to us today from the heart of the Church through the Popes, Saints and Mystics, and from the Hearts of Jesus and Mary. The truth is that God is speaking to the world today and He desires to give us extra graces to prepare us for the coming New Era of Peace. This is a Message of hope of a coming New Day! And like the Morning Star, God wants us to be a light for others and to be one of His signs of hope in these times. This is not about the end of the world, but about a new Kingdom about to dawn for the world. I hope you enjoy this book! And please share it with others because the world today, overwhelmed by darkness where falsehood seems to prevail, needs urgently to hear the 'good news' that a new unending day of Christ is indeed dawning and is almost here. And - as you will see discussed in this book - through "The Signs of the Times" that are becoming increasingly evident today, God is showing us the time is now!

Dr. Bowring is a theologian who, beyond being extensively schooled in the solid Catholic tradition, has spent years researching, comparing, and discerning heavenly prophecy, which provides for the depth of clarity and insightful teachings in the trilogy of books. That a Catholic theologian would research and write on wide-ranging modern Catholic prophecy today makes Bowring's work distinctive and unique; that he brings it off in a compelling fashion earns The Signs of the Times rightful recognition as the premier book on modern prophecy. Bowring's application of Christian prophesies in diagnosing the ailments of today's world and of providing the divine Solution makes for engaging and inspiring reading. This paralleled with his other two books also indicates the greatness and depth of the heavenly Message that Bowring provides and analyzes for his audience. In his new book on the signs of the times, Bowring embarks by asking his reader an engaging question: "What is God's Plan for our times - concerning what is going on in the world, why evil is on the rise, how we can make it through these turbulent times safely, and what is on the other side of this present time of darkness?" This is certainly an intriguing question. And you will have to read the book to discover the answer.

The presentation of this book's themes are so remarkably credible, while the sheer multiplicity of sources, which all agree with one another, each adding a new detail to the divine puzzle of God's Great Plan, all fitting together to make up one complete indisputable picture of the signs of our times - makes the Message of this book so overwhelmingly powerful and convincing. This is a book of the most solid sources of the Church, organized and presented systematically without speculation and without unneeded fanfare. It discusses the most important Message from God to the world in these times, even since the time of Christ, according to Bowring.

Using only Church-approved sources, The Signs of the Times uses only the most credible and solid sources to discuss the "good news" of how to succeed in these times by entering the New Ark and living in the Divine Will, which Bowring says is the greatest gift and grace God has given His people for these times. And his book discusses how God is preparing in our times something so wonderful we cannot even imagine it - the coming Kingdom of the Divine Will on earth as it is in Heaven.

Bowring's new book has already received positive recognition. Tom Peterson, President and Founder of Catholics Come Home, stated that "After exhaustively researching centuries of approved Church sources, Dr. Kelly Bowring masterfully crafts together a theological compass to guide us through our rapidly changing times today. His new book shows us that God is giving us "signs" of hope as we come upon a new era of the Divine Will. Our Lord and Our Blessed Mother are showing us - THE TIME IS NOW!" Glenn Dallaire, host of http://www.mysticsofthechurch.com as featured on Spiritdaily, also wrote: "I would like to suggest a new book that I just read entitled "The Signs of the Times". Using only Church approved/recognized sources, Dr. Bowring has compiled an excellent treatise of End Times prophesies and events, along with what they mean for all of us - and what should be our preparation, understanding, and mindset for these upcoming times."

I can only conclude that this is a book you will want to read, reread, and then share as the most trusted resource for understanding and responding as God plans for the times at hand today. Promises to be another bestseller and one the Church needs today to help us navigate through these times.

----
About the Book's Author

Dr. Kelly Bowring is a Catholic theologian and popular Catholic speaker, who received his doctorate from the Pontifical University of St. Thomas Aquinas (Rome); his licentiate from the Dominican House and the John Paul II Institute (Washington DC) while working at the US Bishops Office; and his masters from Franciscan University of Steubenville (Ohio). He has the Church's mandatum to teach theology. Dr. Bowring has been a dean, chair, and professor of theology at the Graduate School of Theology at St. Charles Seminary, Southern Catholic College, and St. Mary's College of Ave Maria University. He and his wife, Diana, have eight children and live in Atlanta, GA. Known for his dynamic yet understandable teaching style, his books and presentations are sure to please any audience.

About the Book's Publisher

Two Hearts Press LLC (www.TwoHeartsPress.com) is dedicated to publishing a select number of books and media for the spread of the Gospel of Jesus Christ and His Church, and especially related to Marian teaching and prophecy.


---
Copyright 2016 - Distributed by THE CALIFORNIA NETWORK
Pope Francis Prayer Intentions for May 2016
Universal:
Respect for Women: That in every country of the world, women may be honored and respected and that their essential contribution to society may be highly esteemed.
Evangelization:
Holy Rosary: That families, communities, and groups may pray the Holy Rosary for evangelization and peace.

By Kenya Sinclair (CALIFORNIA NETWORK)
Rev. V. A. Anthony, of Brethren Assembly Church in Satna, his wife Prabha and one unnamed woman have been arrested in Aber, India after being accused of "forced conversions" and blaspheming against Hinduism. LOS ANGELES, CA (Catholic Online) - According to Christian ... continue reading
---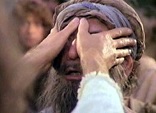 By Deacon Keith Fournier
The same Jesus who passed by Bartimaeus is alive today. The Good News is that no matter what has happened in our past, Jesus walks into the dusty streets of our lives this day. We simply need the eyes of living faith to see Him and the renewed heart to follow Him ... continue reading
---

By Kenya Sinclair (CALIFORNIA NETWORK)
In an attempt to make the Bible more interactive and entertaining to millennials, the King James Version (KJV) of the Bible has been translated with help from popular emoticons. LOS ANGELES, CA (Catholic Online) - According to The Memo, the new Bible, marked as ... continue reading
---

By Kenya Sinclair (CALIFORNIA NETWORK)
A new study revealed Welsh and English Catholics hold the highest retention rate of any denomination but maintain the lowest conversion rates. LOS ANGELES, CA (Catholic Online) - The report, titled the "Contemporary Catholicism in England and Wales," was issued by the ... continue reading
---

By Elise Harris (CNA/EWTN News)
For Pope Francis, prayer is neither a "magic wand" used to get what we want nor something casual we do only when we feel like it, but is rather the strength that sustains our faith in difficult moments. Vatican City, Rome (CNA/EWTN News) - "Jesus says that we need 'to ... continue reading
---

By Andrea Gagliarducci (CNA/EWTN News)
Former Pope Benedict XVI could appear in public once again on June 29, the 65th anniversary of his priestly ordination. Vatican City, Rome (CNA/EWTN News) - Speaking after the May 20 presentation of a book dedicated to Benedict XVI's pontificate, Archbishop Georg ... continue reading
---

By Tony Magliano
The best way to remember those who have been killed in battle is to work for the day when others will no longer be sent to take their place. Prayerfully reflecting on how to move away from war and war preparation should be central to every Memorial Day.Why do ... continue reading
---

By Ann Scneible (CNA/EWTN News)
The feast of the Holy Trinity is an invitation for us to commit to enriching our everyday relationships by promoting communion, consolation, and mercy, Pope Francis said during his weekly Sunday Angelus address. Vatican City, Rome (CNA/EWTN News) - "Our being created ... continue reading
---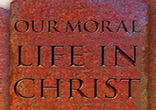 By Deacon Keith Fournier
What we choose determines who we become. Choosing what is good changes the chooser, empowering him or her to proceed along the pathways of virtue and develop the habitus - or habits- which promote Christian character. The Catechism of the Catholic Church ... continue reading
---

By Marshall Connolly (CALIFORNIA NETWORK)
Ever since the reveal of the Third Secret of Fatima in 2000, several people have insisted there's more to the secret than what the public was told. These rumors have taken a life of their own, prompting the Holy See to speak out against them. LOS ANGELES, CA (Catholic ... continue reading
---
All Living Faith News