By Catholic Online (NEWS CONSORTIUM)
6/14/2013 (2 years ago)
Catholic Online (www.catholic.org)
Rand Paul, Marco Rubio, Mike Lee, Ron Johnson all address the Faith and Freedom Conference.
Four Republican senators attended a gathering of social conservatives on Thursday, encouraging activists not to give up their fight against those in the party who want to distance the party from religious issues.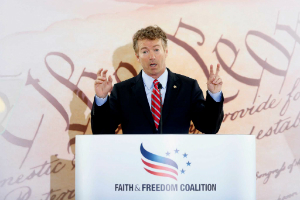 Rand Paul addresses the conference.
WASHINGTON, DC (Catholic Online) - The Faith and Freedom Conference in Washington DC was attended by Marco Rubio (R.-FL), Rand Paul (R-KY), Mike Lee (R-UT), and Ron Johnson (R-WI).

The senators spoke to the Faith and Freedom Conference to talk about their accomplishments and their beliefs.

Rubio made his case for comprehensive immigration reform while emphasizing that compassion should be central to the debate. "We know every single human life has value," he said. "Every single human life matters" and "deserves protection of our laws and values."

"There is nothing to replace us. I promise you, it's not the United Nations," Rubio warned. "If America's light is extinguished, there is no other light."

Also Republican, but taking a rarer viewpoint was Rand Paul. Paul spoke out against war saying, "Jesus preached nonresistance," and he "simply can't imagine" Jesus leading soldiers.

Paul also protested foreign aid for countries such as Egypt and Pakistan where Christians are persecuted. He also argued against intervention in Syria.

Paul explained that there is a war on against Christianity not just in the United States, but worldwide. And he added " "These countries are not our true allies, and no amount of money is going to make them so. . I say not one more penny to countries that are burning the American flag."

Lee addressed the group and explained that conservatives need to spend more time talking about what they support rather than what they oppose. He placed emphasis on the community and the family.  "Conservatism has never been a vision of isolated loners," he said.

"Some say we have to change with the changing times," Lee said. "Change the way we say things and talk about families. . I think they make a great point. Times have changed, we do need to broaden our appeal. But ultimately the critics have it exactly backwards. . It's not that we've focused too much on the family, but far too little. The rapid changes we've seen have only made the family more important, not less."

Talking about poor students, single moms, and the elderly and disabled, Lee said, "Our party has ignored them."

Finally, Johnson spoke against Obamacare and liberals who he says are behind the failings of American society. He also spoke out against the growth of government. Referring to Washington he said, "Why does a majority continue to elect people who want to grow this place? "I have no idea. It baffles me," he said.

He added, "When I hear politicians want to create a sense of trust in government--," he explained his action is " No, no, no, no, no. That's is the wrong solution."

"We need to engender that healthy distrust -- that healthy distrust that our founders found in government," Johnson concluded.


---
Copyright 2015 - Distributed by THE CALIFORNIA NETWORK
Pope Francis Prayer Intentions for April 2016
Universal:
Small Farmers: That small farmers may receive a just reward for their precious labor.
Evangelization:
African Christians: That Christians in Africa may give witness to love and faith in Jesus Christ amid political-religious conflicts.
---
---
---

By Kenya Sinclair (CALIFORNIA NETWORK)
Do you - or someone you know - struggle with maintaining a positive attitude? Are people less inclined to spend time with you due to your poor attitude? Are you tired of wallowing in negativity? Try these simple tips to change the course of your life forever! LOS ... continue reading
---

By Kenya Sinclair (CALIFORNIA NETWORK)
Benedictine nuns in Missouri recently released their latest album <i>Adoration at Ephesus</i> - and it is amazing! LOS ANGELES, CA (Catholic Online) - Mother Cecilia, the prioress of the Benedictines of Mary, Queen of Apostles, told <a ... continue reading
---

By Marshall Connolly (CALIFORNIA NETWORK)
Members of an ultra-conservative religious denomination are stringing transparent wires around many urban neighborhoods, all for religious reasons. These nearly invisible wires form webs in cities such as New York, Chicago, and Los Angeles. What are these wires and ... continue reading
---

By Elise Harris (CNA/EWTN News)
On Wednesday Pope Francis said that just because someone is an expert in God's law and a strict adherent to the rules doesn't necessarily mean they know how to love and serve others. Vatican City, Rome (CNA/EWTN News) - "It's not automatic that whoever frequents the ... continue reading
---

By Kenya Sinclair (CALIFORNIA NETWORK)
The Manobo tribe of the Philippines were taught the Gospel and viewed Mel Gibson's "Passion of the Christ" film, which led several to convert to Christianity. LOS ANGELES, CA (Catholic Online) - According to missionaries from Christian Aid Mission, nearly the entire ... continue reading
---

By Kenya Sinclair (CALIFORNIA NETWORK)
Christian rock band Klo & Kweh was driving through Oklahoma when they were pulled over for a broken headlight. What happened next was a shock that rippled throughout the Christian community. LOS ANGELES, CA (Catholic Online) - According to <a ... continue reading
---

By Kenya Sinclair (CALIFORNIA NETWORK)
On Tuesday, Pope Francis spoke of several men and women worthy of canonization. He included miracle attributions and stories of martyrdom. LOS ANGELES, CA (Catholic Online) - According to Vatican Radio, Pope Francis received a private audience with Cardinal Angelo ... continue reading
---

By David Drudge (CALIFORNIA NETWORK)
The case of a pair of bakers who refused to bake a cake for a lesbian couple, may go all the way to the Supreme Court and resolve the apparent infringement of their First and Fourteenth Amendments. LOS ANGELES, CA (California Network) - The attorney for Aaron and ... continue reading
---
By Kenya Sinclair (CALIFORNIA NETWORK)
Inmates at Italian prison Velletri wrote Pope Francis letters earlier this year - and received personal replies. LOS ANGELES, CA (Catholic Online) - According to Vatican Radio, the prisoners gave their letters to Bishop Marcello Semeraro, the Bishop of Albano, during a ... continue reading
---

By Abigail James (CALIFORNIA NETWORK)
Tears roll down my face as a sea of blankets threaten to pull me completely under. I fight to stay afloat while the darkness continues to pull me down like a thousand needles hooked to anchors. Terrifying thoughts run rampant through my fragile mind, "what's the point ... continue reading
---
All Living Faith News