We shall learn that what happened on Good Friday, that what is shown to us in each crucifix, that what the Church wants us to learn in the Easter liturgy, is the ultimate drama, the foundational passion play, a play which is a work of art by the Lord God himself that raises us from death, and puts us face to face with the living God.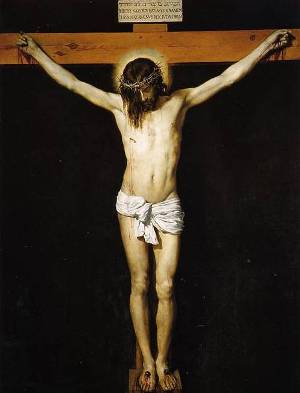 CORPUS CHRISTI, TX (Catholic Online) - My dead Lord, the words you told your disciples at the Last Supper and on your walk to the Garden of Gesthemane yesterday on the first day of the Passover Feast, and the words you told the Caiaphas and Pontius Pilate, the Roman Procurator--every jot and tittle of them--are fully played out. 

God's word is like that.  God's word is a double-edged sword: unyieldingly true and truly unyielding.

Reclining with your apostles, with the twelve, you said you would be betrayed by one of them, the one who dipped his hand in the dish with you, the son of perdition whom you said it would have been better had he never been born.  You were betrayed by him, with a kiss no less, as you said.

During the Last Supper, you, the Lamb of God, gave us a new rite, a new Passover sacrifice, the First Mass.  You told your disciples that you would give them your Body, that you would give them your Blood, the Blood of the new covenant, that you would shed it for many for the forgiveness of sins.  You did.  You did profusely.

You said you would not drink from the fruit of the vine until you would drink it again in your Father's kingdom.  You refused that sour wine offered you on hyssop while on the cross, and so kept your word.

You told your apostles that they all would fail you, though they with grandiloquent promises vowed to be faithful unto death.  Your words were true; their words were cheap. 

Cheap words.  Your disciples often use cheap words.  They use the cheap words of hypocrites when they have not humbled themselves to become sons of the Son.
 
You are the only one, Lord, you, the Son of God, who humbled yourself in walking about us dressed in the flesh of man, whose words are not cheap.  You were faithful to your words unto death, even death on the cross.  You are the only one who can make our words not cheap.  You are the only one who can save us from hypocrisy.

On the way to Gethsemane, to the Garden of Olives, you told Peter--the rock upon which you would build your Church--that he would deny you three times before the cock crowed. 

Thrice predicted.  Thrice true.  Thrice was Peter sifted like wheat. 

The words of Jesus were true, were victor, though, like the furtive glance of Jesus at Peter, they are solvent for our human falsity and are the catalyst of the bitter tears of repentance at the recognition of our human failure. 

Twice Lord you prayed while your apostles slept--passion-prophesying solvent sweat, colored pink by your vermillion blood, oozing from your temples--that, if it be God's will that you drink cup of your passion, that his will be done. 

It was God's will.  It was therefore your will.  You had the courage to say and to accomplish with absolute integrity: Fiat voluntas tua.  And it was done, as both your Father willed it, and you willed it, in natures both divine and human.

You were delivered into the hands of sinful men, those who wield the power in this world, as you had said you would be. 

Struck.  Stripped.  Scourged.  Mocked.  Blasphemed.  A crown of thorns planted on your precious brow. 

Then delivered to be crucified on a wooden Cross, Roman instrument of your torture, upon which you were nailed and raised up to suffer a lingering death.  The only accompaniment to the hammering of nails, and the soft roll of dice, was the "clatter and chatter" of the wagging tongues of men. 

You told your apostles that you would be numbered with the transgressors.  And just as you said, you were.  You were crucified between two felons, numbered a felon yourself.

But despite the "clatter and chatter" of the wagging tongues of men, you prayed to God like a High Priest and gave directions like a King.  Even on the Cross, my Lord, you spoke with authority.  Regnavit a ligno Deus.  You are the God who rules us from the wood of the cross.

Seven "words," seven precious and authoritative "words."

To those before you--and through them to all of us: "Father forgive them for they know not what they are doing."

And to the penitent thief: "I assure you, today you will be with me in Paradise."  We beg to hear those words at our life's end.

To Mary in reference to John and through John to us: "Woman, behold your son!"  As sons in the Son, we are Mary's children.  To John in reference to Mary and through John to us: "Behold, your mother!"  As sons in the Son, Mary is our Mother.

The sun's courage then failed, and it hid its face from the human nature of the Word, when in extremis.  It grew dark.

You prayed with a loud voice:

אלי אלי למה עזבתני
Eloi, Eloi, lama sabachtani.
"My God, My God, why have you forsaken me?"

Thereby, you invoked, like a choirmaster his choir, the entirety of that Psalm which begins with those words as the Leitmotif, the underlying hymnody, the secret music informing your suffering and redemptive death. 

"I thirst."

"It is finished."

"Father into your hands I commend my spirit!"

And so you breathed your last.  You bowed your head, and gave up your spirit.

Now what?

We know not what else to do but bury you.  The Lord is dead. The apostles scattered and huddled in hiding.   Our hope died with you.  It looks to us as if God has lost, and the powers of men and the gates of hell have conquered. From all appearances, might makes right, and justice is nothing but an empty word, the concept of dreamers.

But the Roman centurion said, "Truly this man was the Son of God!"  What did the pagan see that your disciples did not?

We remain troubled.  Some words, Lord, have not yet come to pass.  You told us that you would be able to rebuild the temple after it was destroyed, and to do so in three days.  How, with you dead, your hands still, your soul vanished into Sheol, can that now occur?

You told Caiaphas that we would see the Son of Man seated at the right hand of power and coming on the clouds of heaven.  Your corpse, still nailed to the cross, blood and water from your side spent, how, so violently put to death, can you possibly do this? Was this an idle claim?

You told your disciples that you would not leave them as orphans, that you would come to them, that they would see you, that you would live, and that you would send them a Helper.  Did you renege on these promises?  How, now that you are with us no longer, shall they be fulfilled?  Were you--the thought is to hard to bear, and the words harder yet to utter--deluded?

We don't know the answers to these questions. 

We don't see how any of this is possible.

We don't see through a glass darkly.  We see naught of hope.

You died, as St. Paul said, "for our sins in accordance with the Scriptures." (1 Cor. 15:3)  But he also said that if Christ had not been raised, that our faith in him was futile, and we are still in our sins.  Without the resurrection, we have no assurance his death meant something.  And he, the Lord, is dead.  His corpse is getting cold.

So we have no faith, no hope, and our love, like the Lord's body, is getting cold.

But things shall be different in three days' time.

In three days' time we shall learn, that what happened on Good Friday, that what is shown to us in each crucifix, that what the Church wants us to learn in the Easter liturgy, is the ultimate drama, the foundational passion play, a play which is a work of art that raises us from death, and puts us face to face with the living God. 

We shall learn, as Miguel de Unamuno put it in his poem "El Cristo de Velázquez,"

Eres el Hombre eterno que nos hace hombres nuevos.
Es tu muerte parto.

You are the Eternal Man which makes us new men.
Your death is a birth.

Or in the words of St. Paul (1 Cor. 15:55):

O death, where is your victory? 
O death, where is your sting?
. . . Thanks be to God who has given us the victory through our Lord Jesus Christ.

-----

Andrew M. Greenwell is an attorney licensed to practice law in Texas, practicing in Corpus Christi, Texas.  He is married with three children.  He maintains a blog entirely devoted to the natural law called Lex Christianorum.  You can contact Andrew at agreenwell@harris-greenwell.com.
---
Copyright 2016 - Distributed by THE CALIFORNIA NETWORK
Pope Francis Prayer Intentions for May 2016
Universal:
Respect for Women: That in every country of the world, women may be honored and respected and that their essential contribution to society may be highly esteemed.
Evangelization:
Holy Rosary: That families, communities, and groups may pray the Holy Rosary for evangelization and peace.

By Kenya Sinclair (CALIFORNIA NETWORK)
Notorious atheist group Freedom From Religion Foundation (FFRF) has struck again, this time at an East Liverpool high school in Ohio. LOS ANGELES, CA (Catholic Online) - The Ohio school district was forced to ban The Lord's Prayer after the FFRF complained the prayer ... continue reading
---

By Elise Harris (CNA/EWTN News)
On Sunday Pope Francis celebrated a special jubilee for deacons, telling them that a good servant is one who forgets themselves, letting go of their own plans and humbly placing their lives at the disposal of those to whom they are called to minister. Vatican City, ... continue reading
---

By (CNA/EWTN News)
A group of 61 cloistered nuns from six monasteries in Santiago, Chile made an historic visit to the local Women's Prison Center to spend time with the inmates and attend Mass with them. Santiago, Chile (CNA/EWTN News) - "I don't know if in the 400 years of the history ... continue reading
---

By Ann Schneible (CNA/EWTN News)
The story of a young migrant girl who drowned at sea was at the heart of Pope Francis' address to some 400 children who on Saturday had traveled to the Vatican from the southern Italian region of Calabria. Vatican City, Italy (CNA/EWTN News) - Speaking off the cuff to ... continue reading
---

By (CNA/EWTN News)
There's a demon that specializes in attacking the family, said exorcist César Truqui, a priest who participated in a course on exorcism held in Rome last year. Rome, Italy (CNA/EWTN News) - Fr. Truqui warned that everything that is harming the family, including ... continue reading
---

By Kenya Sinclair (CALIFORNIA NETWORK)
During an interview, Cardinal Robert Sarah explained the importance of priests facing east during Mass. LOS ANGELES, CA (Catholic Online) - In an interview with French Catholic magazine Famille Chrétienne, Cardinal Sarah, who is the prefect of the Congregation for ... continue reading
---

By Kenya Sinclair (CALIFORNIA NETWORK)
Rev. V. A. Anthony, of Brethren Assembly Church in Satna, his wife Prabha and one unnamed woman have been arrested in Aber, India after being accused of "forced conversions" and blaspheming against Hinduism. LOS ANGELES, CA (Catholic Online) - According to Christian ... continue reading
---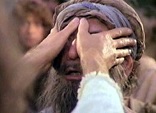 By Deacon Keith Fournier
The same Jesus who passed by Bartimaeus is alive today. The Good News is that no matter what has happened in our past, Jesus walks into the dusty streets of our lives this day. We simply need the eyes of living faith to see Him and the renewed heart to follow Him ... continue reading
---

By Kenya Sinclair (CALIFORNIA NETWORK)
In an attempt to make the Bible more interactive and entertaining to millennials, the King James Version (KJV) of the Bible has been translated with help from popular emoticons. LOS ANGELES, CA (Catholic Online) - According to The Memo, the new Bible, marked as ... continue reading
---

By Kenya Sinclair (CALIFORNIA NETWORK)
A new study revealed Welsh and English Catholics hold the highest retention rate of any denomination but maintain the lowest conversion rates. LOS ANGELES, CA (Catholic Online) - The report, titled the "Contemporary Catholicism in England and Wales," was issued by the ... continue reading
---
All Living Faith News