True humility is thoroughgoing poverty of both heart and mind
In the words of St. Augustine: "If you should ask me what are the ways of God, I would tell you that the first is humility, the second is humility, and the third is humility. Not that there are no other precepts to give, but if humility does not precede all that we do, our efforts our meaningless."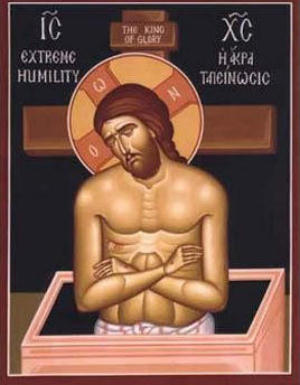 The humility of Christ
HAMILTON, ONTARIO, CANADA (Catholic Online) -Newly elected Pope Francis is being hailed as a potential modern saint whose concern for the poor is mirrored in his humility and simple lifestyle. As archbishop of Buenos Aires, he refused to live in the bishop's residence, opting instead to live in a simple apartment, cook his own meals, and take public transportation. As pope he intends to continue this same legacy. The path he has set forth for both himself and the church can be summed in his initial statement "This is what I want, a poor church for the poor."

Today we are living, morally, in what some have called a crisis of faith. This has been due, in no small measure, to the rapid advancement and influence of secularization and moral relativism which has permeated modern society. In order to reverse this trend a certain rediscovery of essential virtues like humility is  necessary for mankind.
 
The Meaning of Humility
 
The word humility signifies lowliness or submissiveness and it is derived from the Latin humilitas or, as St. Thomas says, from humus, i.e. the earth which is beneath us. St. Bernard defines the  moral virtue of  humility as the "virtue whereby man, through a true knowledge of himself, becomes despicable in his own eyes."

Humility is rooted in truth and justice. Truth causes us to know ourselves as we truly are: that which is good in us belongs to God and that which is evil proceeds from ourselves. Justice inclines us to act  upon this knowledge and to praise God for his many gifts and graces.
We all enter this world tainted, wounded, by original sin. Due to concupiscence we habitually fall into sin and are continually in need of God's mercy. We, therefore, must learn to  love humiliations and accept all reproaches. Being nothing of ourselves we must love oblivion and self-effacement: to be unknown, to be reckoned as nothing. As sinners we deserve every kind of humiliation.
To practice humility one must first begin by waging war against pride since it is pride that constitutes the primal evil in our souls. Remedies against pride include the acknowledgment that God is the Author of all good, and that  to Him belongs all honor and glory.
With this in mind we must strive to attain the humble dispositions of the soul of Christ who "being in the form of God, did not deem to be equal with God, but emptied Himself"(Phil. 2: 6-7). Humility implies this  express act of self-humiliation, a voluntary descent beneath our legitimate natural dignity, an act of reducing ourselves to naught before God. It implies the gesture of a permanent inner dying of the self, in order that Christ may live in us - a gesture that has found its unique expression in the figure of St. John the Baptist and in his words: "He must increase, but I must decrease" (John. 3:30).
   
The Humility of Christ
 
Our Lord gave us many examples of humility upon which  we can meditate and strive to imitate.
During His hidden life He practiced humility primarily through self-effacement. Before His birth He hid Himself for nine months in the virginal womb of Mary where He submitted Himself to Caesar's edict and suffering without complaint the rude refusal of His mother to stay at the inn.
At His birth the Son of God  appeared as a poor infant.  Following His Birth He was  circumcised and then obliged to flee into Egypt in order to escape the persecution of Herod. Later at Nazareth he submitted Himself for thirty years in obedience to His parents where He was  known only as the carpenter's son. He hid  Himself in the most complete obscurity  in order to merit for us the grace that would enable us to sanctify our most commonplace actions and  inspire within us a love of humility.
Throughout the course of His public life Jesus practiced humility by proclaiming in both word and deed that He was the Son of God. He did this in a discreet manner and without forcing assent. He surrounded Himself with Apostles that were, in the eyes of many, ignorant and of little esteem. He lived by alms and showed a marked preference for those in particular whom the world often despises such as the poor, sinners, and the sick.
His teaching was simple and direct. He often used parables that were taken from ordinary life with the aim, not of winning the admiration of men,  but of instructing and touching their  hearts. His miracles were rare and He often charged his beneficiaries not to speak of them.
Jesus's  abject humility is demonstrated in His Passion. Betrayed by Judas and deserted by His Apostles he did  not cease to love them. At His arrest He healed  Malchus who was wounded by Peter. He suffered the affronts of the crowd to which he was delivered in silence. He answered  the high priest out of respect for authority knowing full well that His words of truth would bring Him the death penalty. Treated like a fool by Herod and unjustly condemned by Pilate He kept  His peace. Without seeking a single miracle to vindicate His honor He allowed  Himself to be scourged, mocked and crowned with thorns. 
He accepted on His shoulders a heavy cross which He carried to His crucifixion without a single word of complaint. Insulted by His enemies he prayed for their conversion and excused  them before His Father. Deprived of all heavenly comfort, deserted by His disciples, His dignity as a man, His reputation, His honor, all set at naught, He suffered it seems every species of humiliation that the mind of man can conceive, and He can say with far greater truth than the Psalmist: "I am worm and no man: the reproach of men and the outcast of the people"(Ps. 22:7).
Our Lord's Eucharistic life in the tabernacle also reproduces examples of humility.  It is here that the Divinity of Christ is veiled perhaps to a greater extent than it was in the crib and  on Calvary. It is here that He continues to suffer affronts from non-believers as well as Christians  who either ignore Him or at times, either out of weakness or shame, make sacrilegious communions. Nonetheless, Christ incessantly proclaims "Come to me, all you that labor and are heavy burdened, and I will refresh you"(Matt. 11:28).
 
Our Humility
 
We can practice humility, after Our Lord's example, in many ways  toward God, our neighbor and ourselves.

Toward God we can practice the spirit of religion whereby  we contemplate God as  the fullness of being and perfection while at the same time joyfully acknowledging our own sinfulness and nothingness
We can also show our humility toward God by thanking Him  for all the good  He has bestowed upon  us and by confessing, in the spirit of dependence, our inability to do any good of ourselves. In regards to our neighbor, we can practice humility by seeing in him both the natural and supernatural good which God has placed in him and admire it without envy or jealousy. This means rejoicing at his successes and virtues. At the same time we must overlook, while praying for his conversion, those defects in our neighbor that it is not our duty to correct.
We can exercise  humility in regards  to ourselves by, first and foremost,  considering our defects, our nothingness and our sinfulness without failing to recognize the good in us and to give the proper thanks to God. This makes it easier to practice humility which must extend to the whole man, to the mind, heart and his outward conduct.

Humility of mind requires a proper distrust of self  that prevents us from overrating our ability, and disposes us to feel humiliated at the ill-use we have made of the gifts of God.  We must use our talents for good without seeking to be noticed or to be praised.
Humility of mind requires that we practice intellectual docility. This includes  accepting, as having a greater wisdom than our own judgements, the official  teachings of the Church - even those which do not possess the character of infallibility.
Humility of heart requires that we shun the exalted life of honors and glory and "Sit down in the lowest place" (Luke. 14:10). We ought not to dwell on the talents we have, for they are not ours; we are only the bearers of them, and even with these gifts we can lose our souls. For this reason no one should flatter himself, nor take any complacency in himself...he should rather humble himself and acknowledge that he is but a poor instrument which God deigns to employ.
External humility is the outward manifestation of inward sentiments born of decision of the will. There are numerous ways in which, by our outward conduct,  we express the virtue of  humility: by not seeking the finest lodgings or the most expensive clothes; by rejecting petty pleasures and honors; by avoiding slavery to conventions; by having  an unassuming posture; by engaging in humble occupations. The same may be said of the condescension, marks of deference and acts of courtesy shown to others. In our conversations we should seek not to discuss our own interests but those of others.
True humility is thoroughgoing poverty of both heart and mind. St. Theresa of Avila simply calls it "walking in truth". It is the correlative human effort to know both God and oneself as the two parties are objectively. Humility  is primarily a disposition of our will to restrain that tendency which we all have to claim an esteem and consideration which is beyond our due and to assert an independence of judgment and of will that does not belong to us as creatures. In the words of St. Augustine: "If you should ask me what are the ways of God, I would tell you that the first is humility, the second is humility, and the third is humility. Not that there are no other precepts to give, but if humility does not precede all that we do, our efforts our meaningless."

-----
Mr. Paul Kokoski is a freelance writer who holds a BA in philosophy from McMaster University in Hamilton, Ontario. His articles have been published in several journals including, Homiletic and Pastoral Review, New Oxford Review and Catholic Insight.

---
Copyright 2016 - Distributed by THE CALIFORNIA NETWORK
Pope Francis Prayer Intentions for May 2016
Universal:
Respect for Women: That in every country of the world, women may be honored and respected and that their essential contribution to society may be highly esteemed.
Evangelization:
Holy Rosary: That families, communities, and groups may pray the Holy Rosary for evangelization and peace.

By (CNA/EWTN News)
A group of 61 cloistered nuns from six monasteries in Santiago, Chile made an historic visit to the local Women's Prison Center to spend time with the inmates and attend Mass with them. Santiago, Chile (CNA/EWTN News) - "I don't know if in the 400 years of the history ... continue reading
---

By Ann Schneible (CNA/EWTN News)
The story of a young migrant girl who drowned at sea was at the heart of Pope Francis' address to some 400 children who on Saturday had traveled to the Vatican from the southern Italian region of Calabria. Vatican City, Italy (CNA/EWTN News) - Speaking off the cuff to ... continue reading
---

By (CNA/EWTN News)
There's a demon that specializes in attacking the family, said exorcist César Truqui, a priest who participated in a course on exorcism held in Rome last year. Rome, Italy (CNA/EWTN News) - Fr. Truqui warned that everything that is harming the family, including ... continue reading
---

By Kenya Sinclair (CALIFORNIA NETWORK)
During an interview, Cardinal Robert Sarah explained the importance of priests facing east during Mass. LOS ANGELES, CA (Catholic Online) - In an interview with French Catholic magazine Famille Chrétienne, Cardinal Sarah, who is the prefect of the Congregation for ... continue reading
---

By Kenya Sinclair (CALIFORNIA NETWORK)
Rev. V. A. Anthony, of Brethren Assembly Church in Satna, his wife Prabha and one unnamed woman have been arrested in Aber, India after being accused of "forced conversions" and blaspheming against Hinduism. LOS ANGELES, CA (Catholic Online) - According to Christian ... continue reading
---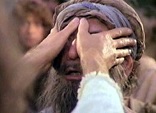 By Deacon Keith Fournier
The same Jesus who passed by Bartimaeus is alive today. The Good News is that no matter what has happened in our past, Jesus walks into the dusty streets of our lives this day. We simply need the eyes of living faith to see Him and the renewed heart to follow Him ... continue reading
---

By Kenya Sinclair (CALIFORNIA NETWORK)
In an attempt to make the Bible more interactive and entertaining to millennials, the King James Version (KJV) of the Bible has been translated with help from popular emoticons. LOS ANGELES, CA (Catholic Online) - According to The Memo, the new Bible, marked as ... continue reading
---

By Kenya Sinclair (CALIFORNIA NETWORK)
A new study revealed Welsh and English Catholics hold the highest retention rate of any denomination but maintain the lowest conversion rates. LOS ANGELES, CA (Catholic Online) - The report, titled the "Contemporary Catholicism in England and Wales," was issued by the ... continue reading
---

By Elise Harris (CNA/EWTN News)
For Pope Francis, prayer is neither a "magic wand" used to get what we want nor something casual we do only when we feel like it, but is rather the strength that sustains our faith in difficult moments. Vatican City, Rome (CNA/EWTN News) - "Jesus says that we need 'to ... continue reading
---

By Andrea Gagliarducci (CNA/EWTN News)
Former Pope Benedict XVI could appear in public once again on June 29, the 65th anniversary of his priestly ordination. Vatican City, Rome (CNA/EWTN News) - Speaking after the May 20 presentation of a book dedicated to Benedict XVI's pontificate, Archbishop Georg ... continue reading
---
All Living Faith News