Part of a short, compelling series on Lent.
The latest video from Fr.Pontifex, part of his continuing series for Lent. Watch, enjoy, and grow.
Matthew 25:40 "The King will reply, 'Truly I tell you, whatever you did for one of the least of these brothers and sisters of mine, you did for me.'
---
Copywriter 2015 - Distributed by THE NEWS CONSORTIUM
Pope Francis Prayer Intentions for July 2015
Universal:
That political responsibility may be lived at all levels as a high form of charity.
Evangelization:
That, amid social inequalities, Latin American Christians may bear witness to love for the poor and contribute to a more fraternal society.
By Nikky Andres (NEWS CONSORTIUM)
Christians all over the world are suffering from increasing prejudice and persecution. It is no secret that Islamic extremism and repressive governments are trying hard to perpetuate the oppression of Christianity. Pope Francis has been moved to warn of "a form of ... continue reading
---

By Tony Magliano
Seventy years ago, on August 6, 1945, the single most destructive weapon ever unleashed upon human beings and the environment - the atomic bomb - was dropped by an American B-29 bomber on the Japanese city of Hiroshima, killing approximately 80,000 people. Three days ... continue reading
---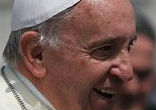 By CNA/EWTN News
Jesus Christ's miraculous multiplication of the loaves shows that he offers "fullness of life for hungry man," Pope Francis said Sunday. He encouraged everyone to offer what little they have to God so that God can multiply their gifts and good deeds. Vatican ... continue reading
---

By Hannah Marfil (NEWS CONSORTIUM)
Wearing your best outfit or putting on a little makeup in preparation for Church isn't too looked down upon. A leading Christian writer shared with Crosswalk.com what she has realized over years of church participation. Although she loves beautiful clothes and make-up, ... continue reading
---

By Atarah Haely (NEWS CONSORTIUM)
He was the first American who contracted the deadly Ebola virus - fearful and sick, Dr. Kent Brantly came to realize something important for Christians and their relationship with God. Amid the pain and moments of uncertainty, from being diagnosed positive with ... continue reading
---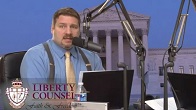 By J. Matt Barber
So this was rock bottom. The day, which yet again wore into night with fast food and old Bonanza reruns, would end like all the rest. Where were my car keys? As I searched in preparation for another trip to the liquor store, I made my way to my bedroom and opened ... continue reading
---
By Catholic Online (NEWS CONSORTIUM)
With no end in sight, "donor fatigue" is setting in for those trying to help Middle Eastern Christians fleeing ISIS. There appears to be no solutions, only increasing refugees and more need. The refugees' situation is only getting worse. Refugees now realize ... continue reading
---
By Atarah Haely (NEWS CONSORTIUM)
Legal battle over the issue of a giant cross standing over a veterans' memorial has been a long and tedious fight, but an agreement may now put it all to rest, keeping the monument on the land. Atheists and the American Civil Liberties Union (ACLU) have filed legal ... continue reading
---

By Nikky Andres (NEWS CONSORTIUM)
The lips on a painted image of the Virgin Mary, on display at the St. Charbels Church in New South Wales, Australia, were reportedly witnessed moving along with the reading of the Lord's Prayer. MUNTINLUPA, PHILIPPINES (Catholic Online) - The video featuring the Virgin ... continue reading
---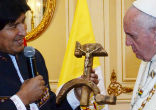 By CNA/EWTN News
Pope Francis' recent trip to Latin America has rekindled questions about whether he endorses socialism, or even communism. Vatican City (CNA/EWTN News) - The gift of a "communist crucifix" from Bolivia's president Evo Morales and uncertainty over the Pope's response ... continue reading
---
All Living Faith News