By Catholic Online (NEWS CONSORTIUM)
2/21/2013 (2 years ago)
Catholic Online (www.catholic.org)
How Benedict may have influenced the choice of his successor.
Has Pope Benedict already chosen his successor? Speculation is rife as analysts predict who the next pope will be while analyzing changes both made and proposed by Benedict and their impact on who will be our next holy father.
LOS ANGELES, CA (Catholic Online) - An outgoing pope may not choose his successor, at least not directly. However, they can indirectly influence the choice. Popes appoint cardinals, and popes come from cardinals. By appointing like-minded cardinals, a pope can help ensure his successor will preserve the traditions of the Church.

Benedict XVI has appointed more than half of the men who are eligible to succeed him. The other half were chosen by Pope John Paul II, who was himself conservative. The influence of both men, taken together, is substantial, and virtually ensures the next pope will be conservative in his approach.

Benedict has also proposed changing Vatican law to move up the date for the election of his successor. Under Pope John Paul II, the law was revised to set the start of the conclave between 15 to 20 days after the departure of the former pope. Benedict may change the law in such a way as to permit an earlier conclave. This would minimize the time the Church spends without an elected pope and ensure the Church has a holy father to preside during holy week.

However, this could also favor those cardinals already living and working in Rome. Cardinals at the Vatican network extensively with others around the world by virtue of their jobs, while cardinals in other parts of the world tend to remain focused on their region, networking less. Since Vatican assigned cardinals are better known to all, shorter periods before conclaves tend to help them get elected over more obscure cardinals from other places.

Any move by Benedict to move the conclave up could be construed as his favoring a Cardinal already in the Vatican.

However, the cardinals are already networking, swapping emails and making calls. Europe has been badly shaken by a number of scandals involving the Church including the sex abuse scandals, the Vatican Bank scandal, and the leaking of secret documents by the Pope's own butler. This has led speculation that a non-European pope might be better received.

The Church is considering a few cardinals from Africa, where it has experienced rapid growth in the past decade. There are also leading candidates from Latin America.

For now, there is no evidence that Benedict is even interested in influencing the choice for the next pope. He has pledged to remain hidden from the world in a monastery where he will spend the last of his days in prayer and contemplation.

Of course, any decisions he makes from this moment forward can be construed as manipulation, but ultimately the next pope will be decided by the cardinals themselves, in secret conclave. Benedict, who will return to being known as Cardinal Ratzinger, will not be anywhere near the conclave.

Ultimately, it is the guiding hand of God, as Catholics believe, that will choose the next holy father. Because of this faith above all else, Catholics need not worry who will be presented within the next few weeks, for it will invariably be God's choice.


---
Copywriter 2015 - Distributed by THE NEWS CONSORTIUM
Pope Francis Prayer Intentions for July 2015
Universal:
That political responsibility may be lived at all levels as a high form of charity.
Evangelization:
That, amid social inequalities, Latin American Christians may bear witness to love for the poor and contribute to a more fraternal society.
---
---
---
By Elise Harris, CNA/EWTN News
Warning: A graphic and disturbing photo is shown below. Reader discretion is advised. Vatican City (CNA) - A Vatican official in charge of assisting migrants spoke about the increasing number of refugees around the globe and stressed that they should be welcomed as ... continue reading
---

By Tony Magliano
Recognizing Everyday Miracles "Cracks in the Sidewalk" by Tony Magliano. Eastern Christian Publications (Fairfax, Va., 2015). 28 pp., $9.95.By Loretta NemethTony Magliano, best known as an internationally syndicated social justice and peace columnist, enters the ... continue reading
---

By Kenya Sinclair (NEWS CONSORTIUM)
A predominantly-black San Francisco church was vandalized with homophobic, racial and satanic references spray painted on and inside the building. LOS ANGELES, CALIFORNIA (Catholic Online) - The St. Paul's Tabernacle Baptist Church vandalism has been classified as a ... continue reading
---

By Linky C. (NEWS CONSORTIUM)
One Christian leader group was so inspired by the release of the movie War Room that they decided to flood the atrium of a local mall in Charlotte, North Carolina with Christian music and a lively performance. MUNTINLUPA CITY, PHILIPPINES (Catholic Online) - War Room, ... continue reading
---

By Catholic Online (NEWS CONSORTIUM)
Welcome to the fourth station on our virtual pilgrimage to Philadelphia with Pope Francis ahead of the World Meeting of Families. Let us pray! About St. AnneSaint Anne is the grandmother of Jesus Christ and mother to the Virgin Mary. Very little is known about her, but ... continue reading
---
By Adelaide Mena, CNA/EWTN News
Choir members from around the Washington, D.C. archdiocese chosen to sing for Pope Francis during his visit later this month hope to stir the soul of the pontiff - and maybe even inspire him to sing along. Washington D.C. (CNA/EWTN News) - "Our purpose is to ... continue reading
---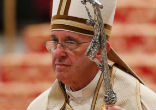 By Catholic Online (NEWS CONSORTIUM)
During an evening celebration of the World Day of Prayer for the Care of Creation, Pope Francis prayed that God would "enlighten the lords of power and money so they would not fall into indifference, but would love the common good, encourage the weak and care ... continue reading
---

By Marshall Connolly, Catholic Online (NEWS CONSORTIUM)
Absolutions granted by priests of the Fraternity of St. Pius X (SSPX) will have the full support of the Pope Francis and the Church during the Extraordinary Jubilee Year of Mercy. The notice was given by Pope Francis in a special letter in which he announced the ... continue reading
---

By Catholic Online (NEWS CONSORTIUM)
Pope Francis is issuing a Jubilee Indulgence that he hopes will allow people to experience God's mercy and grace. In preparation for the coming Jubilee, Pope Francis has published a letter to Archbishop Rino Fisichella, who heads his council for the promotion of the ... continue reading
---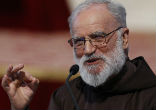 By Elise Harris, CNA/EWTN News
On the first World Day of Prayer for the Care of Creation, the preacher to the papal household said that St. Francis of Assisi is a key model in showing the link between faith in God and care for our common home. Vatican City (CNA/EWTN News) - Saint Francis "is ... continue reading
---
All Living Faith News