It is in the Lord Jesus that we fully see the benevolent face of the Father who is in heaven
God is a Father who never abandons his children, a loving Father who supports, helps, welcomes, forgives, saves, with a fidelity that immensely surpasses that of men, opening up to an eternal dimension. (Pope Benedict XVI)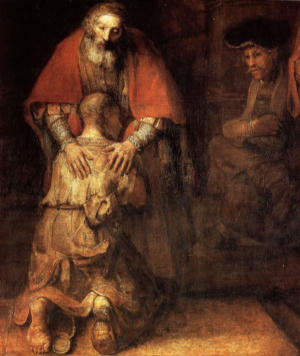 CHESAPEAKE, VA (Catholic Online) - "For this reason I kneel before the Father, from whom every family in heaven and on earth is named, that he may grant you in accord with the riches of his glory to be strengthened with power through his Spirit in the inner self, and that Christ may dwell in your hearts through faith; that you, rooted and grounded in love, may have strength to comprehend with all the holy ones what is the breadth and length and height and depth, and to know the love of Christ that surpasses knowledge, so that you may be filled with all the fullness of God."(Ephesians 3:14 - 19)
These words were written by the Apostle Paul to the early Christians in Ephesus. The Greek word for Father and family are connected. Paul is using them in a sort of play on words to make a profoundly important theological and existential point. Fathers are the foundation of families, they give them identity and meaning in both life and in death. The Catholic Catechism says, "The divine fatherhood is the source of human fatherhood; this is the foundation of the honor owed to parents." (CCC#2214)
Fathering is a gift and a responsibility. I cannot live it without grace and neither can anyone who participates in it in either the natural or the spiritual order. Grace is Divine Life given to us through Jesus Christ and mediated through His church, in Word and Sacrament. In the Holy Eucharist we receive Jesus, the Source and means of all grace. Jesus reveals the fullness of the father and shows us who we are becoming. "Christ, the final Adam, by the revelation of the mystery of the Father and His love, fully reveals man to man himself and makes his supreme calling clear." (GS #22)
The Catechism of the Catholic Church explains that "Grace is a participation in the life of God. It introduces us into the intimacy of Trinitarian life: by Baptism the Christian participates in the grace of Christ, the Head of his Body. As an "adopted son" he can henceforth call God "Father," in union with the only Son." He receives the life of the Spirit who breathes charity into him and who forms the Church." (CCC#1997) 
As we stand in Jesus, we stand in the relationship which He has with His Father. We become partakers of the Divine Nature. (2 Peter 1:4) We actually become sons (and daughters) in the Son. By receiving Jesus we receive the power to become the sons (and daughters) of God. (John 1:12) This gift of Divine filiation is the heart of the Christian message. God is our Father. His fatherly love invites us to continual transformation, as we cooperate with grace, into the Image and likeness revealed fully in the Beloved Son.   
In the 20th chapter of John's Gospel records a post-Resurrection encounter between Mary Magdalene and Jesus  when she finds the tomb empty.  "But Mary stood weeping outside the tomb, and as she wept she stooped to look into the tomb; and she saw two angels in white, sitting where the body of Jesus had lain, one at the head and one at the feet. They said to her, "Woman, why are you weeping?" She said to them, "Because they have taken away my Lord, and I do not know where they have laid him."
"Saying this, she turned round and saw Jesus standing, but she did not know that it was Jesus. 15 Jesus said to her, "Woman, why are you weeping? Whom do you seek?" Supposing him to be the gardener, she said to him, "Sir, if you have carried him away, tell me where you have laid him, and I will take him away."
"Jesus said to her, "Mary." She turned and said to him in Hebrew, "Rab-bo'ni!" (which means Teacher). Jesus said to her, "Do not hold me, for I have not yet ascended to the Father; but go to my brethren and say to them, I am ascending to my Father and your Father, to my God and your God."  (John 20:11-18) The identification will be complete when he is seated at the Right Hand of the Father - His Father is now our Father and we are invited into the Trinitarian communion.
On Wednesday, January 30, 2013, Pope Benedict XVI, the one we call "the Holy Father" participates in the Fatherhood of God in his Petrine ministry. His teaching is truly profound and we are so fortunate. He  dedicated his Wednesday Catechetical instruction to the Fatherhood of God. I am please to present portions of this beautiful talk below.
*****
Dear Brothers and Sisters,
In last Wednesday's catechesis we reflected on the words of the Creed: "I believe in God." But the profession of faith specifies this affirmation: God, the Father Almighty, Creator of heaven and earth. Thus I would like to reflect with you now on the first, fundamental definition of God that the Creed presents us with: He is our Father.
It is not always easy today to talk about fatherhood. Especially in our Western world, the broken families, increasingly absorbing work commitments, concerns, and often the fatigue of trying to balance the family budget, the distracting invasion of the mass media in daily life are some of the many factors that can prevent a peaceful and constructive relationship between fathers and children.
At times communication becomes difficult, trust can be lost and relationships with the father figure can become problematic. Even imagining God as a father becomes problematic, not having had adequate models of reference. For those who have had the experience of an overly authoritarian and inflexible father, or an indifferent father lacking in affection, or even an absent father, it is not easy to think of God as Father and trustingly surrender oneself to Him.
But the biblical revelation helps us to overcome these difficulties telling us about a God who shows us what it truly means to be a "father", and it is especially the Gospel which reveals the face of God as a Father who loves even to the giving of his own Son for the salvation humanity. The reference to the father figure therefore helps us to understand something of the love of God which remains infinitely greater, more faithful, more total than that of any man.
"Which of you, - says Jesus to show the disciples the Father's face - would hand his son a stone when he asks for a loaf of bread, or a snake when he asks for a fish? If you then, who are wicked, know how to give good gifts to your children, how much more will your heavenly Father give good things to those who ask him"(Mt 7.9 to 11; cf. Lk 11.11 to 13 ).
God is our Father because He has blessed and chosen us before the foundation of the world (cf. Eph 1:3-6); he really made us his children in Jesus (cf. 1 Jn 3:1). And, as Father, God lovingly accompanies our lives, giving us His Word, His teachings, His grace, His Spirit.
He - as revealed in Jesus - is the Father who feeds the birds of the sky even though they so not sow and reap, and vests the fields with colors of wonderful colors, with clothes more beautiful than those of King Solomon (cf. Mt 6.26 to 32 and Luke 12.24-28), and we - adds Jesus - are worth far more than the flowers of birds of the sky!
And if He is good enough to make " his sun rise on the bad and the good, and causes rain to fall on the just and the unjust" (Matthew 5:45), we can always, without fear and with total confidence, trust in his Father's forgiveness when go wrong. God is a good Father who welcomes and embraces the lost and repented son (cf. Luke 15.11 ff), He gives himself freely to those who ask (cf. Mt 18.19, Mk 11.24, Jn 16:23) and offers the bread of Heaven and the living water that gives life forever (cf. Jn 6,32.51.58).
Therefore, the prayer of Psalm 27, surrounded by enemies, besieged by evil and slanderers, and seeking help from the Lord, and invoking it, can give its testimony full of faith, saying: " Even if my father and mother forsake me, the LORD will take me in "(v. 10).
God is a Father who never abandons his children, a loving Father who supports, helps, welcomes, forgives, saves, with a fidelity that immensely surpasses that of men, opening up to an eternal dimension. "For his mercy endures forever," as Psalm 136 continues to repeat in a litany, in every verse, through the history of salvation.
The love of God never fails, never tires of us, it is a love that gives to the extreme, even to the sacrifice of His Son. Faith gifts us this certainty, which becomes a sure rock in the construction of our lives so that we can face those moments of difficulty and danger, experience those times of darkness, crisis and pain, supported by the faith that God never abandons us and is always near, to save us and bring us to life.
It is in the Lord Jesus that we fully see the benevolent face of the Father who is in heaven. It is in knowing Him that we can know the Father (cf. Jn 8.19, 14.7), in seeing Him we can the Father, because He is in the Father and the Father is in Him (cf. Jn 14, 9.11).
He is the "image of the invisible God" as defined by the hymn of the Letter to the Colossians, "the firstborn of all creation ... the firstborn of those who rise from the dead", "through whom we have redemption, the forgiveness of sins" and reconciliation of all things, "making peace by the blood of his cross[through him], whether those on earth or those in heaven" (cf. Col 1.13 to 20).
Faith in God the Father asks you to believe in the Son, through the action of the Spirit, recognizing in the Cross that saves the final revelation of Divine love. God is our Father giving his Son for us, God is our Father, forgiving our sins and bringing us to the joy of the risen life, God is our Father giving us the Spirit that makes us children and allows us to call Him, in truth, "Abba, Father "(cf. Rom 8:15). This is why Jesus, teaching us to pray, invites us to say "Our Father" (Mt 6.9 to 13; cf. Lk 11:2-4).
The fatherhood of God, then, is infinite love, a tenderness that leans over us, weak children, in need of everything. Psalm 103, the great hymn of divine mercy, proclaims: "As a father has compassion on his children, so the LORD has compassion on those who fear him For he knows how we are formed, remembers that we are dust, for he knows how we are formed, he remembers that we are dust" ( vs. 13-14).
It is our smallness, our weak human nature, our frailty that becomes an appeal to the mercy of the Lord so that He manifest the greatness and tenderness of a Father helping us, forgives us and saving us.
And God responds to our call, sending His Son, who died and rose again for us; He enters into our fragility and does that which man alone could never do: he takes upon himself the sins of the world, like an innocent lamb, and he re-opens for us the path to communion with God, he makes us true children of God. There, in the Paschal Mystery, the definitive role of the Father is revealed in all its brightness. And it is there, on the glorious Cross, that the full manifestation of the greatness of God as "the Father Almighty" is manifest."
---
Copyright 2016 - Distributed by THE CALIFORNIA NETWORK
Pope Francis Prayer Intentions for May 2016
Universal:
Respect for Women: That in every country of the world, women may be honored and respected and that their essential contribution to society may be highly esteemed.
Evangelization:
Holy Rosary: That families, communities, and groups may pray the Holy Rosary for evangelization and peace.

By (CNA/EWTN News)
There's a demon that specializes in attacking the family, said exorcist César Truqui, a priest who participated in a course on exorcism held in Rome last year. Rome, Italy (CNA/EWTN News) - Fr. Truqui warned that everything that is harming the family, including ... continue reading
---

By Kenya Sinclair (CALIFORNIA NETWORK)
During an interview, Cardinal Robert Sarah explained the importance of priests facing east during Mass. LOS ANGELES, CA (Catholic Online) - In an interview with French Catholic magazine Famille Chrétienne, Cardinal Sarah, who is the prefect of the Congregation for ... continue reading
---

By Kenya Sinclair (CALIFORNIA NETWORK)
Rev. V. A. Anthony, of Brethren Assembly Church in Satna, his wife Prabha and one unnamed woman have been arrested in Aber, India after being accused of "forced conversions" and blaspheming against Hinduism. LOS ANGELES, CA (Catholic Online) - According to Christian ... continue reading
---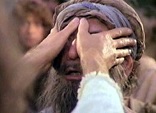 By Deacon Keith Fournier
The same Jesus who passed by Bartimaeus is alive today. The Good News is that no matter what has happened in our past, Jesus walks into the dusty streets of our lives this day. We simply need the eyes of living faith to see Him and the renewed heart to follow Him ... continue reading
---

By Kenya Sinclair (CALIFORNIA NETWORK)
In an attempt to make the Bible more interactive and entertaining to millennials, the King James Version (KJV) of the Bible has been translated with help from popular emoticons. LOS ANGELES, CA (Catholic Online) - According to The Memo, the new Bible, marked as ... continue reading
---

By Kenya Sinclair (CALIFORNIA NETWORK)
A new study revealed Welsh and English Catholics hold the highest retention rate of any denomination but maintain the lowest conversion rates. LOS ANGELES, CA (Catholic Online) - The report, titled the "Contemporary Catholicism in England and Wales," was issued by the ... continue reading
---

By Elise Harris (CNA/EWTN News)
For Pope Francis, prayer is neither a "magic wand" used to get what we want nor something casual we do only when we feel like it, but is rather the strength that sustains our faith in difficult moments. Vatican City, Rome (CNA/EWTN News) - "Jesus says that we need 'to ... continue reading
---

By Andrea Gagliarducci (CNA/EWTN News)
Former Pope Benedict XVI could appear in public once again on June 29, the 65th anniversary of his priestly ordination. Vatican City, Rome (CNA/EWTN News) - Speaking after the May 20 presentation of a book dedicated to Benedict XVI's pontificate, Archbishop Georg ... continue reading
---

By Tony Magliano
The best way to remember those who have been killed in battle is to work for the day when others will no longer be sent to take their place. Prayerfully reflecting on how to move away from war and war preparation should be central to every Memorial Day.Why do ... continue reading
---

By Ann Scneible (CNA/EWTN News)
The feast of the Holy Trinity is an invitation for us to commit to enriching our everyday relationships by promoting communion, consolation, and mercy, Pope Francis said during his weekly Sunday Angelus address. Vatican City, Rome (CNA/EWTN News) - "Our being created ... continue reading
---
All Living Faith News