The activity of ritual can significantly enhance every facet of a person's life.
Mention the word "ritual" and people's reactions and responses are quite varied.  Many conjure up images of evil doings, magic practices and spells.  Some roll their eyes at religious rites performed without change and declare they are void of meaning.  Others, though, cling to the significance of ordered ceremonies, celebrations or individual acts that remain static.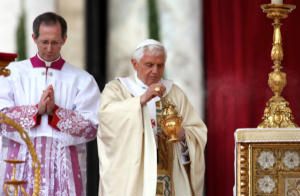 Highlights
Catholic Online (www.catholic.org)
10/5/2012 (3 years ago)
Published in Living Faith
Keywords: power, ritual, routine, God, spirit, mind, body, Chaplet of Divine Mercy, prayer, rosary, grace
---
WASHINGTON,DC (the burningbeast.com) - Mention the word "ritual" and people's reactions and responses are quite varied.  Many conjure up images of evil doings, magic practices and spells.  Some roll their eyes at religious rites performed without change and declare they are void of meaning.  Others, though, cling to the significance of ordered ceremonies, celebrations or individual acts that remain static. 
What, then, is the true meaning of ritual?  How does it differ from routine? 
Ritual vs. Routine
Rituals and routines are similar in that they each are repetitive functions that provide a sense of order, structure and intention to produce an outcome.  
A routine is a course of action that is standard procedure and habitual in nature because it is performed on a regular basis and without much thought given to the action.  One can perform a daily routine and not be fully aware of the fact it is being performed. 
For example, every morning Jane sets the home alarm before she steps out the door and leaves for work.  Her routine is so habitual that she does it without thinking and sometimes arrives at work wondering if she set the alarm.  Jane's action is important-the alarm needs to be set-but the act itself can be performed regardless of her immediate awareness of the fact she's doing it.  Routine, therefore, can become a mundane task even though it yields something productive. 
In contrast, the very act of a ritual is rich in meaning.  Ritual requires one to prepare and focus on the event or activity, and to be fully aware.  Symbolism is laced throughout ritual, providing a deep sense of value.  While ritual is often solemn, sacred and rhythmic in nature, it is always thought-provoking.  It often provides a connection to others, such as a group of like-minded believers, or to God, or both.  That cohesiveness offers a sense of belonging, stability and safety.  Ritual is grounding to the human soul and helps one to stay focused on the belief that led to the action of the ritual in the first place. 
For example, John arises every morning at 5:00 a.m., pours himself a cup of coffee, picks up his rosary beads, then sits in the same chair on his back porch.  After drinking his coffee as he observes the stars, before the sun rises he prays for the needs of others, then himself, through the Chaplet of Divine Mercy.  John's actions are ritual because he prepares by planning to arise at the same time everyday and by setting the coffee pot to brew before he arises.  He anticipates his pre-dawn solitude, and he has considered others' needs before he prays.  His prayers bind him to God and to humanity through the rhythmic prayer, and the rosary beads help him to focus.  In John's case, even the coffee making and drinking are ritualistic and not routine because they are planned out and are an integral part of his process. 
However, if John arose and said some token prayers, all the while not focusing on them as he showered for work, then his early morning activity would be a routine and not a ritual. 
Routine is essential, though, because daily life requires it.  Sleep, arise, walk the dog, iron clothing, exercise, change diapers and feed the family are examples of routines in the daily grind that can become mindless.  Ritual, though, energizes the soul.  If the fast pace of life dictates a plethora of mindless routines, one's actions become monotonous and void of meaningful activity.

In the words of Henry Van Dyke: "As long as habit and routine dictate the pattern of living, new dimensions of the soul will not emerge."
And Amos Bronson Alcott: "The less routine, the more life."
And solemn, sacred cohesiveness to others in this repetitious act of meaningful ritual is seen in this quote from Maggie Gallagher:
"For faithful Catholics, communion is not just a nice ritual: It is the body and blood of Jesus Christ, and the ultimate sign of our willingness to be incorporated into the church."
Benefits of Ritual
Ritual invokes balance to all three dimensions of humanity's life.  It can bring equilibrium to one's mind, body and spirit in the following ways: 
Mind:
Focus clears the mind of needless clutter

Calms mental stress

Produces peace of mind

Promotes discipline

Provides sense of security
Body:
Relaxes the body

Rituals positively affect some or all of the senses, which calms the body.

 
Consider the rituals of the Catholic Mass: a) hearing the prayers/music/bells, b) smelling incense and candles, c) seeing the crucifix, d) passing peace through touch, and e) tasting the Eucharist.)
Spirit:
Strengthens devotion

Perpetuates the faith/deep meaning behind the activity

Develops connection to one's self, to others and to God

Induces peace
Routine to Ritual
Creating rituals takes discipline and thought, and the hectic grind of daily routines can be one's excuse for not developing them.  But rituals don't have to be a new addition to life because those daily routines can be turned into rituals.  Routines have to be accomplished, so why not cultivate them into rituals?  For example, make dog walks a time for prayer.  Pray blessings into each article of clothing you iron.  Smile at those you pass on the trail during your morning run.  Say "I love you" at least once a day to your spouse.  Light a candle every night on the dinner table.  Be thankful for a new day of life with the first sip of morning coffee.  Infuse rituals into your routines and your life will be enriched.
Ritual Intentions
It could be said that some rituals are personal and therefore don't possess the element of cohesiveness.  After all, how can an individual's unique ritual that is practiced in private bind him to anyone else?
The answer lies in the other characteristics.  In those moments where the rich meaning, sacredness and solemnity of a ritual are being exercised, excluding cohesiveness contains an aspect of selfishness.  Every ritual can bind one to another in some way, even if it's a personal ritual. 
For example, John does not arise and just pray for the troubles in his life.  He prays for others, and he prays for their needs before his own.
And let's say Mary's ritual is to arise and savor a hot cup of a coffee with one teaspoon of sugar in it exactly three minutes after the machine stops brewing, then sit in the dark, sip it and plan her day before the family arises.  When her solemn time is over and after her spouse arises, she could pour a cup of coffee and take it to him.  Delivering it with a kiss and a smile would sweeten the ritual. 
John's and Mary's rituals are unique to themselves.  John, though connects himself to others and to God through prayer, and Mary could easily conclude her quiet time ritual by an act of kindness to another.
For many, grace before meals has become a litany of words to rush through-just a token effort of thanksgiving before diving into the meal.  But to truly consider what is being said and to embrace gratitude for the food is to remove the selfishness from the action and inject the sacred.  That binds one to the others around the table and to God. 
Religious rites, whatever they are, are not void of meaning.  Those that believe they are have separated themselves from the meaning of the activity.  Their disdain or boredom of the ritual often breeds an attitude of conceit because they think the ritual should be revised to fit their conceived idea of how it should be.  This perspective is an act of turning a ritual into a mundane routine that needs updating.  This, too, is selfishness, and it is disrespectful-not sacred-to attend a religious ritual and devalue it. 
To create and perform rituals only to benefit one's mind, body and spirit is selfish as well.  Whatever the ritual is, it is filled with deep meaning.  The very least one can do in the act of ritual is be grateful.  But that can be selfish as well.  Random gratefulness is one thing, but offering profound gratitude to God is another.  The activity of ritual can significantly enhance every facet of a person's life.  One's days will always be filled with routines, but the creation of new rituals or the infusion of life into existing ones can bring order and stability to one's mind, body and spirit.
-----
Kim A. Talbert is an award-winning nonfiction author, columnist, speaker and writing conference instructor. She is also the author of The Burning Beast, www.theburningbeast.com
---
Copyright 2016 - Distributed by THE CALIFORNIA NETWORK
Pope Francis Prayer Intentions for May 2016
Universal:
Respect for Women: That in every country of the world, women may be honored and respected and that their essential contribution to society may be highly esteemed.
Evangelization:
Holy Rosary: That families, communities, and groups may pray the Holy Rosary for evangelization and peace.

By (CNA/EWTN News)
There's a demon that specializes in attacking the family, said exorcist César Truqui, a priest who participated in a course on exorcism held in Rome last year. Rome, Italy (CNA/EWTN News) - Fr. Truqui warned that everything that is harming the family, including ... continue reading
---

By Kenya Sinclair (CALIFORNIA NETWORK)
During an interview, Cardinal Robert Sarah explained the importance of priests facing east during Mass. LOS ANGELES, CA (Catholic Online) - In an interview with French Catholic magazine Famille Chrétienne, Cardinal Sarah, who is the prefect of the Congregation for ... continue reading
---

By Kenya Sinclair (CALIFORNIA NETWORK)
Rev. V. A. Anthony, of Brethren Assembly Church in Satna, his wife Prabha and one unnamed woman have been arrested in Aber, India after being accused of "forced conversions" and blaspheming against Hinduism. LOS ANGELES, CA (Catholic Online) - According to Christian ... continue reading
---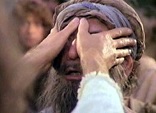 By Deacon Keith Fournier
The same Jesus who passed by Bartimaeus is alive today. The Good News is that no matter what has happened in our past, Jesus walks into the dusty streets of our lives this day. We simply need the eyes of living faith to see Him and the renewed heart to follow Him ... continue reading
---

By Kenya Sinclair (CALIFORNIA NETWORK)
In an attempt to make the Bible more interactive and entertaining to millennials, the King James Version (KJV) of the Bible has been translated with help from popular emoticons. LOS ANGELES, CA (Catholic Online) - According to The Memo, the new Bible, marked as ... continue reading
---

By Kenya Sinclair (CALIFORNIA NETWORK)
A new study revealed Welsh and English Catholics hold the highest retention rate of any denomination but maintain the lowest conversion rates. LOS ANGELES, CA (Catholic Online) - The report, titled the "Contemporary Catholicism in England and Wales," was issued by the ... continue reading
---

By Elise Harris (CNA/EWTN News)
For Pope Francis, prayer is neither a "magic wand" used to get what we want nor something casual we do only when we feel like it, but is rather the strength that sustains our faith in difficult moments. Vatican City, Rome (CNA/EWTN News) - "Jesus says that we need 'to ... continue reading
---

By Andrea Gagliarducci (CNA/EWTN News)
Former Pope Benedict XVI could appear in public once again on June 29, the 65th anniversary of his priestly ordination. Vatican City, Rome (CNA/EWTN News) - Speaking after the May 20 presentation of a book dedicated to Benedict XVI's pontificate, Archbishop Georg ... continue reading
---

By Tony Magliano
The best way to remember those who have been killed in battle is to work for the day when others will no longer be sent to take their place. Prayerfully reflecting on how to move away from war and war preparation should be central to every Memorial Day.Why do ... continue reading
---

By Ann Scneible (CNA/EWTN News)
The feast of the Holy Trinity is an invitation for us to commit to enriching our everyday relationships by promoting communion, consolation, and mercy, Pope Francis said during his weekly Sunday Angelus address. Vatican City, Rome (CNA/EWTN News) - "Our being created ... continue reading
---
All Living Faith News