It was the beginning of my faith journey with the Lord Jesus, and it continues to this day.
For two weeks, I entered into a great experiment with God, what Ratzinger calls the experiment of faith.  And I learned that my hesitant, conditional, faith was--at that point in time--enough to gain access to the God who satisfied all my yearnings for lost innocence, in fact, all my yearnings simpliciter.  "I believe, help Lord my unbelief," I learned,  is enough to get you access to the God who puts to rest restless hearts.
Highlights
Catholic Online (www.catholic.org)
9/19/2012 (3 years ago)
Published in Living Faith
Keywords: faith, conversion, Jesus, Church, evangelical, saved, born again, living faith, Bill Gothard, Pope Benedict XVI, Andrew M. Greenwell, Esq.
---
CORPUS CHRISTI, TX (Catholic Online) - In his book Introduction to Christianity, a young Joseph Ratzinger wrote that the "reality 'God' can only impinge on the vision of him who enters into the experiment with God--the experiment that we call faith."

"God," the future Pope Benedict XVI wrote, "for his part has agreed to the experiment, has entered into it himself as man."  That man, of course, is Jesus, God the Son become man.

Faith is a gift, the theologians say, a grace.  It is not something that we can obtain for ourselves because it is something beyond ourselves.  The greatest natural attribute we have is reason (reason is also a gift, but it's under our control); but faith is not a natural attribute.  Faith is of supernatural origin.  It is not something we control.  Again, it is a gift.

It is a gift, however, that sometimes comes in strange packages, and is given even to doubtful hands.  It is a gift, I learned, that is given by the good God even if the recipient harbors some doubt.  But even in doubt, the gift must be received.  The receiver, cannot "remain uninvolved," as Ratzinger puts it, in the gift of faith.  If you are not involved with God, you cannot believe in God, because you cannot receive the gift of faith in God.

This, I think, is the meaning behind that saying uttered by the man whose child was possessed with an unclean spirit and whom Jesus asked if he believed before curing the child: "I believe, help thou my unbelief."  (Mark 9:23-24)  Credo, Domine, adjuva incredulitatem meam. 

Our entire life in faith is a pilgrimage, and there is never a time where more faith in the Lord cannot be had, where our faith in God has reached perfection, where additional involvement, additional trust on our part in the God who is infinitely trustworthy is not required. 

"I believe, Lord, help though my unbelief," is a daily prayer.

In discussing this "experiment with God," the experiment of faith in God, Ratzinger recalls something Pascal said in his Pensées:  "You would like to reach faith, but you do not know the way?  You want to cure yourself of unbelief, and you ask for a remedy?  Take a lesson from those who were earlier racked by doubts like yourself. . . . Follow the way by which they began: by acting as if they believed . . . . This will bring you quite naturally to believe and will stupefy you."  

There is a lot of controversy regarding what Pascal intended to say when he used the French word s'abętir (which is translated as "stupefy").  It does not mean to make yourself stupid or dully, though it might literally be translated so. 

Ratzinger adopts a Catholic interpretation by suggesting that in saying that belief stupefies, Pascal meant that belief returns us to a child-like stage so as to make us able to receive truths that are otherwise inaccessible to dull-witted human reason. 

Not stupor, but innocence.  Innocent children might be said to be "stupid" about things like the intrigue of power over another, sexual exploitation, insensitivity to others' pain, and such other horrid qualities of "un-stupid" adults.  But this is a "stupidity" that is universally admired; it is a "stupidity" that is everywhere cherished.  Who wants children not to be "stupid" about these things? 

In the "experiment of faith," we realize reason's end, because reason can go no farther.  Like a child drops the hand of his nursemaid to grab hold of the hand of his mother, man must leave the hand of reason, and with faith must take the hand offered by God.  In Dantean terms, we must let go of Virgil, and take hold of Beatrice.

There was a time that I had no faith.  I had been baptized and raised in the Church, but around age thirteen I found the whole Catholic thing (or, really, what little I knew of it, which was essentially nothing) dreadfully meaningless and uninspiring. 

Acting on the impulse of youthful rebellion, I rejected, and lost, any virtue of faith that had been supplied me or promised me in my baptism.

And so did I travel, essentially Godless, through about eight years of my life. 

But with the rejection of God did not come freedom, for with it came something else: a sort of sullying, a sullying of the soul arising from slavery to disordered passion, especially the strong passions of teenage years.  This sullying is the natural by-product of traveling life without a lack of moral compass, without a True North. 

Without God, a human is sort of like the sailor of old being forced to sail without the polestar.  He would not know where he's going, and even if he did, he wouldn't have the foggiest idea about how to get there.  After being at sea for a while, the sailor will run out of provisions, will develop diseases, and will get horribly homesick.

I got that homesickness.  The homesickness was a growing inner awareness, only implicit, sort of a gnawing, that I had lost something very valuable.  I had lost some sort of moral health, some sort of innocence, some sort of "stupidity," and the result was a sort of inner deflation, even depression.  I had a sense, again only implicit, that all was not well with the state of my soul.  (In fact, I now believe I was on the way to being damned, if not damned already.) I would never have been able to put into words this inner feeling.  But it was there.

It was a sort of ambiguous feeling of angst coupled with sehnsucht, an experience that C. S. Lewis described as a sort of "inconsolable longing" for the "we know not what."

C. S. Lewis talks about what triggered these emotions in him: the smell of a bonfire, the sound of wild ducks flying overhead, the title of The Well at the Word's End, the opening lines of "Kubla Khan," the morning cobwebs in late summer, or the noise of falling waves.

In me, this sense of longing for something precious that had been lost was invariably triggered every time I heard the sound of children playing on a playground.  In hearing children playing on the playground, I was reminded of something I had lost, and, at the same time, something I wanted to regain.  Plato would have called this experience anamnesis.  Cardinal Newman would have called it the prompting of conscience.

While all this was going on inside me, God's Providence was fully at work outside of me.  Around the time when these feelings were at their height, I met a young woman (or a young woman met me), and a friend of hers talked us into going to a seminar by the Protestant minister Bill Gothard.  I doubt I would have gone but for the strong desire to please the young woman who had grabbed my attention.  (As it turned out, again providentially, this young woman turned out to be the woman I would marry and who is still my wife.)

Bill Gothard's seminar is a highly dense, quite rigorous presentation of scriptural principles for living a moral, godly life.  Bill Gothard's presentation is--from a moral perspective--quite conservative, even strict.  (For example, he discourages the use of artificial contraception.)  And it seemed that every principle that went my way, from Bill Gothard's lips to my ears, did nothing but condemn me.  For the first three days, I was seething.  I harbored anger against this very gentle, though insistent man.

I felt very much like the character in John Bunyan's Pilgrim's Progress who gets the bejesus beat out of him by Moses with the stone tablet of the Ten Commandments.

Suddenly, however, I was struck with the realization that had I lived these principles that were infuriating me I would never have lost the innocence I had lost and for which I was yearning. 

How could I possibly regain it? 

Bill Gothard's formula was simple.  I had to accept Jesus as the Son of God, as my Lord and Savior, and apply myself to reading and living the Scripture.

However, I could not believe.  I could not believe that Jesus was God, and I could not believe that the Bible was God's word.  I did not believe any of that any more.

So what was I to do?  I yearned for the lost innocence, but the means to regain it as offered by Bill Gothard seemed foreclosed to me by my lack of faith.  At the time, I did not have it in me to give myself to God as He had revealed Himself in Jesus, to entrust myself to Him, unconditionally.

I was in a quandary.  So without even knowing about Pascal and his advice that in doubt one should begin the process by acting as if one believed, I made a decision to accept Jesus as if He was God, and accept the Scriptures as if they were God's scriptures.

I gave Jesus and the Scriptures a conditional faith.  I promised the God in Whom I did not believe that I would act as if I believed for two weeks, and if He could not convince me of the truth of those things I was believing as if they were true within those two weeks, the deal was off.  That was my "act" of "faith."

For two weeks--this unbeliever, this miserable sinner who had the hubris to give God a conditional act of faith, as if He could not be trusted--acted as if he believed.  From a human perspective, I gave it all I had. 

For two weeks, I entered into a great experiment with God, what Ratzinger calls the experiment of faith.  And I learned that my hesitant, conditional, faith was--at that point in time--enough to gain access to the God who satisfied all my yearnings for lost innocence, in fact, all my yearnings simpliciter. "I believe, help Lord my unbelief," is enough to get you access to the God who puts to rest restless hearts.  And once He touches your heart because you let him, it changes everything.

Those two weeks were perhaps the most fruitful I have ever had in my life, for I learned, with the certainty of faith, that "God for his part" has also "agreed to the experiment, has entered into it himself," in Jesus, the Lord.

It was the beginning of my faith journey with the Lord Jesus, and it continues to this day. 

It took me a few years after this rough beginning, but, in God's good time, I learned something Bill Gothard sadly did not know.  And that is that there is a chain between Jesus and me, it has three links, and I'm not allowed to break any link if I want sure access to Jesus.  Ubi Petrus, ibi Ecclesia, ibi Christi est.  Where Peter is, there is the Church, there is Christ.  Or, as the unlettered St. Joan of Arc put it so simply: "About Jesus Christ and the Church, I simply know they're just one thing, and we shouldn't complicate the matter." 

No, indeed, we should not complicate the matter.  We should be like little children.  Peter, Church, Jesus.  So very simple, it's almost stupefying.

-----

Andrew M. Greenwell is an attorney licensed to practice law in Texas, practicing in Corpus Christi, Texas.  He is married with three children.  He maintains a blog entirely devoted to the natural law called Lex Christianorum.  You can contact Andrew at agreenwell@harris-greenwell.com.
---
Copyright 2016 - Distributed by THE CALIFORNIA NETWORK
Pope Francis Prayer Intentions for May 2016
Universal:
Respect for Women: That in every country of the world, women may be honored and respected and that their essential contribution to society may be highly esteemed.
Evangelization:
Holy Rosary: That families, communities, and groups may pray the Holy Rosary for evangelization and peace.

By Andrea Gagliarducci (CNA/EWTN News)
Former Pope Benedict XVI could appear in public once again on June 29, the 65th anniversary of his priestly ordination. Vatican City, Rome (CNA/EWTN News) - Speaking after the May 20 presentation of a book dedicated to Benedict XVI's pontificate, Archbishop Georg ... continue reading
---

By Tony Magliano
The best way to remember those who have been killed in battle is to work for the day when others will no longer be sent to take their place. Prayerfully reflecting on how to move away from war and war preparation should be central to every Memorial Day.Why do ... continue reading
---

By Ann Scneible (CNA/EWTN News)
The feast of the Holy Trinity is an invitation for us to commit to enriching our everyday relationships by promoting communion, consolation, and mercy, Pope Francis said during his weekly Sunday Angelus address. Vatican City, Rome (CNA/EWTN News) - "Our being created ... continue reading
---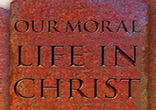 By Deacon Keith Fournier
What we choose determines who we become. Choosing what is good changes the chooser, empowering him or her to proceed along the pathways of virtue and develop the habitus - or habits- which promote Christian character. The Catechism of the Catholic Church ... continue reading
---

By Marshall Connolly (CALIFORNIA NETWORK)
Ever since the reveal of the Third Secret of Fatima in 2000, several people have insisted there's more to the secret than what the public was told. These rumors have taken a life of their own, prompting the Holy See to speak out against them. LOS ANGELES, CA (Catholic ... continue reading
---

By (CNA/EWTN News)
Recognizing the difference between a person who's possessed and a person struggling with a mental illness or other infirmity is a vital part of the ministry of exorcism, according to a long-time exorcist and priest. Rome, Italy (CNA/EWTN News) - Father Cipriano de Meo, ... continue reading
---

By (CNA/EWTN News)
It's a major miracle that you've probably never heard of. Lima, Peru (CNA/EWTN News) - On Sunday, Oct. 3, 1847, more than 2,000 people in Ocotlán, Mexico saw a perfect image of Jesus Christ crucified that appeared in the sky for more than 30 minutes.Approved by the ... continue reading
---

By (CNA/EWTN News)
During his Mass on Thursday, Pope Francis preached a warning to the rich who oppress the poor, focusing on employers who accumulate wealth by misusing those who work for them. Vatican City, Rome (CNA/EWTN News) - "We consider this drama of today: the exploitation of ... continue reading
---

By Kenya Sinclair (CALIFORNIA NETWORK)
William Friedkin, the director of famous horror film "The Exorcist," described a time he was invited to document a real exorcism at the Vatican. LOS ANGELES, CA (Catholic Online) - According to AFP, Friedkin shared his experience at the Cannes film festival Thursday ... continue reading
---

By Kenya Sinclair (CALIFORNIA NETWORK)
We all have bad days - but did you know the devil preys on you when you are the most vulnerable? LOS ANGELES, CA (Catholic Online) - Life is never easy for long. Children, work, school and illness often interfere with the plans we've made for ourselves, and it is ... continue reading
---
All Living Faith News