To the Pope's prayer, I add one of my own: Oh Eternal God, you are the Ancient of Days, but you are also the Forever Young
It is in particular the Holy Spirit who may be viewed as the dynamic balancing "counterpart" to the Ancient of Days, the dynamic God who proceeds from the Father and the Son.  If God the Father is the Ancient of Days, God the Holy Spirit is the Forever Young.  That is why the Spirit is depicted in the Scriptures and iconography as a bird, a dove, a creature singularly free of boundaries, or as wind or fire, something with even less boundaries still.  The Spirit blows where it wills.  (John 3:8)  The Ancient of Days, one the other hand, is like a rock, a fortress.  (2 Sam 22:3)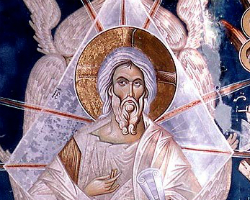 The Spirit of God transforms and transfigures
CORPUS CHRISTI, TX (Catholic Online) - It is healthy to remember that God is called in Scripture the Ancient of Days.  God as the Ancient of Days presents us with a marvelous image, and it suggests a God of eternal wisdom, eternal steadfastness, and eternal reliability.  God's Being is simple and unchanging.  This image captures God as Being, with Being as a noun.

In struggling to image and capture--however feebly--the concept of the eternity of God, man's iconography often depicts God the Ancient of Days as an old man with a long flowing white beard.  "From everlasting to everlasting, you are God," say the Psalms.  (Ps. 89[90]:2)

This image is particularly vivid in the book of Daniel, where the prophet Daniel has a vision of "someone like a son of Man" who gained privileged access to the "Ancient of Days," and from the Ancient of Days received "rulership and dignity and kingdom, that the peoples, national groups and languages should all serve even him."  (Dan. 7:13-14)

The "son of Man" referred to by the Prophet Daniel is, of course, the very title assumed by Jesus during the course of his ministry hear on earth.  In the Gospels, Jesus refers to himself as the "son of Man" eighty-one times, almost certainly his most frequent appellation.  Jesus' appropriation of the title "son of Man" suggests that He claimed unique access to God the Father, the Ancient of Days, and claimed to have received from Him ruleship over the entirety of creation. 

One should recall how significant this title was: it is Christ's reference to himself as the "son of Man" which so upset the Jewish authorities of his time, and it is what led them to accuse him of blasphemy.  (Matt. 25:64-65)

The "son of Man" is a title distinct from, though related to, Jesus' claim to be the Messiah or Christ, and we should not forget that God-Man who claimed that before Abraham "I am" also claimed that he had visited the Ancient of Days and had been given singular authority over heaven and earth.  "He who has seen me has seen the Father."  (John 14:9)

It is this singular figure of the Lord Jesus as Son of Man and Son of God who promised his followers to make them into a new creation by showing them the Father and by giving them the Holy Spirit. 

This results in a new birth, a new creation, one outside of time and forever young.  As the classic prayer to the Holy Spirit (which invokes Psalm 104:30 [103:29]) puts it:

Send forth your Spirit
And they shall be created
And you shall renew--that is make young--the face of the earth.

Christ's promised "newness of life" to his followers, and the dynamism promised in the Holy Spirit is a new revelation of God.  This revelation allows us to look at the image of God's eternal Being in a new way which does not contradict, but amplifies the old. 

This new revelation is that not only can the Being of God be viewed as the Ancient of Days, God's Being can also be viewed as the Forever Young.  God's Being is viewed more as a verb, as God who works in us, than a noun, a God who just is.

It is in particular the Holy Spirit who may be viewed as the dynamic balancing "counterpart" to the Ancient of Days, the dynamic God who proceeds from the Father and the Son.  The Holy Spirit is the Forever Young.  That is why the Spirit is depicted in the Scriptures and iconography as a bird, a dove, a creature singularly free of boundaries, or as wind or fire, something with even less boundaries.  The Spirit blows where it wills.  (John 3:8)  This is the youth of God personified.

In some of his writings, Pope Benedict XVI invokes this notion of the Forever Young Holy Spirit.  He refers to the Holy Spirit as the "eternal youth of the Church."  It is an expression that he has used from time to time, and has even invoked in prayer.

This notion of God's forever youngness is part of Catholic Tradition.  "Gott is ewig jung," God is forever young, says Hans Urs von Balthasar in his book Spirit and Life, "and he needs disciples that express his temperament and humor." 

What does von Balthasar mean by saying that God needs disciples who are "forever young," ewig jung, like the Forever Young God they follow?

Surely, von Balthasar had Meister Eckhart in mind when he made that particular point.  The great Dominican mystic Meister Eckhart reflected on God's Eternity and stated that, with respect to the Eternal One, the Ancient of Days, "Being and Being-young are one in Him," daß Dasein und Jungsein bei ihr eins sind. 

The Ancient of Days, the Son of Man, and the Forever Young--the three Persons in one God that is the Trinity--are three in one, and so they are one in Being and one in Being-young.

For humans to stay forever young, however, requires a life-long commitment founded upon love to God the Ancient of Days, God the Son of Man, and God the Forever Young.  As Jesus taught, if one loves Jesus, the Father, and the Son, and the Holy Spirit will make their home in his soul.  (cf. John 14:23)  Herein is the source of our youth.

In one of his Christian Discourses entitled "All is Good When We Love God," the Danish philosopher Sřren Kierkegaard insists that in the life of every man, there comes a time when we approach a certain "when."  This certain "when" presents us with a crisis, a crossroads.  If we decide aright, we wound decisively our pride.  If we say "Yes" and decide to love God above all things, even ourselves, then God resides with us. God lives in the yes.   In other words, God will come to us when we decide to follow God's commandment to love Him with all our heart, soul, mind, and strength.    (Luke 10:27) 

When that decisive "when" happens, we become new creatures, and the Forever Young God rushes in in that internal space where we allow him room.  Indeed, perhaps adverting to Christ's teaching that we must become like little children to inherit the Kingdom of God, Kierkegaard likens this event to the naming of a child, who carries his name given to him on a certain "when" his whole life through from birth to death. Our name never grows old to us.

From this Kierkegaardian "when" to the moment of our death--in other words during the time that we are in time and before we are released from time--time in a manner of speaking stops for us.  The reason this happens, in Kierkegaard's view, is the result of the love in the "when."  Like the God who placed the love in our souls at the time of our decision to love God, the love will stay eternally young.  Kierkegaard's view is that this "when" is "always ready to keep eternally young the love with which one loves God--eternally young, as God is eternal." 

This Kierkegaardian "when" arises when, in the words of the German Fichte, "God's spark may meet him and make him young."

For Kierkegaard, it is an always-open, never shut "when."  It is the igniting of an eternal fire with youth's full idealism that never burns out.  It has the dynamism of youth, and not the sclerosis of the old.

This love that is always burning is what keeps the soul forever young.  When we are in love with God, we are forever young.  "Know then that my soul is as young as when she was created," said Meister Eckhart, a soul in love with God.

The founder of Opus Dei, St. Josemaría Escrivá, had a deep sensitivity to the Forever Young God.  In his book The Forge, St. Josemaría Escrivá recognizes that loving God the Forever Young allows us to stay young in our interior life, even though our exterior facade ages.  "Each day that passes you are ceasing to be young . . . though with Him you will possess eternal youth."  The Forge, 878.

Perhaps nowhere is this expression of God as as the Eternal Young who delivers eternal youth better reflected than in the Roman rite before the reforms of the Second Vatican Council.  This moment also had great significance for St. Josemaría Escrivá.  

In the Roman rite, the priest approached the Altar of God in the beginning of Mass, the ancient Psalm was invoked:

"I will go in to the altar of God: to God who gives joy to my youth."  (Cf. Ps. 42:3)
Introibo ad altare Dei, ad Dei qui laetificat juventutem meam.

All the faithful regardless of age are youthful and this moment which begins the public worship of the Ancient of Days, for this prayer is prayed by the entire Church, young and old.  The old at Mass would pray this Psalm, together with the voice of the young altar boy, and even with the ageless saints in heaven, because all souls in the Church are--in Christ, the Son of Man and Son of God who had special access to the Ancient of Days, and through the Holy Spirit, the Forever Young God--also forever young.

St. Josemaría Escrivá refers to this moment in the Mass in his writings: "Although I have been around a good many years, when I pray at the foot of the altar 'to the God who gives joy to my youth,' I feel young and I know that will never consider myself old.  If I keep true to my God, Love will constantly vivify me.  My youth will be renewed like that of an eagle."  Friends of God, 31. 

But there's the clincher.  To be forever young, we must be true to, that is, we must be madly in love with, the Forever Young.  That is, we must become saints.

Pope Benedict XVI has urged all Catholics pray to the Forever Young and has prayed that we might be madly in love with Forever Young:

"Let us invoke the Holy Spirit," the Pope prayed, "the eternal youth of the Church." May the eternal youth of the Church "make each one aware of the urgent need to offer a consistent and courageous Gospel witness so that there may always be saints who make the Church resplendent, like a bride, ever pure and beautiful, without spot or wrinkle, who can attract the world irresistibly to Christ and to his salvation."

To the Pope's prayer, I add one of my own: Oh Eternal God, you are the Ancient of Days, but you are also the Forever Young. Grant that we may be true to you so that we may be forever young with you.  We ask this through Christ our Lord, the Son of Man Jesus to Whom you gave rulership and dignity and kingdom, that all peoples, national groups and languages should all serve even him.  Amen.

-----

Andrew M. Greenwell is an attorney licensed to practice law in Texas, practicing in Corpus Christi, Texas.  He is married with three children.  He maintains a blog entirely devoted to the natural law called Lex Christianorum.  You can contact Andrew at agreenwell@harris-greenwell.com.
---
Copyright 2015 - Distributed by THE CALIFORNIA NETWORK
Pope Francis Prayer Intentions for April 2016
Universal:
Small Farmers: That small farmers may receive a just reward for their precious labor.
Evangelization:
African Christians: That Christians in Africa may give witness to love and faith in Jesus Christ amid political-religious conflicts.

By Kenya Sinclair (CALIFORNIA NETWORK)
Do you - or someone you know - struggle with maintaining a positive attitude? Are people less inclined to spend time with you due to your poor attitude? Are you tired of wallowing in negativity? Try these simple tips to change the course of your life forever! LOS ... continue reading
---

By Kenya Sinclair (CALIFORNIA NETWORK)
Benedictine nuns in Missouri recently released their latest album <i>Adoration at Ephesus</i> - and it is amazing! LOS ANGELES, CA (Catholic Online) - Mother Cecilia, the prioress of the Benedictines of Mary, Queen of Apostles, told <a ... continue reading
---

By Marshall Connolly (CALIFORNIA NETWORK)
Members of an ultra-conservative religious denomination are stringing transparent wires around many urban neighborhoods, all for religious reasons. These nearly invisible wires form webs in cities such as New York, Chicago, and Los Angeles. What are these wires and ... continue reading
---

By Elise Harris (CNA/EWTN News)
On Wednesday Pope Francis said that just because someone is an expert in God's law and a strict adherent to the rules doesn't necessarily mean they know how to love and serve others. Vatican City, Rome (CNA/EWTN News) - "It's not automatic that whoever frequents the ... continue reading
---

By Kenya Sinclair (CALIFORNIA NETWORK)
The Manobo tribe of the Philippines were taught the Gospel and viewed Mel Gibson's "Passion of the Christ" film, which led several to convert to Christianity. LOS ANGELES, CA (Catholic Online) - According to missionaries from Christian Aid Mission, nearly the entire ... continue reading
---

By Kenya Sinclair (CALIFORNIA NETWORK)
Christian rock band Klo & Kweh was driving through Oklahoma when they were pulled over for a broken headlight. What happened next was a shock that rippled throughout the Christian community. LOS ANGELES, CA (Catholic Online) - According to <a ... continue reading
---

By Kenya Sinclair (CALIFORNIA NETWORK)
On Tuesday, Pope Francis spoke of several men and women worthy of canonization. He included miracle attributions and stories of martyrdom. LOS ANGELES, CA (Catholic Online) - According to Vatican Radio, Pope Francis received a private audience with Cardinal Angelo ... continue reading
---

By David Drudge (CALIFORNIA NETWORK)
The case of a pair of bakers who refused to bake a cake for a lesbian couple, may go all the way to the Supreme Court and resolve the apparent infringement of their First and Fourteenth Amendments. LOS ANGELES, CA (California Network) - The attorney for Aaron and ... continue reading
---
By Kenya Sinclair (CALIFORNIA NETWORK)
Inmates at Italian prison Velletri wrote Pope Francis letters earlier this year - and received personal replies. LOS ANGELES, CA (Catholic Online) - According to Vatican Radio, the prisoners gave their letters to Bishop Marcello Semeraro, the Bishop of Albano, during a ... continue reading
---

By Abigail James (CALIFORNIA NETWORK)
Tears roll down my face as a sea of blankets threaten to pull me completely under. I fight to stay afloat while the darkness continues to pull me down like a thousand needles hooked to anchors. Terrifying thoughts run rampant through my fragile mind, "what's the point ... continue reading
---
All Living Faith News