I turned to the Apostolic Fathers sort of like the Ethiopian turned to St. Philip
"To be deep in history is to cease to be a Protestant," famously wrote John Henry Cardinal Newman in his introduction to his Essay on the Development of Christian Doctrine.  I can attest to the truth of these words.  I started reading the nineteen centuries' old works of St. Ignatius, the third bishop of Antioch when I was a Protestant.  By the time I finished, I was well on the road toward becoming a Catholic.
The martyrdom of Ignatius of Antioch
CORPUS CHRISTI, TX (Catholic Online) - Most evangelical or fundamentalist Protestants believe in the perspicuity of Scripture.  They have to because they have rejected any teaching authority in the Church.  Simply put, the doctrine of perspicuity of Scripture is that, in the words of Charles Hodge, the Protestant theologian and founder of Princeton Theological Seminary, the "Bible is a plain book," and therefore requires no one to interpret it. 

The theory of perspicuity advances the notion that a man can sit down at home with a Bible in hand, and, presumably with the guidance of the Holy Spirit, will have no problem understanding the Bible's doctrine.  There is no need for an intermediary, no need for a teaching Church, no need for an ecclesia docens.  There is therefore no need for bishops and certainly no need for a Pope.

Some problems are immediately apparent in holding the doctrine of the perspicuity of Scripture.  First of all, there is no place in the Scriptures that states that the Bible is perspicuous.  Indeed, there is no place in the Bible that tells us what books compose the Bible, which means that what books are in the Bible is itself not perspicuous.  There is simply no Biblical foundation for the doctrine.  It finds no warrant in Scripture or the words of Jesus. 

In fact, the falsity of the doctrine of the perspicuity of Scripture appears clearly attested to by Scripture itself, expressly at least as it relates to the epistles of the Apostle Paul and implicitly with respect to Scripture as a whole.  St. Peter says: "in them [St. Paul's letters] there are some things hard to understand that the ignorant and unstable distort to their own destruction, just as they do the other scriptures." (2 Pet. 3:16). 

It is perspicuous to St. Peter that the Bible is not perspicuous. 

The doctrine of Scriptural perspicuity was never part of the received Church teaching, just like it clearly was not part of what St. Peter believed to be true.  It was a Protestant novelty.  It is a contrived truth to escape the Church's divinely-instituted teachers--the bishops and the Pope--and to escape the body of Tradition which testifies against its truth.

In addition to its theoretical lack of foundation, there is another problem with this notion: it does not work.  The doctrine of the perspicuity of Scripture has been a practical nightmare.  Although a precise count of Protestant denominations is probably impossible, most experts put Protestant denominations at hovering between 21,000 to 33,000 world-wide, each one, of course, with its own view of supposedly perspicuous Scripture that justifies its existence.  The number of interpretations of Scripture is legion.
 
What time has therefore attested to is that Protestant model is intrinsically unstable and uncertain, and that suggests overwhelmingly strongly that it is false.  The historical evidence is monolithically against the truth of the doctrine of perspicuity of Scripture.  As Origen said in his work On Prayer, "the word of God is one, but many are the words alien to God." 

I confronted this problem of interpretational cacophony endemic in Protestantism on my way back to the Catholic Church.  Although raised Catholic, by the time I went to college I had left the Church and pretty much rejected Christianity altogether, sort of holding an incongruous blend composed of intellectual agnosticism and practical atheism.  Towards the end of my undergraduate studies, however, I had a conversion, but that conversion was to evangelical or fundamentalist Protestantism. 

Eventually, I found myself frequenting Southern Baptist Churches.  I accepted the authority of Scripture sort of on faith, and assumed that it was readily interpretable as the Southern Baptists taught.

However, I soon grew frustrated with the impracticability and unworkability of the doctrine of Scriptural perspicuity.  Take, for example, the words of Jesus in the sixth chapter of the Gospel of John, "Amen, amen, I say to you, unless you eat the flesh of the Son of Man and drink his blood, you do not have life within you."  (John 6:53)  How were these words to be understood?  Many of Jesus' disciples obviously had problems with them.  The Gospel of John states that many murmured: "This saying is hard; who can accept it?" 

For some, the teaching was offensive, and when Jesus confirmed it, they left him altogether, presumably because they understood Jesus to be teaching these words to be literally true--something which, of course, would have offended the sentiments of the ordinary Jew. 

Most Protestants will interpret these words figuratively, symbolically, and avoid the difficulty of what seems Jesus' plain teaching.  When I read them, however, they seemed clearly to state that they were not to be intended figuratively or symbolically, but really and literally. 

So who was right?  Given the diverse views on this among well-meaning persons, it seemed pretty clear that the Scriptures were not as perspicuous as Protestants claimed.  And this seemed to be an important teaching, one upon which Jesus said eternal life depended.

Where was I to go for an answer?  I sort of felt like the Ethiopian reading Scripture who was approached by the Apostle St. Philip as recorded in Acts 8:30-31:

"Do you understand what you are reading?
"How can I, unless someone guides me?" 

But I had no Apostle Philip to guide me.

I decided therefore that I ought to go to those who were closest to the Evangelists who wrote the words of the Gospels.  "Surely there must be some historical record of these sorts of people?" I thought.

There is.  They are called the Apostolic Fathers.  The Apostolic Fathers are Christian authors who wrote in the second half of the first century and the first half of the second century.  Three of the most important are St. Clement of Rome, St. Ignatius of Antioch, and St. Polycarp of Smyrna.  They were taught by the Apostles, and some even wrote while some of the Apostles were still living.

So I turned to the Apostolic Fathers sort of like the Ethiopian turned to St. Philip. 

I will never forget the experience as a Southern Baptist in picking up the epistles of St. Ignatius of Antioch.  On his way to Rome to be martyred for the faith, St. Ignatius--the second bishop of Antioch (unless we count the Apostle Peter among them, in which case he would be the third)--wrote to a number of local churches: at Ephesus, Magnesia, Tralles, Rome, Philadelphia, and Smyrna.  These epistles have been preserved.  Originally written in Greek, English translations are readily available.

By the time I finished these epistles, I was no longer Southern Baptist.  I realized that whatever Church I had to belong to had to have three signs: (1) ordained bishops, (2) a liturgy, and (3) the sacrifice of the Eucharist as the center of worship.  None of these were to be found in any real sense in the Southern Baptist denomination.

Imagine my surprise when I encountered words such as these in St. Ignatius of Antioch in his epistle to the Smyrnaeans:

"See that you all follow the bishop, even as Jesus Christ does the Father, and the presbytery [priests] as you would the apostles; and reverence the deacons, as being the institution of God.  Let no man do anything connected with the Church without the bishop.  Let that be deemed a proper Eucharist, which is [administered] either by the bishop, or by one to whom he has entrusted it.  Wherever the bishop shall appear, there let the multitude [of the people] also be; even as, wherever Jesus Christ is, there is the Catholic Church."

Or these words, in his epistle to the Philadelphians:

"Take heed, then, to have but one Eucharist.  For there is one flesh of our Lord Jesus Christ, and one cup [to show forth] the unity of His blood; one altar; as there is one bishop, along with the presbytery [priesthood] and deacons, my fellow servants: that so, whatsoever you do, you may do it according to God."

As to the Eucharist, is there any doubt about how St. Ignatius felt?  How could anyone take the apostolic doctrine to be that Jesus' words on the Eucharist should be taken symbolically or figuratively when he confronts such words as these?

"Let no man deceive himself.  Both the things which are in heaven, and the glorious angels, and rulers, both visible and invisible, if they believe not in the blood of Christ, shall, in consequence, incur condemnation.  He that is able to receive it, let him receive it.  . . . But consider those who are of a different opinion with respect to the grace of Christ which has come unto us, how opposed they are to the will of God."

Nowhere is there any record of dissent to these teachings of St. Ignatius of Antioch accusing him of a novelty in maintaining the importance of ordained bishops and priests to whom the people owed obedience.  There is nothing to suggest he was doing something extraordinary in instructing Christians to gather for Sunday Eucharistic services that were sacrificial in nature, revolved around an altar, and involved the offering up and consumption of the Body and Blood of Christ.

"To be deep in history is to cease to be a Protestant," famously wrote John Henry Cardinal Newman in his introduction to his Essay on the Development of Christian Doctrine.  I can attest to the truth of these words.  I started reading nineteen centuries' old works of the third bishop of Antioch a Protestant, and by the time I finished, I came out a Catholic.

-----

Andrew M. Greenwell is an attorney licensed to practice law in Texas, practicing in Corpus Christi, Texas.  He is married with three children.  He maintains a blog entirely devoted to the natural law called Lex Christianorum.  You can contact Andrew at agreenwell@harris-greenwell.com.
---
Copyright 2016 - Distributed by THE CALIFORNIA NETWORK
Pope Francis Prayer Intentions for May 2016
Universal:
Respect for Women: That in every country of the world, women may be honored and respected and that their essential contribution to society may be highly esteemed.
Evangelization:
Holy Rosary: That families, communities, and groups may pray the Holy Rosary for evangelization and peace.

By Andrea Gagliarducci (CNA/EWTN News)
Former Pope Benedict XVI could appear in public once again on June 29, the 65th anniversary of his priestly ordination. Vatican City, Rome (CNA/EWTN News) - Speaking after the May 20 presentation of a book dedicated to Benedict XVI's pontificate, Archbishop Georg ... continue reading
---

By Tony Magliano
The best way to remember those who have been killed in battle is to work for the day when others will no longer be sent to take their place. Prayerfully reflecting on how to move away from war and war preparation should be central to every Memorial Day.Why do ... continue reading
---

By Ann Scneible (CNA/EWTN News)
The feast of the Holy Trinity is an invitation for us to commit to enriching our everyday relationships by promoting communion, consolation, and mercy, Pope Francis said during his weekly Sunday Angelus address. Vatican City, Rome (CNA/EWTN News) - "Our being created ... continue reading
---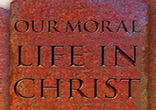 By Deacon Keith Fournier
What we choose determines who we become. Choosing what is good changes the chooser, empowering him or her to proceed along the pathways of virtue and develop the habitus - or habits- which promote Christian character. The Catechism of the Catholic Church ... continue reading
---

By Marshall Connolly (CALIFORNIA NETWORK)
Ever since the reveal of the Third Secret of Fatima in 2000, several people have insisted there's more to the secret than what the public was told. These rumors have taken a life of their own, prompting the Holy See to speak out against them. LOS ANGELES, CA (Catholic ... continue reading
---

By (CNA/EWTN News)
Recognizing the difference between a person who's possessed and a person struggling with a mental illness or other infirmity is a vital part of the ministry of exorcism, according to a long-time exorcist and priest. Rome, Italy (CNA/EWTN News) - Father Cipriano de Meo, ... continue reading
---

By (CNA/EWTN News)
It's a major miracle that you've probably never heard of. Lima, Peru (CNA/EWTN News) - On Sunday, Oct. 3, 1847, more than 2,000 people in Ocotlán, Mexico saw a perfect image of Jesus Christ crucified that appeared in the sky for more than 30 minutes.Approved by the ... continue reading
---

By (CNA/EWTN News)
During his Mass on Thursday, Pope Francis preached a warning to the rich who oppress the poor, focusing on employers who accumulate wealth by misusing those who work for them. Vatican City, Rome (CNA/EWTN News) - "We consider this drama of today: the exploitation of ... continue reading
---

By Kenya Sinclair (CALIFORNIA NETWORK)
William Friedkin, the director of famous horror film "The Exorcist," described a time he was invited to document a real exorcism at the Vatican. LOS ANGELES, CA (Catholic Online) - According to AFP, Friedkin shared his experience at the Cannes film festival Thursday ... continue reading
---

By Kenya Sinclair (CALIFORNIA NETWORK)
We all have bad days - but did you know the devil preys on you when you are the most vulnerable? LOS ANGELES, CA (Catholic Online) - Life is never easy for long. Children, work, school and illness often interfere with the plans we've made for ourselves, and it is ... continue reading
---
All Living Faith News