In the embrace of the indwelling Spirit, God's gift of himself which constitutes the kiss of divine and human love, is found an enduring and permeating interior peace
"Grant, we pray, almighty God, that the splendor of your glory may shine forth upon us and that, by the bright rays of the Holy Spirit, the light of your light may confirm the hearts of those born again by your grace. Through our Lord Jesus Christ, your Son, who lives and reigns with you in the unity of the Holy Spirit, one God, for ever and ever" -- Pentecost Vigil Mass Collect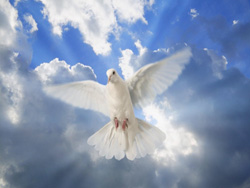 Life in the Spirit constitutes the fullness of human life; it is a life filled with light and love, tenderness and compassion as we share in God's own divine nature. Through the love of the indwelling Spirit, who resides in his faithful as in a temple, the soul is infused with an enduring, real and knowable peace. It is a peace that heals, elevates and perfects our ability to live our human life in all its fullness.
GLADE PARK, CO (Catholic Online) -- The contemporary age is rife with anxiety and agitation. We need not look long to notice that people are weighed down by burdens imposed upon them from both external and internal forces. Such a situation is due to a host of factors, including the turbulent stream of daily pressures and demands: there are deadlines and sales quotas and increased production goals; there are bills, insurance payments, taxes, and financial records; there are familial obligations and challenges, expectations and responsibilities. Further, as a cause of considerable unease, there is the self-induced stressor found in the quest for pleasure and wealth.

It is easy to think that the modern era is more stressful than ages past. In some ways it is. And in others it is not. When about nineteen-centuries ago Nero was burning Christians as torches to light the streets of Rome at night, the shear terror at the thought of undergoing such ghastly pain makes our modern-day burdens seem little more than minor inconveniences.

Death, it would seem, is the ultimate and universal stressor. For some people it indeed is. On the other hand, there are numerous examples of Christians who faced horrific torture and impending death with calmness, walking confidently with an untroubled gait toward their earthly end, expressions of serenity on their faces and joy in their eyes. And there are Christians this moment, around the world, dying. Confounding the powerful and frustrating the worldly, these lovers of Christ bravely face their demise immersed in an inexplicable peace.

What is the origin of that type of peace? It is not something naturally occurring in man. That deep, habitual inner peace which allows us to remain calm during conditions of the greatest adversity, resistant to panic and despair as even the teeth of death close upon us, is not something generated from within ourselves. Although many often believe peace is captured through the attainment of wealth, power, and success, when catastrophe bursts through the door of their lives, they soon find they were mistaken. True and lasting inner peace is a supernatural gift. It is not won by material gain.

Seek The Spirit

Man is a peace seeker. This is self-evident in the fact that man constantly seeks after perfect happiness -- an unattainable goal in the absence of peace. And, as with perfect happiness, complete peace can only be attained in all its incomprehensible richness in God, whose love can impart in an instant an indescribably immense and penetrating spiritual peace. Such a wondrous and life-changing reality is made possible by the Spirit of God. It is through an intimate relationship with the indwelling Spirit -- God's gift of himself which constitutes a divine and human embrace of love -- that this enduring interior peace permeates our being.

But do we know this peace? Is it a familiar companion? This leads to the question, "Have I given myself over in love of God for his own sake; or have I preferred to occupy my time with evanescent, created objects and therefore trade the Spirit's gift of peace for the mundane?" The point is, there is a vast difference between having knowledge of the Spirit and knowing the Spirit. If we are not this moment embraced in the intimate kiss of the Spirit, committed in attentiveness to his love and secure in his peace, then it is time to re-examine the path we are walking. This is not to say that those who live in the Spirit always experience a spiritual sensation of absorption into his love. That is, Christians at some point encounter dryness and darkness on their journey in order that they may be further refined in faith, hope and charity according to God's perfect plan of love. Nevertheless, those who return the Spirit's gaze of love with love, are keenly aware of the depth of that relationship.

St. Teresa of Avila, the Doctor of Prayer, observed that Christ does not give of himself completely to us until he sees we are willing to give of ourselves completely to him. It is crucial, then, to foster an interior disposition of total self-gift to the Spirit. This consists in a complete "yes" to the will of God and follows the pattern of the sweet Virgin Mary's fiat. And we should not fear God's will, for whatever he wills for us is the best and most perfect outcome for which we could ever hope. Our lives are incomplete unless joined perfectly to the will of God. In free and loving obedience to God's perfect will of total love, is found the totality of human fulfillment and happiness. Those who possess God, lack nothing.

Further, St. Teresa describes a wonderful insight she obtained into the fruits of human self-gift, when she gave her "fiat" at the Convent of the Incarnation, outside the walls of Avila: "When I took the habit the Lord immediately showed me how He favours those who do violence to themselves in order to serve Him. No one saw what I endured, . . . At the moment of my entrance into this new state I felt a joy so great that it has never failed me even to this day; and God converted the dryness of my soul into a very great tenderness" (The Life of Saint Teresa of Avila by Herself 33).

If we remain unconvinced that a real and lasting peace can be had in the present, perhaps we should re-evaluate the fruitfulness of our spiritual life. For instance, is it the many stressors in our environment that shatter interior peace, or, on the other hand, have we made peace the stranger in our failure to give ourselves over in abandonment to the Spirit who is Peace? That is, do we walk by the Spirit, or, on the contrary, do we gratify the desires of the flesh (Gal. 5:16 ff.)?

While it is true that there is a difference in degree (quantitative) between the possible experience of peace in the Spirit this moment and that peace to be enjoyed in the heavenly realm, there is no essential difference. For if we partake of the divine life of the Spirit now, we drink of the same well-spring of Peace during our earthly existence as we will after passing beyond it, when we will be caught up in the superabundant bliss of the Beatific Vision. Simply, there is one eternal Spirit who bestows his peace upon man. We can taste, here and now, the same astounding Peace who will ignite our souls with radiant, heavenly light upon entering into our final state: eternal life with God. What astonishing beauty!

That should inflame us with hope. While it seems a paradox that the infinitely glorious Spirit should seek to permanently dwell in us, mere creatures that we are, in order to reshape us into becoming one with Christ and thus recreate us in such a way so as to form us into sons and daughters of God, that is indeed his desire! The goal of the Spirit is to embrace us with unimaginable love both now and in the unending and forever "now" of eternal life. Our part is simple but not easy: we must give ourselves over completely to the Spirit's loving embrace. God has called. He has made himself known through his Son and his Church. Further, God himself gives us the energy to set sail on the journey into him. Let us rig our mainsail so as to catch the Divine Wind! 

Life In The Spirit

Even among reputed Christians there is a great deal of misunderstanding concerning life in the Spirit. The tendency to presume upon the health of our relationship with the Spirit is widespread, as if little more is required of us other than whatever we feel inclined to do. Therefore what life in the Spirit is thought to entail is colored by numerous subjective attitudes and personal biases. Those who experience God's call to greater intimacy and who sincerely want to set out upon the proper path can feel overwhelmed by the sheer diversity of opinion on the matter. What is to be done for those of us who wish to rediscover our capacity to perceive the Spirit and live in his peace?

Of crucial importance is to recognize that before time began the Father planned to assemble all those who believe in Christ into his holy Church (Lumen Gentium 2). And it is God's will that all men believe in his Son who, in a stupendous display of divine love, sacrificed his sacred humanity on the cross for our sake. Therefore the Church, the city of truth and holy dwelling place, is truly the Father's plan for the entire world. Through the sacrament of Baptism, we are incorporated into Christ and his Church, receive the gift of the Holy Spirit, and become members of the divine family. From that wondrous point of beginning, we are to live out our Christian life in the womb of mother Church in free and obedient love of Christ, passing from spiritual infancy to maturity and on into perfection.

Life in the Church is a sacramental way of life that, if lived in unceasing prayer and harmony with the Spirit, leads us ever-more-deeply into sharing in the divine life of God. As we progress along on our spiritual journey, as our intimacy with the Spirit increases, we find we have become truly new creatures who share in God's glory. Here, in a humble life of love and fidelity to the truth, lived in simplicity according to the Gospel, we find a lasting, indescribable interior peace that cannot be destroyed or toppled by the often nervously chaotic movements of the world. Because we are re-created anew, we realize a new life, live in a new way, and look to a new horizon. Therefore it is through the Church that Christ confers on the faithful the gift of his Spirit, who is Peace.

Since interior peace is one of the perfections the Holy Spirit forms in us as the first fruits of eternal glory (CCC 1832), it is a real foretaste of eternal life. And, contrary to causing human inactivity or unconcern for injustices in the world, the interior peace given by the Spirit heals, elevates and perfects us in such a way that our ability to function fruitfully and accomplish the will of our Savior Jesus Christ is immeasurably enhanced. Therefore the peace infused into our soul by the Spirit is not without positive effect, for the Spirit accomplishes his will of love in those who love him.

It might seem a radical question, but we ought to ask ourselves, "Am I prepared for death?" Such a question, if taken seriously, is a good exercise in measuring our level of intimacy with and love for the Spirit. It is also an indicator of our level of interior peace. We can answer "yes," provided we have found what those Christians mentioned above found; provided we are securely nestled in that lasting peace which flows not from out of ourselves, but rather pours forth from the compassionate fount of the divine life-force we know as the Holy Spirit.

-----

F. K. Bartels is a Catholic writer who knows his Catholic Faith is one of the greatest gifts a man could ever receive. He is a contributing writer for Catholic Online. Visit him also at catholicpathways.com

---
Copyright 2016 - Distributed by THE CALIFORNIA NETWORK
Pope Francis Prayer Intentions for May 2016
Universal:
Respect for Women: That in every country of the world, women may be honored and respected and that their essential contribution to society may be highly esteemed.
Evangelization:
Holy Rosary: That families, communities, and groups may pray the Holy Rosary for evangelization and peace.

By (CNA/EWTN News)
There's a demon that specializes in attacking the family, said exorcist César Truqui, a priest who participated in a course on exorcism held in Rome last year. Rome, Italy (CNA/EWTN News) - Fr. Truqui warned that everything that is harming the family, including ... continue reading
---

By Kenya Sinclair (CALIFORNIA NETWORK)
During an interview, Cardinal Robert Sarah explained the importance of priests facing east during Mass. LOS ANGELES, CA (Catholic Online) - In an interview with French Catholic magazine Famille Chrétienne, Cardinal Sarah, who is the prefect of the Congregation for ... continue reading
---

By Kenya Sinclair (CALIFORNIA NETWORK)
Rev. V. A. Anthony, of Brethren Assembly Church in Satna, his wife Prabha and one unnamed woman have been arrested in Aber, India after being accused of "forced conversions" and blaspheming against Hinduism. LOS ANGELES, CA (Catholic Online) - According to Christian ... continue reading
---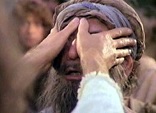 By Deacon Keith Fournier
The same Jesus who passed by Bartimaeus is alive today. The Good News is that no matter what has happened in our past, Jesus walks into the dusty streets of our lives this day. We simply need the eyes of living faith to see Him and the renewed heart to follow Him ... continue reading
---

By Kenya Sinclair (CALIFORNIA NETWORK)
In an attempt to make the Bible more interactive and entertaining to millennials, the King James Version (KJV) of the Bible has been translated with help from popular emoticons. LOS ANGELES, CA (Catholic Online) - According to The Memo, the new Bible, marked as ... continue reading
---

By Kenya Sinclair (CALIFORNIA NETWORK)
A new study revealed Welsh and English Catholics hold the highest retention rate of any denomination but maintain the lowest conversion rates. LOS ANGELES, CA (Catholic Online) - The report, titled the "Contemporary Catholicism in England and Wales," was issued by the ... continue reading
---

By Elise Harris (CNA/EWTN News)
For Pope Francis, prayer is neither a "magic wand" used to get what we want nor something casual we do only when we feel like it, but is rather the strength that sustains our faith in difficult moments. Vatican City, Rome (CNA/EWTN News) - "Jesus says that we need 'to ... continue reading
---

By Andrea Gagliarducci (CNA/EWTN News)
Former Pope Benedict XVI could appear in public once again on June 29, the 65th anniversary of his priestly ordination. Vatican City, Rome (CNA/EWTN News) - Speaking after the May 20 presentation of a book dedicated to Benedict XVI's pontificate, Archbishop Georg ... continue reading
---

By Tony Magliano
The best way to remember those who have been killed in battle is to work for the day when others will no longer be sent to take their place. Prayerfully reflecting on how to move away from war and war preparation should be central to every Memorial Day.Why do ... continue reading
---

By Ann Scneible (CNA/EWTN News)
The feast of the Holy Trinity is an invitation for us to commit to enriching our everyday relationships by promoting communion, consolation, and mercy, Pope Francis said during his weekly Sunday Angelus address. Vatican City, Rome (CNA/EWTN News) - "Our being created ... continue reading
---
All Living Faith News