The Christian vocation is fundamentally about relationship and communion.
While Jesus was still talking to the crowd, his mother and brothers stood outside, wanting to speak to him. Someone told him, "Your mother and brothers are standing outside, wanting to speak to you." He replied to him, "Who is my mother, and who are my brothers?"
Highlights
Catholic Online (www.catholic.org)
11/26/2011 (4 years ago)
Published in Living Faith
Keywords: Mary, Mother of God, John the Baptizer, Church, Holy Trinity, marriage, family, conversion, communion, Incarnation, Advent, Deacon Keith Fournier
---
CHESAPEAKE, VA. (Catholic Online) - With the First Sunday of Advent, we begin, as a Church, to walk through the liturgical year again. The cycle is a constant reminder to us that every end is a beginning. In and through our liturgical seasons we mark our journey with the great events that constitute the Christian Mystery.
As Christians, we know that all time is a gift, given by God. There is no such thing as profane time for a Christian because time has been transformed by the Paschal mystery; the Incarnation, Birth, Life, Death, Resurrection, Ascension and Coming Return of Jesus Christ. The eternal entered into history and it, and we, are forever changed through His coming. He has come, He comes and He will come! He is coming right now for those who have the eyes of faith to see Him and are willing to make room for Him in their lives.
This Sunday we are invited to begin again. Throughout this season of preparation called Advent, two central figures are proposed for our reflection; John the Baptizer and Mary, the Mother of the Lord. I propose for our consideration a somewhat perplexing and often misunderstood encounter between Jesus, the crowds and His mother for us as we begin our Advent Journey.
"While Jesus was still talking to the crowd, his mother and brothers stood outside, wanting to speak to him. Someone told him, "Your mother and brothers are standing outside, wanting to speak to you." He replied to him, "Who is my mother and who are my brothers?" Pointing to his disciples, he said, "Here are my mother and my brothers. For whoever does the will of my Father in heaven is my brother and sister and mother." (Matthew 12:48-50)
This biblical passage is too often misinterpreted. Some have argued that it stands for the proposition that Jesus was making a comment intended to lessen the importance of his earthly mother. This "mother is unimportant" interpretation is textually inaccurate and theologically mistaken. It runs contrary to the biblical context of the encounter and rejects the consistent, unbroken Christian tradition. Such a misreading ascribes a minimalist role to Mary in the Christian revelation and consequently in the life of every Christian.
More importantly, in so doing; it can also cause us to miss a profound truth concerning the Christian life and vocation. It can discourage us from digging deeper into the text and thereby grasping a profoundly important insight. This insight has great implications and can lead us to a deeper experience of the Christian life and vocation.
I stand with the ancient Christian tradition, rooted in the patristic literature (writings of the early Church fathers). The opposite of this "mother is less important" claim is what is being revealed through these words and in this encounter. Understood in this light, this passage reveals a framework for an authentically human and relational spirituality, a spirituality of communion. We are made members of the very family of God through Jesus Christ and His saving Incarnation.
Through our Baptism, we are all invited into the very family of God. When we choose to be obedient to the will and the Word of God; we enter into an eternal relationship with God the Father, Son and Holy Spirit. We actually become a part of the "family" of God; we become "mother" sister" and "brother" to the Lord. We enter into "communion" with the Trinitarian God through Him.
This interchange was recorded for all time for a purpose. Through it, Jesus teaches us something about the interior meaning of our personal redemption, the redemption of the whole human race and the redemption of the entire created order. The message is simple but profound; God is a God of love and relationship. He has invited us into an intimate and eternal communion of love.
"Behold your mother; behold your son". In His final act of Self-giving love, revealed for all eternity on Golgotha's Hill, Jesus actually elevated and expanded the importance of His mother and "brothers". We read about this encounter in the Gospel of St. John. Picture the poignant scene, right before He was to breathe His last breath:
"Standing by the cross of Jesus were his mother and his mother's sister, Mary the wife of Clopas, and Mary of Magdala. When Jesus saw his mother and the disciple there whom he loved, he said to his mother, "Woman, behold, your son."Then he said to the disciple, "Behold, your mother." And from that hour the disciple took her into his home." (John 19:26-27).
From antiquity, the Fathers of the Church have correctly and uniformly taught that this encounter was also about more than the relationship between the Apostle John (whom sacred scripture calls "the beloved disciple") and Mary the mother of the Lord. It was -and is-  about the expanded family of the Church, the community that Jesus came to found - and of which He is the Head - and we are the members.
As a final gift, right before He died, He gave His mother to His whole family, through giving her to the beloved disciple John. This was a gift for all of us, an exchange, an expansion of His family. In this exchange, the tradition has long taught, He also entrusted all of us to her maternal care.
Something of the interior meaning of this exchange, this gift, is what is truly revealed in the passage from the Gospel of St. Matthew with which we began this discussion. Jesus was not minimizing His relationship with His mother through these words given in response to the crowd, He was expanding it. He hungers, through Divine love, to include all of us in the "family circle" of God. In doing so, He invites us on the journey home to the Father's house.
In this exchange, Jesus opens up the interior importance and meaning of the motherhood of Mary - and through that relationship - the interior meaning of all family relationships. He gives to those with ears to hear and eyes to see, a key insight - familial relationships touch upon, model and make present an eternal mystery into which each of us who are baptized into Him, are invited! The Church is a family. Understanding this insight, and living it, is a key to the spiritual life. The Christian vocation is fundamentally about relationship and communion.
All who are incorporated into the Body of Jesus Christ through Baptism begin even now to experience the intimacy, (expressed in family relationships), that is the essence of the very life of the Trinity. Through His life, death and Resurrection (the "Paschal mystery"), He opens a way for every man, woman and child, who chooses to do the will of His Father, to enter into the very family circle of God through truly living our lives in Him.
His Father becomes our Father as we enter, through Him, into the inner life of the Trinity. He underscores this truth right before He ascended when He instructed Mary of Magdala to tell the disciples "I am going to my Father and your Father, to my God and your God.' (John 20:17). Understanding this "mystery" requires prayer and revelation. Our Advent season presents us with such a time as a gift. Let us use it fully and grow in our Christian faith as members of the very Family of God.
---
Copywriter 2015 - Distributed by THE NEWS CONSORTIUM
Pope Francis Prayer Intentions for October 2015
Universal:
That human trafficking, the modern form of slavery, may be eradicated.
Evangelization:
That with a missionary spirit the Christian communities of Asia may announce the Gospel to those who are still awaiting it.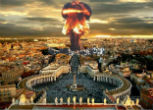 By Marshall Connolly, Catholic Online (CALIFORNIA NETWORK)
Pope Francis has invoked Mark, Chapter 13 as a warning that we may be approaching the end times. He suggested that what he has seen appears to fit the end times as described by Jesus. LOS ANGELES, CA (Catholic Online) - Pope Francis has warned that we could be in the ... continue reading
---

By Kenya Sinclair (CALIFORNIA NETWORK)
Despite the growing belief that religion is losing its influence, people continue to firmly believe in the necessity for exorcisms. LOS ANGELES, CA (Catholic Online) - According to a Pew Research Survey, 68 percent of Americans believe angels and demons exist on Earth. ... continue reading
---

By Kenya Sinclair (CALIFORNIA NETWORK)
Each year, millions of people across the United States rush to grocery stores and prepare to visit their families in celebration of Thanksgiving. Visiting loved ones and enjoying a specially prepared meal are both wonderful parts of celebrating, but don't forget to ... continue reading
---

By Catholic Online (NEWS CONSORTIUM)
Pope Francis has made it clear, Jesus is weeping over a world at war. It has become obvious that this is a time of extreme danger for all people around the globe. No population is safe from terror. The threats aren't just from terrorist organizations like ISIS and Al ... continue reading
---

By Catholic Online (CALIFORNIA NETWORK)
The veneration of relics in the Catholic Church has been one of the most debated practices in the faith. While such veneration is actually common in the human experience -even Communists did it with the body of Lenin, the veneration of relics in the Church is the ... continue reading
---

By Tony Magliano
During the recent U.S. Catholic bishops' fall assembly in Baltimore, several bishops and one abbot, decided to skip dinner at the downtown Marriott Waterfront hotel, and walked several blocks to an inner city parish to share a simple meal with about 30 peace ... continue reading
---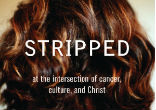 By Mary Rezac, CNA/EWTN News
Heather King never cared much for doctors. Los Angeles, CA (CNA) - It's an attitude she partly inherited from her mother, "who classified ginger ale as a medicine, considered Novocain a snobbish extravagance" and somehow managed to avoid a visit to the doctor's office ... continue reading
---
By Kenya Sinclair (CALIFORNIA NETWORK)
It is easy to fall prey to depression and sadness with everything that has been going on in the world these days. The trick to maintaining a positive attitude and living in the joy God has for us is as easy as following five simple steps. LOS ANGELES, CA (Catholic ... continue reading
---

By Marshall Connolly, Catholic Online (THE CALIFORNIA NETWORK)
Want to lose the War on Christmas? Surrender Advent. We Christians have gone out of our minds, arguing about Starbucks cups and greeters who (correctly) say "Happy Holidays" in place of "Merry Christmas." In all the bustle of the season, we have forgotten that Advent ... continue reading
---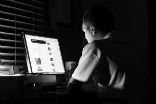 By Catholic Online (NEWS CONSORTIUM)
There is one thing you can do every day that will profit you in many ways. It requires no work and the most minimal effort. It will inform you, inspire you, and ignite your passions. That thing is to visit Catholic Online every day. LOS ANGELES, CA (Catholic Online) - ... continue reading
---
All Living Faith News