Enraptured by the wondrous mystery of Eucharist, our hearts are set afire: it is the infinitely powerful God of the universe who, in an incomprehensible display of love and tenderness, pours himself into millions of the faithful around the world! He enters us, transforms us, and washes away our sins that, one day, he may bear us off in his divine arms and gently place us upon an eternal meadow of Love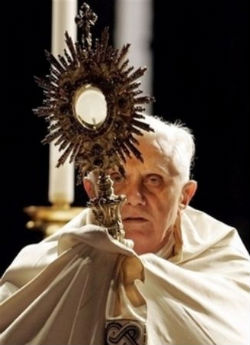 Pope Benedict XVI displays the Blessed Sacrament: The true Body, Blood, Soul and Divinity of our Lord Jesus Christ.
DENVER, CO (Catholic Online) - In John's gospel we read of the eager crowds who searched for Jesus because they "ate the loaves and were filled." Aware that they were seeking him for the wrong reason, Jesus said to them: "Amen, amen, I say to you, you are looking for me not because you saw signs but because you ate the loaves and were filled. Do not work for food that perishes but for the food that endures for eternal life, which the Son of Man will give you" (6:26-27).

But the crowd misunderstood Jesus, and asked, "What can we do to accomplish the works of God?" Jesus said to them, "This is the work of God, that you believe in the one he sent." They then demanded a sign that they should believe in Jesus; and again they spoke about bread to eat. On hearing Jesus say that the "bread of God is that which comes down from heaven and gives life to the world," those present expressed their craving for such wonderful bread: "Sir, give us this bread always" (see 6:28-34).

Jesus then proceeds to articulate the sublime and heavenly wonders of the "bread" of which he is speaking: "I am the bread of life," and "I am the living bread that came down from heaven; whoever eats this bread will live forever; and the bread that I will give is my flesh for the life of the world." Yet as a result of hearing Jesus proclaim, "Whoever eats my flesh and drinks my blood has eternal life, and I will raise him on the last day. For my flesh is true food, and my blood is true drink," many of his "disciples returned to their former way of life and no longer accompanied him" (see 6:35-66).

There were others, however, who understood Christ within the warmth of divine light; illumined by Truth, called by the Father from Whom all life originates, they stayed the course. These were the disciples present at the Last Supper, when Jesus of Nazareth took the bread into his hands, "said the blessing, broke it, and gave it to them, saying, 'This is my body, which will be given for you; do this in memory of me'" (Lk 22:19). At that moment something incomprehensible took place: an event of immense and incalculable proportions; one in which millions upon millions of Catholics from then until now and on into the future participate, share, and love. Our Lord and Savior instituted the Eucharist, in which he pours forth his most precious body and blood under the signs of bread and wine in order to give us eternal, everlasting life. Who can find words for this Love?

A Gift More Precious Than Our Own Earthly Life

With the many distractions of our modern culture, the buzz of media and demands of the workplace, it is all too easy to begin to adopt a somewhat indifferent attitude toward the sacred gift of Eucharist. It is often as if we are asleep. We are not awake to reality; not fully aware of the immense gravity of the unfathomable graces God has freely given us in Eucharist. We go along on our way each day, and there in the Tabernacles around the world is Christ's body and blood, our Savior who patiently waits for us to notice him, love him, and adore him; yet he so often waits alone and unnoticed.

We are sinners who deserve nothing from Christ; for we are certainly undeserving of this action of God's Son in which he took on flesh and suffered a most cruel Passion and Death. Yet God has done this for us: he has poured out his life blood on the Cross, and he continues to give us his flesh to eat and his blood to drink. Why? Should we contemplate this Love for a thousand lifetimes and beyond, it would continue to escape us. 

Yet there are many examples in history where we find a profound understanding of this Love which is Christ truly present in Eucharist. For instance, in the early Church, as today, there were Christians who were unable to attend Mass and receive the precious body and blood of our Lord. Thus it was necessary to bring the sacred Host to the sick and to prisoners. Yet there often existed great danger for those deacons who were given such a sacred task. As a result, rather than allow the faithful to go without this most precious nourishment for the soul, children were permitted to bring Eucharist to those in need.

Tarcisius was such a child: a little boy who, after fervently participating in the holy sacrifice of Mass, carefully hurried forth to bring Eucharist to those who so thirsted for eternal life. With love and adoration, he placed the body and blood of his Lord into a leather pouch, and danced off on his little legs, bound on a divine mission of love. One could easily sense the child's dedication and purpose in the light, vibrant radiance of his stride. Yet along the way he was met by Christian persecutors who cruelly beat him to death. With a fierce dedication born by the knowledge of the reality of Eucharist, this precious child held tightly to the leather pouch which contained the Love of loves until the last of his strength waned.

Pope St. Damasus inscribed this epitaph upon the tomb of the martyred youth: "He preferred to yield his soul in death than to betray the heavenly members [of Christ] to raving dogs."

Let us also consider the words of Saint Ignatius, third bishop of Antioch, who is accounted an Apostolic Father by virtue of having been a hearer of the apostle John: "I have no taste for corruptible food nor for the pleasures of this life. I desire the Bread of God, which is the flesh of Jesus Christ, who was of the seed of David; and for drink I desire his blood, which is love incorruptible."

In about the year 110 A.D., St. Ignatius became the target of the Emperor Trajan, and, as a result, he faced a most brutal death in the Amphitheater. Yet so strong was his love for Christ, surely a result of his fervent adoration of the body and blood of our Lord truly present in Eucharist, that he pleaded with those of his flock who might try to interfere with his approaching martyrdom, urging them to allow him to die for Christ: "I am writing to all the churches to let it be known that I will gladly die for God if only you do not stand in my way. . . . Let me be food for the wild beasts, for they are my way to God. I am God's wheat and shall be ground by their teeth so that I may become Christ's pure bread. Pray to Christ for me that the animals will be the means of making me a sacrificial victim for God." Shortly after he wrote those words, St. Ignatius was forced to enter the arena where, before many spectators, beasts tore the flesh from his bones. 

In Eucharist Jesus Shows Us His Love Which Goes "To The End"

The Venerable Pope John Paul II wrote, "When the Church celebrates the Eucharist, the memorial of her Lord's death and resurrection, this central event of salvation becomes really present and 'the work of our redemption is carried out'.This sacrifice is so decisive for the salvation of the human race that Jesus Christ offered it and returned to the Father only after he had left us a means of sharing in it as if we had been present there. Each member of the faithful can thus take part in it and inexhaustibly gain its fruits. This is the faith from which generations of Christians down the ages have lived. The Church's Magisterium has constantly reaffirmed this faith with joyful gratitude for its inestimable gift. I wish once more to recall this truth and to join you, my dear brothers and sisters, in adoration before this mystery: a great mystery, a mystery of mercy. What more could Jesus have done for us? Truly, in the Eucharist, he shows us a love which goes 'to the end' (cf. Jn 13:1), a love which knows no measure" (Ecclesia de Eucharistia, 11).

Yes. This is the Faith for which little Tarcisius and countless others died. This is the Faith for which Catholics in love with their Savior thirst. It is the Faith born of our Lord and King, Jesus Christ, who so selflessly gives himself in Eucharist, nourishing the faithful around the world. How much do we love this inestimable gift of Eucharist? Saint Philip asks us, "Can you feel the fragrance of Paradise which diffuses Itself from the Tabernacle?" And can we begin to fathom the implications of the heavenly Love contained in the Eucharist? Can we see the profoundness, the immenseness of our God who, although transcending all of created reality, truly gives us himself?

Enraptured by the wondrous mystery of Eucharist, our hearts are set afire: it is the infinitely powerful God of the universe who, in an incomprehensible display of love and tenderness, pours himself into millions of faithful around the world! He enters us, transforms us, and washes away our sins that, one day, he may bear us off in his divine arms, set us ablaze in the fiery breath of the Holy Spirit, and gently place us upon an eternal meadow of Love, forever melting away in the Divine Fire the many disturbances and sorrows which presently plague us.

"O unfathomable depth! O Deity eternal! O deep ocean! What more could You give me than to give me Yourself? You are an ever-burning Fire; You consume and are not consumed. By Your fire, You consume every trace of self-love in the soul. You are a Fire which drives away all coldness and illumines minds with its light, and with this light You have made known Your truth. Truly this light is a sea which feeds the soul until it is all immersed in You, O peaceful Sea, eternal Trinity!" -- St. Catherine of Siena

-----

F. K. Bartels knows his Catholic Faith is one of the greatest treasures a man could ever have. He is managing editor of catholicpathways.com, and a contributing writer for Catholic Online.
---
Copyright 2016 - Distributed by THE CALIFORNIA NETWORK
Pope Francis Prayer Intentions for May 2016
Universal:
Respect for Women: That in every country of the world, women may be honored and respected and that their essential contribution to society may be highly esteemed.
Evangelization:
Holy Rosary: That families, communities, and groups may pray the Holy Rosary for evangelization and peace.

By (CNA/EWTN News)
There's a demon that specializes in attacking the family, said exorcist César Truqui, a priest who participated in a course on exorcism held in Rome last year. Rome, Italy (CNA/EWTN News) - Fr. Truqui warned that everything that is harming the family, including ... continue reading
---

By Kenya Sinclair (CALIFORNIA NETWORK)
During an interview, Cardinal Robert Sarah explained the importance of priests facing east during Mass. LOS ANGELES, CA (Catholic Online) - In an interview with French Catholic magazine Famille Chrétienne, Cardinal Sarah, who is the prefect of the Congregation for ... continue reading
---

By Kenya Sinclair (CALIFORNIA NETWORK)
Rev. V. A. Anthony, of Brethren Assembly Church in Satna, his wife Prabha and one unnamed woman have been arrested in Aber, India after being accused of "forced conversions" and blaspheming against Hinduism. LOS ANGELES, CA (Catholic Online) - According to Christian ... continue reading
---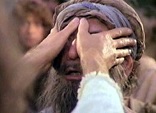 By Deacon Keith Fournier
The same Jesus who passed by Bartimaeus is alive today. The Good News is that no matter what has happened in our past, Jesus walks into the dusty streets of our lives this day. We simply need the eyes of living faith to see Him and the renewed heart to follow Him ... continue reading
---

By Kenya Sinclair (CALIFORNIA NETWORK)
In an attempt to make the Bible more interactive and entertaining to millennials, the King James Version (KJV) of the Bible has been translated with help from popular emoticons. LOS ANGELES, CA (Catholic Online) - According to The Memo, the new Bible, marked as ... continue reading
---

By Kenya Sinclair (CALIFORNIA NETWORK)
A new study revealed Welsh and English Catholics hold the highest retention rate of any denomination but maintain the lowest conversion rates. LOS ANGELES, CA (Catholic Online) - The report, titled the "Contemporary Catholicism in England and Wales," was issued by the ... continue reading
---

By Elise Harris (CNA/EWTN News)
For Pope Francis, prayer is neither a "magic wand" used to get what we want nor something casual we do only when we feel like it, but is rather the strength that sustains our faith in difficult moments. Vatican City, Rome (CNA/EWTN News) - "Jesus says that we need 'to ... continue reading
---

By Andrea Gagliarducci (CNA/EWTN News)
Former Pope Benedict XVI could appear in public once again on June 29, the 65th anniversary of his priestly ordination. Vatican City, Rome (CNA/EWTN News) - Speaking after the May 20 presentation of a book dedicated to Benedict XVI's pontificate, Archbishop Georg ... continue reading
---

By Tony Magliano
The best way to remember those who have been killed in battle is to work for the day when others will no longer be sent to take their place. Prayerfully reflecting on how to move away from war and war preparation should be central to every Memorial Day.Why do ... continue reading
---

By Ann Scneible (CNA/EWTN News)
The feast of the Holy Trinity is an invitation for us to commit to enriching our everyday relationships by promoting communion, consolation, and mercy, Pope Francis said during his weekly Sunday Angelus address. Vatican City, Rome (CNA/EWTN News) - "Our being created ... continue reading
---
All Living Faith News