What better way could Catholics begin the New Year than by celebrating the divine order and plan established by God?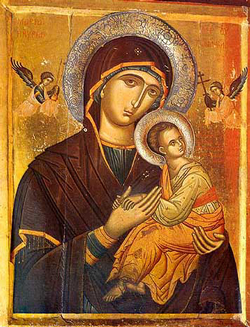 WASHINGTON, D.C. (Catholic Online) - This Holy Day of Obligation is not just a remembering of the Blessed Virgin Mary. It addresses her most fundamental attribute. On this day we remember that she was, in fact, the "theotokos" in the Greek, the Mother of God. This day is about Jesus and Mary.

In the early fifth century a time of intense heresy visited the Church concerning both the divinity and the humanity of Christ. One heresy in particular, Nestorianism, was rampant especially in the East. Simply put, Nestorius, who was the Patriarch of Constantinople at the time. Whether it was he or some of his followers,a teaching emerged casuing confusion over the human and divine natures in the one person of Jesus Christ.

Nestorians would even say that Mary gave birth to the Christ but not to God the Son and that only the man Christ suffered on the cross. St. Cyril of Alexandria was noted as saying that the Nestorians had "split Jesus in half."

To combat this heresy, the Council of Ephesus was convened in 431 A.D., where the bishops gathered to settle the issue, once and for all, that Jesus Christ was one person with two natures, divine and human. In condemning the followers of Nestorius, they also re-emphasized that the Blessed Virgin Mary gave birth to a son, our Lord Jesus Christ, who was fully God and fully man from the moment of His conception. The Council also reaffirmed the creed established by the first Council of Nicea as the essence of Christian Faith.

She was the Theotokos!

Today we remember the mystery of the incarnation in a beautiful dimension, in which God became man and dwelt among us. His Mother, by divine intervention, gave birth to God's only begotten Son.

Much of the Protestant world does not understand the importance of properly acknowledging and establishing the place of the Blessed Virgin Mary. It not just in her own right that we venerate her on such Holy Days; it is for the sake of her Son. To know her better is to know her Son better. To call her "Theotokos" is to declare with all confidence that the accounts of the Gospels, the Christology revealed in St. Paul's epistles as well as the entire New Testament, and the creedal distinctives of our Faith are true!

St. Hippolytus of Rome was one of the most prolific writers in early Christianity. Over two-hundred years before the Council of Ephesus was convened the Church already faced severe trials due to heresy. Hippolytus was one of the strongest voices in combating the errors attacking the Faith. His words still ring as true today as they did at the beginning of the Third Century.

The treatise of St Hippolytus: On the Refutation of All Heresies

The word made flesh makes us divine. Our faith is not founded upon empty words; nor are we carried away by mere caprice or beguiled by specious arguments. On the contrary, we put our faith in words spoken by the power of God, spoken by the Word himself at God's command. God wished to win men back from disobedience, not by using force to reduce him to slavery but by addressing to his free will a call to liberty.

The Word spoke first of all through the prophets, but because the message was couched in such obscure language that it could be only dimly apprehended, in the last days the Father sent the Word in person, commanding him to show himself openly so that the world could see him and be saved.

We know that by taking a body from the Virgin he re-fashioned our fallen nature. We know that his manhood was of the same clay as our own; if this were not so, he would hardly have been a teacher who could expect to be imitated. If he were of a different substance from me, he would surely not have ordered me to do as he did, when by my very nature I am so weak. Such a demand could not be reconciled with his goodness and justice.

No. He wanted us to consider him as no different from ourselves, and so he worked, he was hungry and thirsty, he slept. Without protest he endured his passion, he submitted to death and revealed his resurrection. In all these ways he offered his own manhood as the first fruits of our race to keep us from losing heart when suffering comes our way, and to make us look forward to receiving the same reward as he did, since we know that we possess the same humanity.

When we have come to know the true God, both our bodies and our souls will be immortal and incorruptible. We shall enter the kingdom of heaven, because while we lived on earth we acknowledged heaven's King. Friends of God and co-heirs with Christ, we shall be subject to no evil desires or inclinations, or to any affliction of body or soul, for we shall have become divine.

Whatever evil you may have suffered, being man, it is God that sent it to you, precisely because you are man; but equally, when you have been deified, God has promised you a share in every one of his own attributes. The saying Know yourself means therefore that we should recognize and acknowledge in ourselves the God who made us in his own image, for if we do this, we in turn will be recognized and acknowledged by our Maker.

So let us not be at enmity with ourselves, but change our way of life without delay. For Christ who is God, exalted above all creation, has taken away man's sin and has re-fashioned our fallen nature. In the beginning God made man in his image and so gave proof of his love for us. If we obey his holy commands and learn to imitate his goodness, we shall be like him and he will honor us. God is not beggarly, and for the sake of his own glory he has given us a share in his divinity.


---
Copywriter 2015 - Distributed by THE NEWS CONSORTIUM
Pope Francis Prayer Intentions for October 2015
Universal:
That human trafficking, the modern form of slavery, may be eradicated.
Evangelization:
That with a missionary spirit the Christian communities of Asia may announce the Gospel to those who are still awaiting it.
---
---
---

By Kenya Sinclair (CALIFORNIA NETWORK)
Each year, millions of people across the United States rush to grocery stores and prepare to visit their families in celebration of Thanksgiving. Visiting loved ones and enjoying a specially prepared meal are both wonderful parts of celebrating, but don't forget to ... continue reading
---

By Catholic Online (NEWS CONSORTIUM)
Pope Francis has made it clear, Jesus is weeping over a world at war. It has become obvious that this is a time of extreme danger for all people around the globe. No population is safe from terror. The threats aren't just from terrorist organizations like ISIS and Al ... continue reading
---

By Catholic Online (CALIFORNIA NETWORK)
The veneration of relics in the Catholic Church has been one of the most debated practices in the faith. While such veneration is actually common in the human experience -even Communists did it with the body of Lenin, the veneration of relics in the Church is the ... continue reading
---

By Tony Magliano
During the recent U.S. Catholic bishops' fall assembly in Baltimore, several bishops and one abbot, decided to skip dinner at the downtown Marriott Waterfront hotel, and walked several blocks to an inner city parish to share a simple meal with about 30 peace ... continue reading
---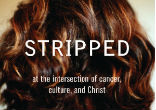 By Mary Rezac, CNA/EWTN News
Heather King never cared much for doctors. Los Angeles, CA (CNA) - It's an attitude she partly inherited from her mother, "who classified ginger ale as a medicine, considered Novocain a snobbish extravagance" and somehow managed to avoid a visit to the doctor's office ... continue reading
---
By Kenya Sinclair (CALIFORNIA NETWORK)
It is easy to fall prey to depression and sadness with everything that has been going on in the world these days. The trick to maintaining a positive attitude and living in the joy God has for us is as easy as following five simple steps. LOS ANGELES, CA (Catholic ... continue reading
---

By Marshall Connolly, Catholic Online (THE CALIFORNIA NETWORK)
Want to lose the War on Christmas? Surrender Advent. We Christians have gone out of our minds, arguing about Starbucks cups and greeters who (correctly) say "Happy Holidays" in place of "Merry Christmas." In all the bustle of the season, we have forgotten that Advent ... continue reading
---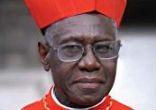 By Elise Harris, CNA/EWTN News
At the presentation of his new book, Cardinal Robert Sarah said that Western society is rapidly forgetting God, and expressed his desire to help people rediscover him through both prayer and witness. Vatican City (CNA/EWTN News) - "I would like to help people ... continue reading
---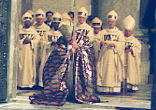 By Elise Harris, CNA/EWTN News
Hidden since the Jubilee of 2000, the Holy Door in St. Peter's Basilica was revealed Tuesday as the brick wall covering it was removed in anticipation of the Holy Year of Mercy launching next month. Vatican City (CNA/EWTN News) - Cardinal Angelo Comastri, the ... continue reading
---

By Abigail James (CALIFORNIA NETWORK)
Fear is a powerful thing. Fear can completely cripple the body and soul. Since the terrifying Paris terrorist attacks last week the news has been full of death, terrorists, murder and fear. LOS ANGELES, CA (Catholic Online) - Those not in power are left wondering ... continue reading
---
All Living Faith News