And Mary said, "Behold, I am the handmaid of the Lord; let it be to me according to your word." And the angel departed from her.
CHESAPEAKE, Va. (Catholic Online) - "Behold, I am the handmaid of the Lord; let it be to me according to your word." In these few words, all of human history was forever changed. They came from the heart of a simple, young Jewish woman named Miriam or Mary. They proceeded from a humble and honest self assessment and led her to a complete surrender of herself in love to God. That is the heart of holiness. We need to "unpack" the depth of the meaning of these words if we hope to both understand and to stand in them. Then our own personal histories can be changed.

This call to "Fiat", to surrender to God, is not another "formula" or a new multi-step "how to" promise of "solutions" to the problems of life. It is not the answer to a riddle or the meaning behind some mystery.

Rather it is a path, a way, of living a life of surrendered love. It leads to a deepening process of conversion and allows the Love that Mary bore to be incarnated in and through each of us. This process is the way of "holiness" and lies at the very heart of the Prayer of Mary. It is a path to true peace. Every single man and woman alive today is invited to pronounce -with their entire being- the "Fiat" of surrendered love.

The author of the rich New Testament letter to the Hebrews tells us of Jesus Christ that he is able to understand us because He became one of us:

"For we do not have a high priest who is unable to sympathize with our weaknesses, but we have one who has been tempted in every way, just as we are-yet was without sin" (Hebrews 4:15)

The Christian claim is that the Eternal Word, coexistent with the Father and the Spirit in the perfect unity that is Trinitarian Love, became a real man in time and history. He did so first within the womb of a thirteen year old Virgin who said "Fiat" and then through her became manifested to the nations.

As a pre-born child, He sanctified all mother's wombs by dwelling within the first temple, the new Ark of the New Covenant, the womb of His beloved self-chosen mother.

Years ago a book on prayer entitled "The Prayer of Jabez" promised to help the reader understand how to expand their own "tent-pegs." That may be a helpful beginning if it truly assists us in expanding our personal capacity to understand that there truly is a God who can, does and will act in our very real, human daily experiences if we have a genuine relationship, a life dialogue, with Him.

However, it is only a beginning. After all it is not really about our tent pegs at all, it is about His dwelling-place among us.

Seeing prayer as only a way to expand our own territory is something like trying to learn to swim by swimming in a backyard wading pool. It is only a start. The Prayer of Mary teaches us to swim in the ocean of life with all of its undertows, by helping us to grasp the deeper truth about the spiritual life and the purpose of prayer.

We are to become the very tent and the ark within which that same God still takes up His residence, still comes to dwell. It is when we begin to touch and grasp this profound insight that we not only find ourselves transformed but learn how to allow ourselves to become the very vehicles through which Love is incarnated for all those around us.

---
Copywriter 2015 - Distributed by THE NEWS CONSORTIUM
Pope Francis Prayer Intentions for October 2015
Universal:
That human trafficking, the modern form of slavery, may be eradicated.
Evangelization:
That with a missionary spirit the Christian communities of Asia may announce the Gospel to those who are still awaiting it.
---
---
---

By Catholic Online (NEWS CONSORTIUM)
Pope Francis has made it clear, Jesus is weeping over a world at war. It has become obvious that this is a time of extreme danger for all people around the globe. No population is safe from terror. The threats aren't just from terrorist organizations like ISIS and Al ... continue reading
---

By Catholic Online (CALIFORNIA NETWORK)
The veneration of relics in the Catholic Church has been one of the most debated practices in the faith. While such veneration is actually common in the human experience -even Communists did it with the body of Lenin, the veneration of relics in the Church is the ... continue reading
---

By Tony Magliano
During the recent U.S. Catholic bishops' fall assembly in Baltimore, several bishops and one abbot, decided to skip dinner at the downtown Marriott Waterfront hotel, and walked several blocks to an inner city parish to share a simple meal with about 30 peace ... continue reading
---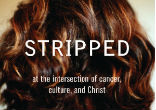 By Mary Rezac, CNA/EWTN News
Heather King never cared much for doctors. Los Angeles, CA (CNA) - It's an attitude she partly inherited from her mother, "who classified ginger ale as a medicine, considered Novocain a snobbish extravagance" and somehow managed to avoid a visit to the doctor's office ... continue reading
---
By Kenya Sinclair (CALIFORNIA NETWORK)
It is easy to fall prey to depression and sadness with everything that has been going on in the world these days. The trick to maintaining a positive attitude and living in the joy God has for us is as easy as following five simple steps. LOS ANGELES, CA (Catholic ... continue reading
---

By Marshall Connolly, Catholic Online (THE CALIFORNIA NETWORK)
Want to lose the War on Christmas? Surrender Advent. We Christians have gone out of our minds, arguing about Starbucks cups and greeters who (correctly) say "Happy Holidays" in place of "Merry Christmas." In all the bustle of the season, we have forgotten that Advent ... continue reading
---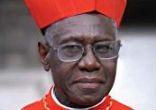 By Elise Harris, CNA/EWTN News
At the presentation of his new book, Cardinal Robert Sarah said that Western society is rapidly forgetting God, and expressed his desire to help people rediscover him through both prayer and witness. Vatican City (CNA/EWTN News) - "I would like to help people ... continue reading
---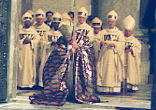 By Elise Harris, CNA/EWTN News
Hidden since the Jubilee of 2000, the Holy Door in St. Peter's Basilica was revealed Tuesday as the brick wall covering it was removed in anticipation of the Holy Year of Mercy launching next month. Vatican City (CNA/EWTN News) - Cardinal Angelo Comastri, the ... continue reading
---

By Abigail James (CALIFORNIA NETWORK)
Fear is a powerful thing. Fear can completely cripple the body and soul. Since the terrifying Paris terrorist attacks last week the news has been full of death, terrorists, murder and fear. LOS ANGELES, CA (Catholic Online) - Those not in power are left wondering ... continue reading
---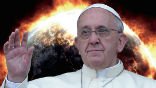 By Marshall Connolly, Catholic Online (CALIFORNIA NETWORK)
Pope Francis has invoked World War III, saying that it has begun in a piecemeal fashion. The Third Secret of Fatima could provide Christians a framework for considering this terrifying new development. LOS ANGELES, CA (California Network) - In condemning the Nov. 13, ... continue reading
---
All Living Faith News