---
McClatchy Newspapers (MCT) - It's dinner time in the small, two-bedroom apartment near Sacramento City College. One by one, five students gather around a well-used dining room table for a meal that begins with a prayer.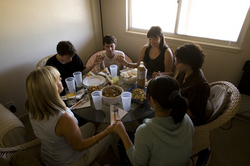 "Thank you Lord," begins Andrea De La Torre, 19, in the short blessing before they dig into the Chinese food prepared by one of the students.

Both the weekly dinner and the prayer are required. The students are participants in a special program offered by All Saints Episcopal Church in Sacramento, Calif., that gives free housing to college students. In exchange for living in one of the apartments owned by the congregation, the students must meet the church's spiritual requirements.

"The hope is that young people in the church will draw other young people," said Amy Dierlam, coordinator of the church's Faith and Leadership program.

Similar church housing programs have begun near campuses across the country, she said. All Saints is believed to be the first in the Sacramento area.

Nearly every congregation struggles to reach young people, particularly college students. Two years ago, All Saints members _ the church has about 80 Sunday worshippers _ decided to make a financial sacrifice and give up the $600 in rent they collected every month and allow students to live there for free.

"It's not only a way of developing a spiritual community," said Rev. Michael Monnot, who pastors the church with his wife, Elizabeth. "It's also a way of helping students who are searching spiritually."

The Faith and Leadership program is a partnership between All Saints and the Lutheran Church of the Cross in Sacramento.

Daniel Allen, 20, was living on a friend's couch for several months before moving into the church apartment on 21st Street. He grew up attending Presbyterian and Episcopal churches but hadn't been to church for a while.

The computer science major now attends worship services every week. He has to. "The hard part is getting up," said Allen. "But you get used to it."

The students sign a contract and promise to attend church and meet with the pastor once a month for a spiritual discernment. They must also attend the weekly meal and work five hours of community service

Holly Link, who is carrying 19 units, said juggling school and community service work is tough. "But living here is worth it and the work is rewarding," she said.

The students live in two older apartment units beside the church _ the men downstairs, the women upstairs. Each unit accommodates three. One male student left the program shortly after school started, saying the 15 hour-a-week commitment to church and community service activities was too much, said Dierlam.

The program has begun its third year. No student has been kicked out, but some have not been accepted back. "It wasn't a good fit," said Dierlam.

Students don't have to be a member of the Episcopal church to join. They have to be willing to live in a community and want to explore their faith, said Dierlam.

Li Ngyu Lu, who goes by Lydia, attended a nondenominational church in China. She heard about the program from a Sacramento City College counselor after transferring. "It's been a good way for me to meet people," said Lu.

The apartment units look like typical student apartments. Mismatched furniture, small kitchenettes, homemade artwork. Still, the housing has been a blessing. "This gives us a chance to think and pray about what we really want," said De La Torre.

___

© 2008, The Sacramento Bee (Sacramento, Calif.).
---
---
---

By (CNA/EWTN News)
There's a demon that specializes in attacking the family, said exorcist César Truqui, a priest who participated in a course on exorcism held in Rome last year. Rome, Italy (CNA/EWTN News) - Fr. Truqui warned that everything that is harming the family, including ... continue reading
---

By Kenya Sinclair (CALIFORNIA NETWORK)
During an interview, Cardinal Robert Sarah explained the importance of priests facing east during Mass. LOS ANGELES, CA (Catholic Online) - In an interview with French Catholic magazine Famille Chrétienne, Cardinal Sarah, who is the prefect of the Congregation for ... continue reading
---

By Kenya Sinclair (CALIFORNIA NETWORK)
Rev. V. A. Anthony, of Brethren Assembly Church in Satna, his wife Prabha and one unnamed woman have been arrested in Aber, India after being accused of "forced conversions" and blaspheming against Hinduism. LOS ANGELES, CA (Catholic Online) - According to Christian ... continue reading
---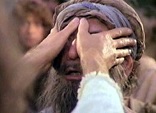 By Deacon Keith Fournier
The same Jesus who passed by Bartimaeus is alive today. The Good News is that no matter what has happened in our past, Jesus walks into the dusty streets of our lives this day. We simply need the eyes of living faith to see Him and the renewed heart to follow Him ... continue reading
---

By Kenya Sinclair (CALIFORNIA NETWORK)
In an attempt to make the Bible more interactive and entertaining to millennials, the King James Version (KJV) of the Bible has been translated with help from popular emoticons. LOS ANGELES, CA (Catholic Online) - According to The Memo, the new Bible, marked as ... continue reading
---

By Kenya Sinclair (CALIFORNIA NETWORK)
A new study revealed Welsh and English Catholics hold the highest retention rate of any denomination but maintain the lowest conversion rates. LOS ANGELES, CA (Catholic Online) - The report, titled the "Contemporary Catholicism in England and Wales," was issued by the ... continue reading
---

By Elise Harris (CNA/EWTN News)
For Pope Francis, prayer is neither a "magic wand" used to get what we want nor something casual we do only when we feel like it, but is rather the strength that sustains our faith in difficult moments. Vatican City, Rome (CNA/EWTN News) - "Jesus says that we need 'to ... continue reading
---

By Andrea Gagliarducci (CNA/EWTN News)
Former Pope Benedict XVI could appear in public once again on June 29, the 65th anniversary of his priestly ordination. Vatican City, Rome (CNA/EWTN News) - Speaking after the May 20 presentation of a book dedicated to Benedict XVI's pontificate, Archbishop Georg ... continue reading
---

By Tony Magliano
The best way to remember those who have been killed in battle is to work for the day when others will no longer be sent to take their place. Prayerfully reflecting on how to move away from war and war preparation should be central to every Memorial Day.Why do ... continue reading
---

By Ann Scneible (CNA/EWTN News)
The feast of the Holy Trinity is an invitation for us to commit to enriching our everyday relationships by promoting communion, consolation, and mercy, Pope Francis said during his weekly Sunday Angelus address. Vatican City, Rome (CNA/EWTN News) - "Our being created ... continue reading
---
All Living Faith News