---
OTTAWA, Canada (CCN) - If the story of the rich young man from the Gospel of Matthew had a sequel updated for modern times, it might resemble the life of actor Eduardo Verastegui, a Catholic who stars in the new film "Bella."
In the gospel account, a rich young man asks Jesus what he needs to do to inherit eternal life. Jesus tells him to sell all he has and follow him, but the man goes away sorrowful because he had great wealth. In the modern day sequel, the Verastegui, a rich young man, does sell all he has and is prepared to give up his budding acting career to follow Christ. Verastegui had reached the zenith of Mexican celebrity as a soap opera star and singer who had toured at least 13 countries to sold-out concerts. He'd appeared as Jennifer Lopez's love interest in her popular music video "Ain't it Funny." His growing Hollywood television and movie credits included the starring role in the 20th Century Fox movie "Chasing Papi" and a co-starring role in the independent film "Meet Me in Miami." He'd been listed as one of the 50 most beautiful people in the world in People en Espańol. In Los Angeles, while studying English, he found himself drawn to a deeper faith in Christ through his devout Catholic teacher. He began to see all the reasons he had wanted to be an actor - fame, money and pleasure - as empty and vain. He realized he'd been typecast into portraying the unfaithful, lying Latin lover and playing those parts promoted negative stereotypes. The media portrayal of Hispanics in general demeaned both men and women, resembling nothing like the dignity and beauty of his mother and sisters in Mexico. He understood he had hurt people through the work he had done and the messages in his movies were "poisoning society." "It broke my heart," the actor told the annual Rose Dinner in Ottawa May 10, following the 10th annual March for Life in Ottawa. "I realized I had offended God." He said he spent "many months in tears." Deeply influenced by Scott and Kimberly Hahn's Rome Sweet Home, Verastegui sold his possessions, wondering if God was calling him to be a priest, perhaps in the jungles of South America. His spiritual advisor, however, told him: "Hollywood is a bigger jungle." He vowed to refuse parts unless they affirmed life and human dignity. For three years, he went without work, because all the parts offered him involved the "same negative stereotypes." "We are not called to be successful, we are called to be faithful," Verastegui said to the sold-out crowd of 1,000. "I wasn't born to be famous, or rich, I was born to know and love and serve our Lord Jesus Christ," he said. Then in 2004, he met movie producer Leo Severino while attending daily Mass. Severino, who also spoke at the dinner, returned to the Catholic faith in 1999 through reading Christian apologetics. He began attending daily Mass, but he found most of the other churchgoers were "gray hairs cramming for their final exam." Younger Christians like himself were scarce in the mostly anti-religious world of Hollywood. Then one day he noticed another young man who was standing next to a life-sized statue of Jesus, his hand on the sacred heart, his head bowed in prayer. Severino soon discovered: "This guy's the Brad Pitt of Mexico." Not long after their providential meeting, Verastegui and Severino co-founded Metanoia films with some like-minded people who had also gained their movie-making and acting chops in Hollywood. They intend to produce movies that could change lives and hearts. "Bella" is Metanoia's first. Set for limited release in the United States in August, "Bella" won the coveted People's Choice Award at the Toronto Film Festival last fall. This festival rivals Cannes in size and star power. Severino said the award showed them, "God is bigger than Toronto." The award began opening doors for the film, though Metanoia still needs to find a distributor for wide release. Bella will open in selected U.S. cities in August. Severino said the media, especially film and television, are "shaping our culture." He noted how the movie "Million Dollar Baby" promoted euthanasia and "Cider House Rules" glorified abortion. Natural Born Killers influenced the Virginia Tech shooter, he said. "Art and morality go hand in hand," he said, urging the many young people present to guard their eyes and ears and their innocence. "God does not use evil means," he said. Rose Dinner attendees were invited to screen Bella. Many leapt to their feet, tears in their eyes, as the credits rolled. The lean script co-written by director and Metanoia co-founder Alejandro Monteverde contains nothing overtly religious or preachy. Beautifully acted, with especially strong performances from Verastegui and female lead Tammy Blanchard, the movie affirms life and family in ways Metanoia Films hopes will appeal to a general audience. Full of compassion, tenderness and love, the movie reveals the power of film when Catholics full of God's love use their hard-earned skills to do something beautiful for God.
---
Republished by Catholic Online with permission of the Canadian Catholic News Service.
- - -
Among CCN governing members is the Western Catholic Reporter (http://www.wrc.ab.ca), serving Catholics in Alberta and published by the Archdiocese of Edmonton.
---
---
---

By Tony Magliano
The best way to remember those who have been killed in battle is to work for the day when others will no longer be sent to take their place. Prayerfully reflecting on how to move away from war and war preparation should be central to every Memorial Day.Why do ... continue reading
---

By Ann Scneible (CNA/EWTN News)
The feast of the Holy Trinity is an invitation for us to commit to enriching our everyday relationships by promoting communion, consolation, and mercy, Pope Francis said during his weekly Sunday Angelus address. Vatican City, Rome (CNA/EWTN News) - "Our being created ... continue reading
---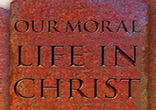 By Deacon Keith Fournier
What we choose determines who we become. Choosing what is good changes the chooser, empowering him or her to proceed along the pathways of virtue and develop the habitus - or habits- which promote Christian character. The Catechism of the Catholic Church ... continue reading
---

By Marshall Connolly (CALIFORNIA NETWORK)
Ever since the reveal of the Third Secret of Fatima in 2000, several people have insisted there's more to the secret than what the public was told. These rumors have taken a life of their own, prompting the Holy See to speak out against them. LOS ANGELES, CA (Catholic ... continue reading
---

By (CNA/EWTN News)
Recognizing the difference between a person who's possessed and a person struggling with a mental illness or other infirmity is a vital part of the ministry of exorcism, according to a long-time exorcist and priest. Rome, Italy (CNA/EWTN News) - Father Cipriano de Meo, ... continue reading
---

By (CNA/EWTN News)
It's a major miracle that you've probably never heard of. Lima, Peru (CNA/EWTN News) - On Sunday, Oct. 3, 1847, more than 2,000 people in Ocotlán, Mexico saw a perfect image of Jesus Christ crucified that appeared in the sky for more than 30 minutes.Approved by the ... continue reading
---

By (CNA/EWTN News)
During his Mass on Thursday, Pope Francis preached a warning to the rich who oppress the poor, focusing on employers who accumulate wealth by misusing those who work for them. Vatican City, Rome (CNA/EWTN News) - "We consider this drama of today: the exploitation of ... continue reading
---

By Kenya Sinclair (CALIFORNIA NETWORK)
William Friedkin, the director of famous horror film "The Exorcist," described a time he was invited to document a real exorcism at the Vatican. LOS ANGELES, CA (Catholic Online) - According to AFP, Friedkin shared his experience at the Cannes film festival Thursday ... continue reading
---

By Kenya Sinclair (CALIFORNIA NETWORK)
We all have bad days - but did you know the devil preys on you when you are the most vulnerable? LOS ANGELES, CA (Catholic Online) - Life is never easy for long. Children, work, school and illness often interfere with the plans we've made for ourselves, and it is ... continue reading
---

By Adelaide Mena (CNA/EWTN News)
Speaking in Washington, D.C. on Tuesday, Cardinal Robert Sarah enjoined Catholics to resist "ideological colonization" and the removal of God from society, in order to help the Church resist threats to the family and religious freedom around the world. Washington D.C., ... continue reading
---
All Living Faith News