---
WASHINGTON (CNS) - Craig Kielburger, the longtime youth activist who has worked to improve conditions for young people around the world, is now taking his message to a broader audience: adults.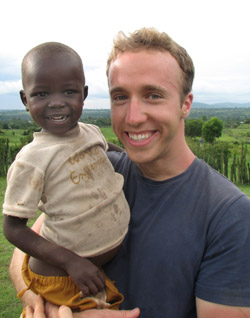 ACTIVIST PICTURED WITH KENYAN BOY - Craig Kielburger, the longtime youth activist who has worked to improve conditions for young people around the world, poses with a Kenyan boy in 2006. (CNS Photo)
Maybe that's because Kielburger, who started the group Free the Children, an international organization to fight child labor, when he was just 12, has run into adulthood himself at age 24. But as he puts it, it has more to do with the fact that young people have a lot of ideas, but "they don't live in isolation." He is convinced that to tackle the overwhelming problem of world poverty young people need support, cooperation and also a fair amount of inspiration from their parents, youth leaders and educators. They also need to do simple things on an everyday basis to make tangible changes around them. That's the message behind the new book written by Craig and his brother, Marc, "Me to We: Finding Meaning in a Material World," published in 2006 by Simon & Schuster. The book includes plenty of anecdotes, including some from famous people such as Oprah Winfrey and retired Anglican Archbishop Desmond Tutu of South Africa about what it means to make a difference in someone's life. It also is loaded with suggestions on everyday actions that can make a difference for a neighbor or a stranger on the street and ultimately change the attitudes of those doing the good deeds. The Catholic brothers, who have led Free the Children for 12 years, primarily through the support of youth volunteers and their donations, have seen their initial vision of wanting to improve child labor conditions mushroom into huge undertakings: building more than 450 schools all over the world and providing health care clinics and services in remote areas of Africa, China, Latin America and Sri Lanka. The organization has set up alternative income projects for those in poverty, sponsored entire villages, and provided systems for clean water and sanitation. The group also runs a youth leadership training program. The brothers, who frequently speak at youth conferences and gatherings, have long relied on young people to help them with their work and have succeeded despite a perception that today's young people are not concerned with the global issues of poverty and social justice. "There are a lot of factors why young people care," Kielburger told Catholic News Service in a Jan. 12 phone interview from his home in Toronto just days after returning from the site of a future water project in Kenya. He said his own generation came of age when 24-hour news and the Internet were part of everyday life. "We are truly a global generation," he said, noting that many young people see what's wrong in the world and want to act. Over the years, young people continue to be the main force behind Free the Children, but at the same time, the group also gets plenty of calls from educators and youth leaders wondering how to inspire youths. To get to youths who do not realize they can make a difference and should, Kielburger calls on the grown-ups. He realizes adults can be overwhelmed by all the problems in the world and might want to protect and shelter their children from violence and hardships, but he also sees danger in that. "Young people see the problems anyway and if they close their eyes to them, they might close their hearts too," he warned. He advises adults to help young people acknowledge the troubles that exist and then give them simple ways to help, including writing letters to soldiers far from home or collecting food and volunteering at shelters. "Yes, we live in a world with poverty, violence and fighting," he said, but in that environment parents cannot afford to raise "passive bystanders." As an example, he points to his own mom, a teacher. He said she was always teaching, not just in the classroom. He remembers that when he was little she would always stop and talk with homeless people who would ask for money. Kielburger, who at the time wanted to move on, said he always thought she was doing this for the homeless; he realized later that she also was doing this for her sons, to show them how to treat others. Kielburger also thinks church youth leaders have a key role in shaping youths who want to make changes because they can directly tie in their work with the church's call to social justice. He said his own faith influenced his work in "unexpected ways" because he did not initially go out to help others based on his faith, but instead came to a deeper understanding of his faith from that experience. When he visited the poor in other countries, he said, the Gospel stories he had grown up hearing about feeding the poor made more sense to him. "For the first time, I saw what faith meant, that it's more than going through the motions," he said. He also has seen a lot of faith-filled people who look at problems in the world and wonder why God does not directly intervene and change things. Kielburger said there is divine intervention. "God works through us," he said.
---
Copyright (c) 2007 Catholic News Service/U.S. Conference of Catholic Bishops
---
---
---

By Kenya Sinclair (CALIFORNIA NETWORK)
Notorious atheist group Freedom From Religion Foundation (FFRF) has struck again, this time at an East Liverpool high school in Ohio. LOS ANGELES, CA (Catholic Online) - The Ohio school district was forced to ban The Lord's Prayer after the FFRF complained the prayer ... continue reading
---

By Elise Harris (CNA/EWTN News)
On Sunday Pope Francis celebrated a special jubilee for deacons, telling them that a good servant is one who forgets themselves, letting go of their own plans and humbly placing their lives at the disposal of those to whom they are called to minister. Vatican City, ... continue reading
---

By (CNA/EWTN News)
A group of 61 cloistered nuns from six monasteries in Santiago, Chile made an historic visit to the local Women's Prison Center to spend time with the inmates and attend Mass with them. Santiago, Chile (CNA/EWTN News) - "I don't know if in the 400 years of the history ... continue reading
---

By Ann Schneible (CNA/EWTN News)
The story of a young migrant girl who drowned at sea was at the heart of Pope Francis' address to some 400 children who on Saturday had traveled to the Vatican from the southern Italian region of Calabria. Vatican City, Italy (CNA/EWTN News) - Speaking off the cuff to ... continue reading
---

By (CNA/EWTN News)
There's a demon that specializes in attacking the family, said exorcist César Truqui, a priest who participated in a course on exorcism held in Rome last year. Rome, Italy (CNA/EWTN News) - Fr. Truqui warned that everything that is harming the family, including ... continue reading
---

By Kenya Sinclair (CALIFORNIA NETWORK)
During an interview, Cardinal Robert Sarah explained the importance of priests facing east during Mass. LOS ANGELES, CA (Catholic Online) - In an interview with French Catholic magazine Famille Chrétienne, Cardinal Sarah, who is the prefect of the Congregation for ... continue reading
---

By Kenya Sinclair (CALIFORNIA NETWORK)
Rev. V. A. Anthony, of Brethren Assembly Church in Satna, his wife Prabha and one unnamed woman have been arrested in Aber, India after being accused of "forced conversions" and blaspheming against Hinduism. LOS ANGELES, CA (Catholic Online) - According to Christian ... continue reading
---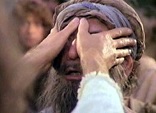 By Deacon Keith Fournier
The same Jesus who passed by Bartimaeus is alive today. The Good News is that no matter what has happened in our past, Jesus walks into the dusty streets of our lives this day. We simply need the eyes of living faith to see Him and the renewed heart to follow Him ... continue reading
---

By Kenya Sinclair (CALIFORNIA NETWORK)
In an attempt to make the Bible more interactive and entertaining to millennials, the King James Version (KJV) of the Bible has been translated with help from popular emoticons. LOS ANGELES, CA (Catholic Online) - According to The Memo, the new Bible, marked as ... continue reading
---

By Kenya Sinclair (CALIFORNIA NETWORK)
A new study revealed Welsh and English Catholics hold the highest retention rate of any denomination but maintain the lowest conversion rates. LOS ANGELES, CA (Catholic Online) - The report, titled the "Contemporary Catholicism in England and Wales," was issued by the ... continue reading
---
All Living Faith News