Even God rested on the seventh day.

Of all the tasks people jot on their personal To-Do lists, "nap," "relax," or "take a break," usually isn't one of them.  "Shop for groceries," "pick up cleaning," or "mow the lawn," is more like it.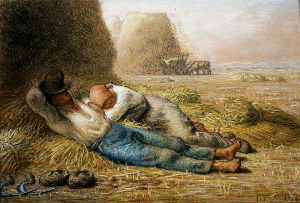 Jean-Francois Millet - Noonday Rest.
In America's current mindset, rest is often viewed as a luxury rather than a necessity.  Many consider it a comfort to be indulged when time allows, or a goal to be achieved on a yearly vacation.  Technology and the ability to work outside the office has contributed to the accelerated pace of the American worker, making a reprieve from it all extremely difficult.  Rather than a natural function of life, forms of rest are now tasks to be put on one's smartphone.  Problem is, it isn't happening because rest is often considered a waste of time rather than an essential requirement for the human mind, body and spirit. 
God, however, has quite a different perspective on the value of rest.  So much so, in fact, that some form of the word is mentioned approximately 500 times in the Bible, depending on the translation.
God Himself rested on the seventh day after six days of creation work.  Genesis 2:3 states:  "So God blessed the seventh day and hallowed it, because on it God rested from all the work that He had done in creation."  God valued the rest as much as He valued the creations. 
Genesis 1:26-28 reveals that God also places a high value on humanity.  He created us in His image and likeness, then blessed the creation of humankind.
In the Ten Commandments, as stated in Exodus 20:8-11 and Deuteronomy 5:12-15, God instructs us to remember the Sabbath, keep it holy, and not do any work.  He wants us to rest on the seventh day of the week as He rested on the seventh day. 
In just four verses out of hundreds on the subject, the theology of rest is exposed from the beginning of time.  The above verses conclude that:
1.  God worked, rested and valued the rest.
2. God created us like Himself, blessed the creation, thus valuing humanity.  
3. God commands his cherished humanity to rest on the seventh day as He did. 

So, in sum, God desires His most valued creation to rest after working and to value that rest just as He did.  Rest, therefore, is good. 
***

The theology of rest is not limited to one's physical dimension.  The mental and spiritual dimensions benefit as well.  The mind, body and spirit connection needs to remain in balance and rest profoundly affects that equilibrium in the following ways:
Mind-
* Improves concentration
* Increases clarity
* Manages stress

Body-
* Provides energy
* Decreases muscle tension
* Boosts immunity
* Slows heart rate
* Reduces blood pressure
* Slows rate of breathing, which calms the mind and spirit
* Enhances physical performance

Spirit-
* Stabilizes emotions
* Provides peace and tranquility to the soul
* Pleases God, especially resting on the Sabbath
***

Many argue that there is no time for rest in their busy lives.  Jobs, children, family commitments and various activities take priority.  But rest is something one must discipline one's self to do just like all those other tasks.  The irony is that by integrating forms of rest into one's daily routine, and especially resting on the Sabbath as God intends, one discovers that the must-dos in life become easier to accomplish.  Ironically, too, is that time spent resting doesn't take away the much needed time required to carry out life's duties; rather, it seems to provide us with more time. 
Those ironies, along with a balanced mental, physical and spiritual condition, are examples of the incredible blessings our Creator bestows upon the ones who partake of His theology of rest.


---
Copyright 2016 - Distributed by THE CALIFORNIA NETWORK
Pope Francis Prayer Intentions for May 2016
Universal:
Respect for Women: That in every country of the world, women may be honored and respected and that their essential contribution to society may be highly esteemed.
Evangelization:
Holy Rosary: That families, communities, and groups may pray the Holy Rosary for evangelization and peace.

By Marshall Connolly (CALIFORNIA NETWORK)
A real life Dr. Moreau is hard at work, trying to create animals that grow organs for humans that can be transplanted without any danger of rejection. His work mixes human and animal genes, giving rise to a host of ethical concerns. LOS ANGELES, CA (California Network) ... continue reading
---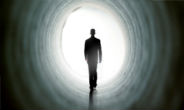 By David Drudge (CALIFORNIA NETWORK)
A British study suggests that life after death is an actual phenomenon, and there's evidence to prove it. A study involving more than 2,000 people found that life continues even after the heart stops beating. LOS ANGELES, CA (California Network) - A major study ... continue reading
---

By Kenya Sinclair (CALIFORNIA NETWORK)
Researchers looking at data of nearly 75,000 middle-aged women nurses in the United States and discovered something wonderful! LOS ANGELES, CA (Catholic Online) - The Nurses' Health Study, had the thousands of participants answer several questions, including whether ... continue reading
---

By Kenya Sinclair (CALIFORNIA NETWORK)
The World Health Organization (WHO) recently released an announcement that can change lives around the world. LOS ANGELES, CA (Catholic Online) - According to WHO's website, a new test and treatment for tuberculosis has been created and is currently under review.The ... continue reading
---

By Abigail James (CALIFORNIA NETWORK)
In a "cruel twist of fate," seven-year-old Vinny Desautels, who grew his hair out for two years to donate to cancer patients, has now been diagnosed with an aggressive stage 4 cancer. LOS ANGELES, CA (Catholic Online) - Despite being constantly teased by his peers, ... continue reading
---

By Kenya Sinclair (CALIFORNIA NETWORK)
It sounds like the plot to a science fiction story but scientists are about to attempt to bring twenty certified dead people back to life. LOS ANGELES, CA (Catholic Online) - Bioquark Inc., a biotech company, has received ethical permission to bring twenty brain-dead ... continue reading
---

By Kenya Sinclair (CALIFORNIA NETWORK)
U.S. Vice President Joe Biden paid Pope Francis a little visit on Friday to talk cancer and Christian persecution. LOS ANGELES, CA (Catholic Online) - Biden traveled to the Vatican to attend a summit on regenerative medicine. While at the Vatican, Biden pushed ... continue reading
---

By Kenya Sinclair (CALIFORNIA NETWORK)
If given the option, would YOU choose to live forever? LOS ANGELES, CA (Catholic Online) - Dr. Aubrey de Grey, the co-founder and chief science officer for Strategies for Engineered Negligible Senescense (SENS) Research Foundation, believes the ongoing research ... continue reading
---

By Marshall Connolly (CALIFORNIA NETWORK)
Are you bored? Is boredom a constant visitor in your life? If so, you could be suffering from overstimulation. Fortunately, the condition is curable. Here's how. LOS ANGELES, CA (California Network) - Most Americans are chronically bored. According to British ... continue reading
---

By Kenya Sinclair (CALIFORNIA NETWORK)
Scientists at the University of Oxford and the Institute for Health Metrics and Evaluation in Seattle estimate 2.2 billion people are at risk of contracting Zika. LOS ANGELES, CA (Catholic Online) - A map published in the journal eLife indicated sections of South ... continue reading
---
All Health News