By Catholic Online (NEWS CONSORTIUM)
1/15/2014 (2 years ago)
Catholic Online (www.catholic.org)
However - placental mammal had very little in common with humans. See picture -
Having missed the dinosaurs by quite a few millennium, give or take a few, humans missed out on the golden opportunity to ride on the backs of them. It's heartening to know that a distant relative of the human did get to ride on the backs of dinosaur, although it must be stressed that the first placental mammal held little resemblance to a human. See above picture.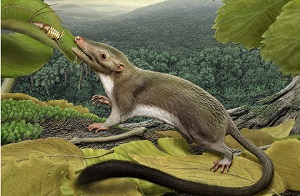 According to the study, as published in the latest issue of Biology Letters, the first placental mammal lived from 88.3 to 91.6 million years ago.
LOS ANGELES, CA (Catholic Online) - According to the study, as published in the latest issue of Biology Letters, the first placental mammal lived from 88.3 to 91.6 million years ago. Placental mammals today include humans and all other mammals, save those that lay eggs or have pouches, which are known as marsupials.

Then again, this may not be the case - maybe mammals and dinosaurs never frolicked together under prehistoric skies. Based solely on fossil evidence, which theorized this "mother of all placental mammals" arose after the dinosaurs died out. Researchers now believe that it preceded the non-avian dinosaur extinction.

Contribute to the Bible Project by going here --

Another sobering thought: if the dinosaurs didn't die off, we wouldn't be here.

"When dinosaurs died out, many ecological niches became vacant, and placental mammals took over," lead author Mario dos Reis says. "The placental ancestor diversified and evolved into the modern mammals we see today, such as rodents, deer, whales, horses, bats, carnivores, monkeys and ultimately humans."

"If dinosaurs had not died out, then placental mammals may not have had the opportunity to diversify the way they did, and our own species would not have evolved!" added dos Reis, a research associate in the Department of Genetics, Evolution and Environment at University College London.

Analyzing 36 complete mammal genomes together with information from the mammal fossil record, the results determined placental mammals originated in the Cretaceous.

Reis explained that the DNA of organisms accumulates changes, called mutations, at a constant rate in time, which is referred to as the "molecular clock."

As an example, certain DNA in humans and other apes mutates at a pace of about one percent every 10 million years. The molecular clock is said to run a bit fast in some species and a little slow in others.

Pope Francis calls for your 'prayer and action'...


---
Copyright 2016 - Distributed by THE CALIFORNIA NETWORK
Pope Francis Prayer Intentions for June 2016
Universal:
Human Solidarity: That the aged, marginalized, and those who have no one may find-even within the huge cities of the world-opportunities for encounter and solidarity.
Evangelization:
Seminarians and Novices: That seminarians and men and women entering religious life may have mentors who live the joy of the Gospel and prepare them wisely for their mission.
---
---
---
By Tony Johnson
In 2006, geologists feared the worst - they believed a megathrust earthquake was imminent in the Pacific Northwest. Now in 2016, the Pacific Northwest may be revealing an alarming pattern of missing earthquakes in the same megathrust region that generates ... continue reading
---

By Marshall Connolly (CALIFORNIA NETWORK)
Greenland is melting faster than expected, as new data reveals. The ESA's Cryosat satellite has revealed Greenland lost over a trillion tonnes of ice between 2011 and 2014. LOS ANGELES, CA (California Network) - Greenland has lost over a trillion metric tons (tonnes) ... continue reading
---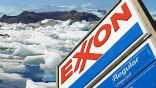 By Marshall Connolly (CALIFORNIA NETWORK)
ExxonMobil spent more than $2 million on climate science denial in 2015, records reveal. LOS ANGELES, CA (California Network) - ExxonMobil says it believes in climate change. Its executives probably believe it too, after all, they're smart people. But their profits ... continue reading
---
By Kenya Sinclair (CALIFORNIA NETWORK)
The United States faces accusations of wasting enough food to put an end to hunger and increasing methane-producing landfill waste. LOS ANGELES, CA (Catholic Online) - According to the United States Department of Agriculture (USDA) website, the United States' food ... continue reading
---

By Marshall Connolly (CALIFORNIA NETWORK)
Two people out of every hundred can hear it. It's a strange, low grade humming noise coming from the Earth itself. They can't get away from it, they can't make it stop. And nobody knows why it's there. The call it "the hum" and it is one of the planet's most enigmatic ... continue reading
---
By Tony Johnson (California Network)
Is America at risk for Great earthquakes spanning across the full United States? "Cracks Across America", in Rift zones, may conceal large fracture type faults where scientists may not be able to identify where these hidden fractures may unleash catastrophic ... continue reading
---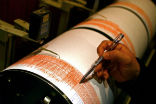 By Marshall Connolly (CALIFORNIA NETWORK)
With the latest data on the San Andreas fault, it feels certain that California is about to experience The Big One. (Like tomorrow!) But is that what the data really shows? LOS ANGELES, CA (California Network) - The world's most famous fault is the San Andreas. The ... continue reading
---

By Marshall Connolly (CALIFORNIA NETWORK)
A massive heat wave will envelop the American southwest this week, and into the foreseeable future, as California is warned to expect blackouts. The danger from this record breaking heatwave is extreme and people are urged to take precautions. LOS ANGELES, CA ... continue reading
---

By Tony Johnson (California Network)
Unexpectedly, on June 17, 2016, hundreds of seismographs that cover the State of Oregon and Washington, including the PNW volcanoes, became inaccessible[2] with no explanation. All of these seismograph stations are under the management of the Pacific Northwest ... continue reading
---

By Marshall Connolly (CALIFORNIA NETWORK)
Californians love their beaches, and few things can keep them out of the water, especially in the summer. Unfortunately, one of those things is appearing in greater numbers -sharks. And not just any sharks, but great whites. LOS ANGELES, CA (California Network) - The ... continue reading
---
All Green News