By Marshall Connolly, Catholic Online (NEWS CONSORTIUM)
1/8/2013 (3 years ago)
Catholic Online (www.catholic.org)
Fracking holods great promise, but is it safe?
Has the devil offered a bargain? Fracking, the controversial practice of using high-pressure water and chemicals to release energy trapped miles beneath the surface has the singular potential to make the U.S. energy independent within 10 years. America could produce more energy than Saudi Arabia, but at what cost?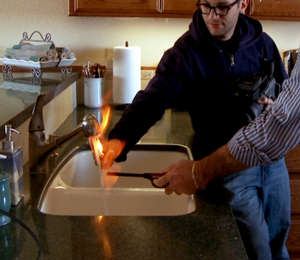 This viral image of flaming tap water is part of the debate about whether fracking is worth the cost.
Highlights
By Marshall Connolly, Catholic Online (NEWS CONSORTIUM)
Catholic Online (www.catholic.org)
1/8/2013 (3 years ago)
Published in Green
Keywords: Fracking, oil, gas, energy, independence, future, harms, danger, water, pollution, jobs, economy, fossil fuels
---
LOS ANGELES, CA (Catholic Online) - American dependence on foreign oil is one of the problems facing the United States. If not for the oil demands of the west, the Middle East would be a sleepy backwater, and there would be little economic incentive to go to war or even be involved in the region.

An energy independent America is a laudable goal. Affordable fuel for cars and homes, cheaper raw materials for manufacturing, and hundreds of thousands, if not millions of new jobs could put more Americans to work than at any time in the past two generations.

Exporting our energy could bring billions, if not trillions into our economy, reducing our deficit and if wisely spent, rebuilding America into the world's most technologically advanced, clean and sophisticated societies.

We would be number one again, but is this just the devil whispering in our ear?

The costs of fracking are unknown. Industry leaders say it's negligible, that fracking is harmless. It's energy we can now obtain, thanks to advances in technology. It's jobs for Americans and food on our plates. It's a bright new dawn for America.

At the same time, detractors say the real impacts are unknown. Studies have been hampered by interference from politicians and drillers. Environmentalists and concerned citizens say that fracking consumes and contaminates water, pollutes the air, and even causes earthquakes.

Then, there's the moral question if the likely increased consumption of fossil fuels is the direction our nation ought to move in the first place. Shouldn't we be weaning ourselves from fossil fuels, rather than doubling down?

It is a complex question that goes well beyond out technical capabilities. It's an economic question and an ethical one. Should we leave these reserves untapped when so many Americans need work? Should we continue to remain involved in foreign politics when we can finally escape Middle Eastern quagmires? Should we leave billions on the table? Or should we sacrifice more of our environment on these altars?

Before we can answer these questions, we need to know the facts, and those are difficult to come by, since the debate over fracking is hyper-charged with emotion and politics.

The reason this debate comes to the fore is because it has been acknowledged that fracking is now capable of releasing massive amounts of pent-up energy from shale reserves in the U.S. Once harvested, this energy would make the United States the world's largest petroleum producer, even greater than Saudi Arabia. The United States could export energy rather than import it. Most importantly, the timetable is less than a decade.

This has legions on both sides, drawing lines for a battle that has implications far beyond the wells we might drill.

The first problem stems from the lack of solid scientific information on the practice of fracking. Investigators have repeatedly alleged that political and private interference has prevented them from gathering proper data required to complete their assessments. Without those assessments, it becomes more a matter of conjecture than anything, if fracking is harmful.

Fracking involves drilling deep beneath the Earth's surface, much deeper than many people suppose. Drills grind their way deep beneath the water table and plunge so deep, that there should be no risk to water or anything at or near the surface. Once in place, high-pressure steam and chemicals are injected into the rocks causing them to fracture and release natural gas and oil where they can be extracted to the surface for processing and use.

Initial opposition to this practice came from people concerned about their water supplies. Concern began to grow in areas where fracking was being practiced affected people insisted their water was being contaminated by the injected chemicals.

Subsequent studies have in fact revealed that occasional leaks do occur, especially in cases where the wells have not been properly drilled.

Fracking also demands the use of large quantities of water. Extracting gas from a single well could require an average of five million gallons of water. This will return about 4 billion cubic feet of gas, although these figures will vary based on a number of factors.

While fracking does not always contaminate water, it still consumes mass quantities of it. Freshwater is a limited quantity and any water used for fracking will be unavailable for human use, potentially forever. It's a significant trade, particularly in regions beset by drought.

In addition to consuming water and injecting chemicals which can sometimes leak into water supplies, fracking can also release methane and other greenhouse gasses into the air. Typically, this is also a result of mistake, but as with all such projects, mistakes do happen. Consider the infamous BP spill in the Gulf of Mexico. 

Fracking has also been shown to cause earthquakes, although minor ones, in both the U.S. and UK.  Some European countries, concerned about these environmental impacts have even banned fracking altogether.

Finally, the cheapening of fossil fuels will naturally encourage their use and divert urgency and capital away from renewable research, which will eventually be needed no matter what course the nation takes. Although, the wealth extracted via fracking could be so great that ample revenues could be earmarked via legislation to ensure renewable research continues apace.

There are a number of scientific and ethical questions that need to be resolved before the nation begins to pursue fracking as an energy solution.

It must first be determined if the harms caused by fracking are truly significant. If they are significant, then it must be decided if they are worth the returns, which admittedly are substantial. However, if the harms are so great as to make the practice unethical, then no matter what the promise is, we must reject it.

A deal with the devil is never worth it, no matter how rich and sweet is sounds.


---
Copyright 2016 - Distributed by THE CALIFORNIA NETWORK
Pope Francis Prayer Intentions for May 2016
Universal:
Respect for Women: That in every country of the world, women may be honored and respected and that their essential contribution to society may be highly esteemed.
Evangelization:
Holy Rosary: That families, communities, and groups may pray the Holy Rosary for evangelization and peace.
---
---
---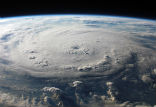 By Marshall Connolly (CALIFORNIA NETWORK)
Goodbye El Nino! The monster heating anomaly in the tropical Pacific has abated and experts now believe a La Nina event, the cool sister of El Nino, will come to dominate the tropical Pacific for at least the next year to come. It has implications for the United ... continue reading
---
By Marshall Connolly (CALIFORNIA NETWORK)
A volcano has erupted in Costa Rica with sudden ferocity, surprising experts who did not believe an eruption was imminent. The plume of ash from the volcano has caused flights to be canceled or diverted. Hundreds of people have reported to the hospital with reports of ... continue reading
---
By Marshall Connolly (CALIFORNIA NETWORK)
A researcher, who has studied volcanoes for decades, has reached out to Catholic Online to share new information about volcanic activity in the Pacific Northwest. It appears activity is spiking in the region, and neither the public, nor geologists, may be fully ... continue reading
---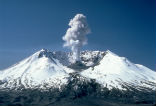 By Marshall Connolly (CALIFORNIA NETWORK)
Over the past month, we've warned about volcanoes, earthquakes, and what feels like a sudden uptick in global activity. Although all of the activity seems to fall within "normal" levels, it is still above average and making people uneasy. Now, new reports show ... continue reading
---

By Marshall Connolly (CALIFORNIA NETWORK)
Earthquakes are making the news, not because they're happening, but because they will happen soon, and they will be more violent than anything in recent memory. Great quakes threaten both the Eastern U.S. and the Pacific coast. Now a new revelation about the San ... continue reading
---

By Marshall Connolly (CALIFORNIA NETWORK)
Scientists have a new explanation for why mysterious quakes strike the Eastern U.S. when no fault lines are present. The crust of the earth is falling away beneath your feet. LOS ANGELES, CA (California Network) - Contrary to popular belief, Californians don't have a ... continue reading
---

By Kenya Sinclair (CALIFORNIA NETWORK)
Soft, cuddly, adorable little animals are slaughtered by the thousands in the name of commerce. One Russian fur farmer even admitted she felt satisfaction as she skinned some animals alive or injected them with lethal, but inhumane, drugs that slowly suffocate the ... continue reading
---

By Marshall Connolly (CALIFORNIA NETWORK)
At what point does it become criminal to promote an idea? Can any idea actually be off limits? These are questions that must be considered as the U.S. government begins a literal witch-hunt against climate change deniers and their corporate sponsors. LOS ANGELES, CA ... continue reading
---

By Kenya Sinclair (CALIFORNIA NETWORK)
With more and more nations agreeing that climate change is not only real, but also dangerous, more world leaders are making a move to save the planet. LOS ANGELES, CA (Catholic Online) - Senator Jeff Merkley took the Senate floor last week to say global warming is one ... continue reading
---

By Marshall Connolly (CALIFORNIA NETWORK)
Thirty-eight volcanoes are erupting right now. Earthquakes are making the news. Is something supernatural about to occur? LOS ANGELES, CA (Catholic Online) - "Take care that no one deceives you," Jesus admonished his disciples in the book of Matthew. The Disciples were ... continue reading
---
All Green News