By Marshall Connolly (Catholic Online)
7/13/2012 (3 years ago)
Catholic Online (www.catholic.org)
Northern lights should be visible across northern US Saturday before dawn.
The sun has belched fire and it's headed straight for Earth. The belch, known technically as a coronal mass ejection (CME) will strike Earth sometime on Saturday, probably in the early morning. Is doomsday upon us?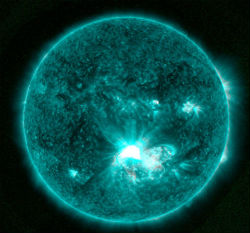 The X-class flare photographed shooting directly at Earth.
LOS ANGELES, CA (Catholic Online) Not hardly, for God in His infinite wisdom gave the Earth a magnetic field just strong enough to repulse such events. The event which is making headlines today occurred yesterday just after noon Universal Time (in the morning across the US). The CME is a normal, natural phenomenon that makes the northern lights (aurora) glow over high-latitude skies. 

However this event is especially notable for its strength and its aim. 

Our sun experiences an 11-year cycle of activity during which it becomes active, then quiet. During its active periods, scientists observe sunspots, which appear as black splotches on our star's surface. These black spots aren't really black, they just appear so because they are much cooler than the surrounding plasma that comprises the visible surface of the sun. These sunspots are created by twists in the sun's magnetic field. 

Occasionally, those magnetic field lines become so twisted that they break, and when they do, there is a chance a solar flare may erupt. A solar flare is a stream of charged particles from the sun that shoots into space. 

Yesterday's solar flare erupted from sunspot AR1515, and was rated as an X1.4 flare. In plain English, that means the flare was very powerful. Astronomers rate flares on a scale of B, C, M, and X with B being the weakest and X the strongest. 

The website, Spaceweather.com, which tracks these events, had this to say:

Because the sunspot is directly facing Earth, everything about the blast was geoeffective. For one thing, it hurled a coronal mass ejection (CME) directly toward our planet. According to a forecast track prepared by analysts at the Goddard Space Weather Lab, the CME will hit Earth on July 14th around 10:20 UT (+/- 7 hours) and could spark strong geomagnetic storms. Sky watchers should be alert for auroras this weekend.

The good news for us on Earth is when these charged particles arrive, they will strike the planet's magnetic field, which acts as a shield. Instead of streaming radiation directly on the inhabitants of the planet, the charged particles race along the field towards the north and south magnetic poles. As they strike particles of gas in the upper atmosphere they "excite" them, causing them to glow. Those glowing particles of gas give us the northern (and southern) lights. 

When such an event occurs, it is known as a geomagnetic storm. In addition to brilliant displays of aurora, these charged particles can sometimes affect the power grid on the ground by charging power lines with electricity. In 1859, two telegraph operators famously communicated for two hours without being connected to a power source, and in 1989 a geomagnetic storm caused a blackout across Quebec, Canada when it impacted the local power grid. 

Today, scientists have better early warning systems in place and utility companies know how to manage their equipment in advance of such an impact, so any disruption is highly unlikely. 
The most common disruption is to air travel over high latitudes. High flying aircraft must take more southerly routes to avoid exposing passengers to additional radiation. 

For the most part, tomorrow's pending geomagnetic storm should provide a light show in the skies at least above the northern tier of the US. It is impossible to predict with accuracy just how far south the display will be visible, but it should be visible across a much wider area than usual. 

To see the storm, observers will want to be outdoors during the night, looking to their north. It also helps to be far away from city lights. The storm could strike as early as 3:20 am PDT (6:20 EDT), but it is more likely to start during the daytime on Saturday. The storm should continue for several hours and hopefuls across the US should watch for glowing skies around nightfall. By Sunday morning, the storm should be well past. 

The best observing locations will probably be in eastern Europe, where the storm should hit just before dark. 

If you don't see anything this weekend, don't fret. Solar activity is still increasing and will continue to increase until early 2013. There is a reasonable chance that we will see more such storms in the very near future. 

EDITOR'S NOTE: Spaceweather.com just issued this revised forecast. REVISED FORECAST: The CME launched toward Earth by yesterday's X-flare is moving faster than originally thought. Analysts at the Goddard Space Weather Lab have revised their forecast accordingly, advancing the cloud's expected arrival time to 09:17 UT (5:17 am EDT) on Saturday, July 14th. Weekend auroras are likely.

 

---
Copyright 2016 - Distributed by THE CALIFORNIA NETWORK
Pope Francis Prayer Intentions for May 2016
Universal:
Respect for Women: That in every country of the world, women may be honored and respected and that their essential contribution to society may be highly esteemed.
Evangelization:
Holy Rosary: That families, communities, and groups may pray the Holy Rosary for evangelization and peace.
---
---
---
By Marshall Connolly (CALIFORNIA NETWORK)
A volcano has erupted in Costa Rica with sudden ferocity, surprising experts who did not believe an eruption was imminent. The plume of ash from the volcano has caused flights to be canceled or diverted. Hundreds of people have reported to the hospital with reports of ... continue reading
---
By Marshall Connolly (CALIFORNIA NETWORK)
A researcher, who has studied volcanoes for decades, has reached out to Catholic Online to share new information about volcanic activity in the Pacific Northwest. It appears activity is spiking in the region, and neither the public, nor geologists, may be fully ... continue reading
---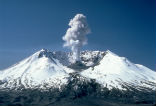 By Marshall Connolly (CALIFORNIA NETWORK)
Over the past month, we've warned about volcanoes, earthquakes, and what feels like a sudden uptick in global activity. Although all of the activity seems to fall within "normal" levels, it is still above average and making people uneasy. Now, new reports show ... continue reading
---

By Marshall Connolly (CALIFORNIA NETWORK)
Earthquakes are making the news, not because they're happening, but because they will happen soon, and they will be more violent than anything in recent memory. Great quakes threaten both the Eastern U.S. and the Pacific coast. Now a new revelation about the San ... continue reading
---

By Marshall Connolly (CALIFORNIA NETWORK)
Scientists have a new explanation for why mysterious quakes strike the Eastern U.S. when no fault lines are present. The crust of the earth is falling away beneath your feet. LOS ANGELES, CA (California Network) - Contrary to popular belief, Californians don't have a ... continue reading
---

By Kenya Sinclair (CALIFORNIA NETWORK)
Soft, cuddly, adorable little animals are slaughtered by the thousands in the name of commerce. One Russian fur farmer even admitted she felt satisfaction as she skinned some animals alive or injected them with lethal, but inhumane, drugs that slowly suffocate the ... continue reading
---

By Marshall Connolly (CALIFORNIA NETWORK)
At what point does it become criminal to promote an idea? Can any idea actually be off limits? These are questions that must be considered as the U.S. government begins a literal witch-hunt against climate change deniers and their corporate sponsors. LOS ANGELES, CA ... continue reading
---

By Kenya Sinclair (CALIFORNIA NETWORK)
With more and more nations agreeing that climate change is not only real, but also dangerous, more world leaders are making a move to save the planet. LOS ANGELES, CA (Catholic Online) - Senator Jeff Merkley took the Senate floor last week to say global warming is one ... continue reading
---

By Marshall Connolly (CALIFORNIA NETWORK)
Thirty-eight volcanoes are erupting right now. Earthquakes are making the news. Is something supernatural about to occur? LOS ANGELES, CA (Catholic Online) - "Take care that no one deceives you," Jesus admonished his disciples in the book of Matthew. The Disciples were ... continue reading
---
By Marshall Connolly (CALIFORNIA NETWORK)
Both a psychic and a scientist have predicted the current spate of quakes which have shook Asia, the South Pacific, and South America, and their predictions are on record. The eerie occurrence has many asking if North America is next. LOS ANGELES, CA (California ... continue reading
---
All Green News