Joy To The World!
Joy To The World!
---
Celebrating the birth of Jesus Christ
"Joy to the World" is a traditional and popular Christmas carol. The lyrics to the carol were first published in 1719. The music is attributed either to George Frideric Handel or Lowell Mason. In either case, the musical origins are likely from the late 18th/early 19th centuries.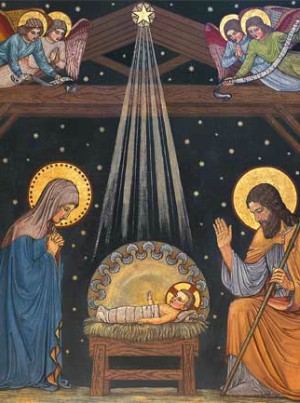 Current performances of this carol reflect it's musical heritage. It is frequently sung by formal choirs with sopranos, altos, tenors and basses, or informal choirs made up of a group of friends or neighbors. The formal choir performances are often accompanied by orchestras. These performance characteristics expectedly imbue the carol with a 19th century feel. Though quite beautiful and stirring, these renditions are not exciting, in this writer's opinion.
Chris Tomlin has adapted "Joy to the World" to the modern style of Christian rock. The musical interpretations of this version were discussed in a previous post to this blog. Chris Tomlin's version brings in the excitement and drive which typically accompanies rock music. However, this post will not be about that excitement, or the differences between the two versions. The focus of this post will be the beauty and wonder of the birth of Jesus Christ, as reflected in the lyrics of the carol.

The carol begins with the lyrics, "Joy to the world the Lord is come. Let earth receive her King."
What do those lyrics mean?
Jesus, King of Kings was born. His birth heralds a time of great joy and peace. It is the fulfillment of God's promise to Adam and Eve, to Abraham, to David, to Isaiah, to Israel. He recreated the New Eden here on earth, to take us back to personal communion with God - but this requires that our hearts are prepared and that we have made room in their hearts to receive this baby King, making it imperative that we open our hearts to him and his message. When we do, as we do, all of creation will sing out in joy.
The second verse reminds us that we are called to proclaim joy to the world since the Savior of the world has come and reigns over the earth: "Because of this, God greatly exalted him and bestowed on him the name that is above every name, that at the name of Jesus every knee should bend, of those in heaven and on earth and under the earth." (Phil. 2:10-11).  All of nature is joyful.
After the second verse, Chris Tomlin inserts "Unspeakable Joy." These lyrics reflect that the joy felt is so strong, it cannot be described. It's like an overflowing well, flooding everywhere. The joy arises up from the soul and stays with us always.
The last verse in Chris Tomlin's rendition declares that Jesus rules the world, not with force and violence, but with truth and grace - the great being and essence of God. As the nations recognize him, they will prove to themselves and to others how glorious is his righteousness and how deep and wonderful is his love.
The joy of this reality is truly unspeakable. How can we describe it, once we feel it? Can we describe it? It is beyond full description, as God is beyond our abilities to describe fully. This is the joy to be felt at Christmas. Celebrate the coming of Jesus, our Savior, and our Lord.
Merry Christmas
---
A blog dedicated to understanding Christian rock
---
---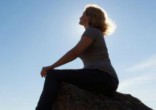 Post-Election Peace. These days, there is so much worldly turbulence that it can seem hard to find common ground with others, even those we ... continue reading
---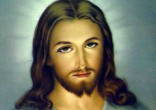 The song "Now Is The Time" by Tom Kendzia is an interesting song written from the perspective of a discussion with God. Of course, ... continue reading
---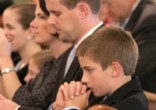 After reading a recent syndicated column in my Diocesan newspaper, I could not remain silent. The columnist, Father Robert Rolheiser, a ... continue reading
---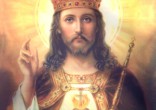 Christ Tomlin has penned the song "How Great Is Our God," describing the wonder and beauty of our God. In keeping with Chris's usual strong ... continue reading
---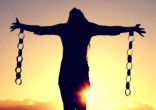 My knees jabbed into my chest as my arms curled and tangled themselves around my forlorn body. My whole being was twisted and contorted. ... continue reading
---

Copyright 2017 Catholic Online. All materials contained on this site, whether written, audible or visual are the exclusive property of Catholic Online and are protected under U.S. and International copyright laws, © Copyright 2017 Catholic Online. Any unauthorized use, without prior written consent of Catholic Online is strictly forbidden and prohibited.