Will Your Lie Cost Your Life?
---
It will take great faith and trust in God to suffer in this world in order to have glory in the next.
If there is one Scripture passage that we defense lawyers should especially appreciate, it has to be today's first reading (Daniel 13:1-9, 15-17, 19-30, 33-62).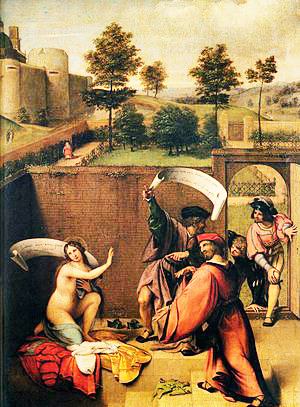 'Susanna and the Elders' By: Lorenzo Lotto, 1517, Uffizi Gallery, Florence, Italy
CANASTOTA, NY - The case against Susanna was open and shut. All seemed hopeless. There were two eye witnesses - and they were judges and well-known leaders of the community to boot! How could anyone credit the adulteress' self-serving denial? No one did, save for Daniel.
He knew that things are not always as they appear. Daniel was unwilling to ignore a lifetime of virtuous living by this fine woman and 'rush to judgment'. He trusted that God would show him the way to expose the perjured testimony of these two lecherous old men. God did not disappoint!
Help Pope Francis end world hunger
What lawyer hasn't dreamed of so dramatically exposing the lies of witnesses as Daniel so skillfully did as recounted in today's first reading? Even Perry Mason would be in awe of his approach and skill!
But there is much more to reflect upon other than Daniel's text-book strategy and perfect cross-examination.
Let me warn you. By doing so, we might find ourselves becoming a bit uncomfortable.
How often have we treated others unjustly?
How many times have we rushed to judgment about the reported conduct of others?
How often have we convinced ourselves of someone's guilt, not based on our own personal knowledge of the facts, but because of the position of the people who levied the accusations in the first place?
How many times have we remained silent in the face of obvious injustice for fear of offending those in power?
How many of us would follow Susanna's example and accept an unjust physical death in order to preserve our eternal life?
I could go on but I have made my point.
It took courage for Daniel to do what he did.
It took courage for Susanna to protect her soul rather than her physical life.
It will take courage for each of us to stand up against the powerful and fight for justice.
It will take great faith and trust in God to suffer in this world in order to have glory in the next.
Are we ready to pray for such courage and such grace?
---
A blog through which I promote zeal for the salvation of souls, awe and amazement for the Holy Eucharist and Eucharistic Adoration, and fidelity to the Truths of our Catholic Faith.
---
---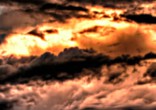 This post, being written during the Easter season, will be a reflection and compilation of discussions about the historicity of Jesus ... continue reading
---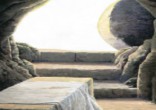 Jesus Christ is risen!Easter is the greatest and oldest Christian feast. It is the Feast of Feasts, and it is the holiest day of the year ... continue reading
---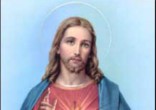 Especially at Easter, it is vitally important to celebrate the resurrection of Jesus Christ, Our Lord and Savior. As people of the cross, ... continue reading
---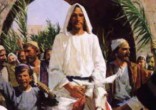 "<a href="https://infogalactic.com/info/Godspell">Godspell</a>" was a Broadway musical which opened in 1971 and is a series of ... continue reading
---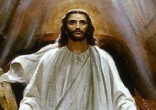 Going through the checkout at the shops I got talking with the girl behind the cash register who proceeded to tell me that Good Friday was ... continue reading
---

Copyright 2017 Catholic Online. All materials contained on this site, whether written, audible or visual are the exclusive property of Catholic Online and are protected under U.S. and International copyright laws, © Copyright 2017 Catholic Online. Any unauthorized use, without prior written consent of Catholic Online is strictly forbidden and prohibited.