By Catholic Online (NEWS CONSORTIUM)
12/2/2013 (3 years ago)
Catholic Online (www.catholic.org)
Known for flamboyant personal style and lavish lifestyle, Crouch dies of undisclosed circumstances at 79
In a world where the church is now planning greater outreach to the poor, televangelist Paul Crouch now appears to be a relic of a bygone age. The founder of the world's largest evangelical TV network, Trinity Broadcasting Network, Crouch was known for his flamboyant style, bubbly wife and co-host Jan Crouch and his lavish lifestyle. He's died of undisclosed circumstances at the age of 79.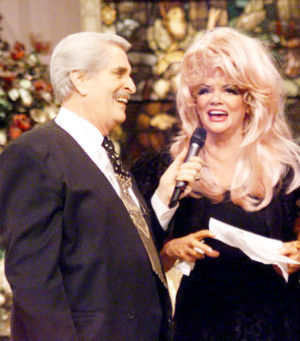 The nightly talk show "Praise the Lord," hosted by the silver-haired Paul Crouch and his flamboyantly coiffed wife Jan was broadcast from an Orange County studio decorated with stained-glass windows, gilded imitation antiques and plush pews for the audience.
LOS ANGELES, CA (Catholic Online) -  According to Crouch, a Pentecostal minister, he received a holy vision in the 1970s. He said that a map of North America had appeared on his ceiling, glowing with beams of light that shot in every direction. "Lord," Crouch asked, "What does this mean?" God, according to Crouch, had just one word for him: "Satellite."

Affiliated with the Assemblies of God, Crouch been trying to spread the Gospel through a small television station in Tustin. After his message from God, he bought more television stations, then piled on cable channels and satellites. The end result was the world's largest Christian television system: the Trinity Broadcasting Network, or TBN.

Crouch had been hospitalized in October when he became ill with heart issues during a visit to a TBN station in Colleyville, Texas. Crouch had since returned to California. His immediate family has not disclosed the circumstances surrounding his death on Saturday.

Not the first Christian TV network, as televangelist Pat Robertson had launched the Christian Broadcast Network 10 years previously, TBN far surpassed similar networks in scope and ambition, bringing the word of God to a global audience of millions.

Crouch, the son of a poor missionary was known for preaching a gospel of prosperity. His twice-yearly telethons generated as much as $90 million a year in donations. The majority of donations were small amounts from lower-income Americans. "When you give to God," Crouch said, "you're simply loaning to the Lord and he gives it right on back."

To his credit, Crouch channeled much of the revenue into charity, funding soup kitchens, homeless shelters and an international humanitarian organization, Smile of a Child, founded by his wife, Jan.

Minority Media and Telecommunications Council, which helps minorities, women and other underrepresented communities own and operate TV and radio stations, received a helping hand from Crouch. He donated more than 150 low-power TV stations to the council in 2011.

TBN celebrated its 40th anniversary this year. The network is a 24-hour family of networks with something for nearly every evangelical Christian demographic, such as Biblical cartoons and soap operas, game shows, programs on fitness and faith healing, religious movies and late-night Christian rock videos.

The nightly talk show "Praise the Lord," hosted by the silver-haired Crouch and his flamboyantly coiffed wife Jan was broadcast from an Orange County studio decorated with stained-glass windows, gilded imitation antiques and plush pews for the audience.

Crouch and his wife also had access to TBN's multimillion-dollar private jets and more than two dozen ministry-owned homes. His granddaughter Brittany Koper, who had been the network's finance director, went public with detailed allegations of fiscal improprieties in 2012. Koper came forward with documentations of excessive salaries, four-figure expense-account meals and a $100,000 mobile home for Jan Crouch's dogs paid with tax-exempt donations. Her sister, Carra Crouch, who said she was raped by a TBN employee said she was forced by her family to cover up the crime.

It was just one of many allegations that dogged Crouch. In 2004, Crouch was accused of paying a former employee $425,000 to keep quiet about claims of a homosexual tryst. Crouch denied having sexual contact with the employee.

Crouch "has a mixed legacy," said, the evangelical graduate school in Pasadena.

"He has had a wonderful and profound influence on people's lives individually. His pioneering work with a new technology has been extremely influential. But that gets tarnished by some of the negative issues that damaged his reputation and hurt what I would call the cause of Christ," Kurt Fredrickson, associate dean of the doctor of ministry program at Fuller Theological Seminary said. "I know too many people who turn on TBN because it's as good as 'Saturday Night Live' sometimes. They say, 'Wow, this is just so outlandish' or 'I wish I had a gold throne.' They're intrigued by the side-showness of it."

A birth foretold: click here to learn more!


---
Copyright 2016 - Distributed by THE CALIFORNIA NETWORK
Pope Francis Prayer Intentions for NOVEMBER 2016
Universal:
Countries Receiving Refugees: That the countries which take in a great number of displaced persons and refugees may find support for their efforts which show solidarity.
Evangelization:
Collaboration of Priests and Laity: That within parishes, priests and lay people may collaborate in service to the community without giving in to the temptation of discouragement.
---
---
---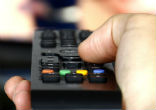 By Nikki Crawford (CALIFORNIA NETWORK)
Television networks are picking up on the fact audiences around the world are interested in religious entertainment - but what kind of shows are worthy of an audience? LOS ANGELES, CA (Catholic Online) - The three religious and spiritually-themed shows coming to a ... continue reading
---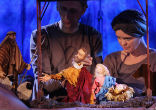 By Mary Rezac (CNA/EWTN News)
Most people know Jim Henson as the man who brought the world the beloved comedic puppet characters known as the Muppets: Kermit the Frog, his on-again, off-again diva girlfriend Miss Piggy, Fozzie Bear, and Big Bird, to name just a few. Denver, CO (CNA/EWTN News) - But ... continue reading
---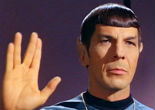 By Kenya Sinclair (CALIFORNIA NETWORK)
Vatican newspaper L'Osservatore Romano honored Star Trek's 50th anniversary on September 8, 2016. LOS ANGELES, CA (Catholic Online) - The famous show has been translated into comic books, artwork, several films, remakes and more.After fifty years of touching global ... continue reading
---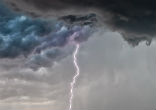 By Abigail James (CALIFORNIA NETWORK)
The latest television portrayal of exorcisms will hit Fox network on September 23. Determined to provide an authentic portrayal of exorcisms, 'The Exorcist' team attempted to reach out to the Catholic church and hear from "real-life exorcists." LOS ANGELES, CA ... continue reading
---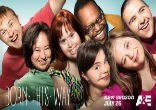 By A&E
A&E Network's critically acclaimed and award-winning original docuseries "Born This Way" returns for a second season featuring 10 brand-new episodes on Tuesday, July 26 at 10 PM ET/PT. NEW YORK, NY - June 21, 2016 Produced by Bunim/Murray Productions, the ... continue reading
---

By Kenya Sinclair (CALIFORNIA NETWORK)
In their latest controversial skit, NBC's "Saturday Night Live" makes fun of newly released faith-based film "God is Not Dead 2." LOS ANGELES, CA (Catholic Online) - The skit, titled "God is a Boob Man" makes light of Sweet Cakes owner Melissa Klein, who refused to ... continue reading
---
By Marshall Connolly, Catholic Online (THE CALIFORNIA NETWORK)
Hollywood is leaving the small screen for the smaller screen, and consumers are thrilled. As more people give up hours in front of the classic boob-tube, and turn to portable media, networks are following suit. Most recently, CBS announced it will be moving more ... continue reading
---
By Catholic Online (CALIFORNIA NETWORK)
You have some time to yourself this weekend and the Netflix and its myriad movies is calling. Are you in the mood for some Anime science-fiction? A film based on a popular children's book? Maybe some spy action adventure? Never fear, a coded list of millions of ... continue reading
---

By Kenya Sinclair (CALIFORNIA NETWORK)
During a live news broadcast in Iowa, reporter Adam Sallet's bank robbery report was interrupted by a bank employee who pointed out the suspected robber before running off-camera. Sallet then excused himself to call 911. LOS ANGELES, CA (California Network) - KIMT-TV ... continue reading
---

By Catholic Online (CALIFORNIA NETWORK)
Have you seen the Catholic Online YouTube channel yet? Every day thousands of people stop by our channel for a wonderfully peaceful and prayerful experience. Don't forget to subscribe today, so you don't miss out on over 100 beautiful Catholic videos, with new ones ... continue reading
---
All TV News